Notes on the Notes – Sunday, June 5, 2016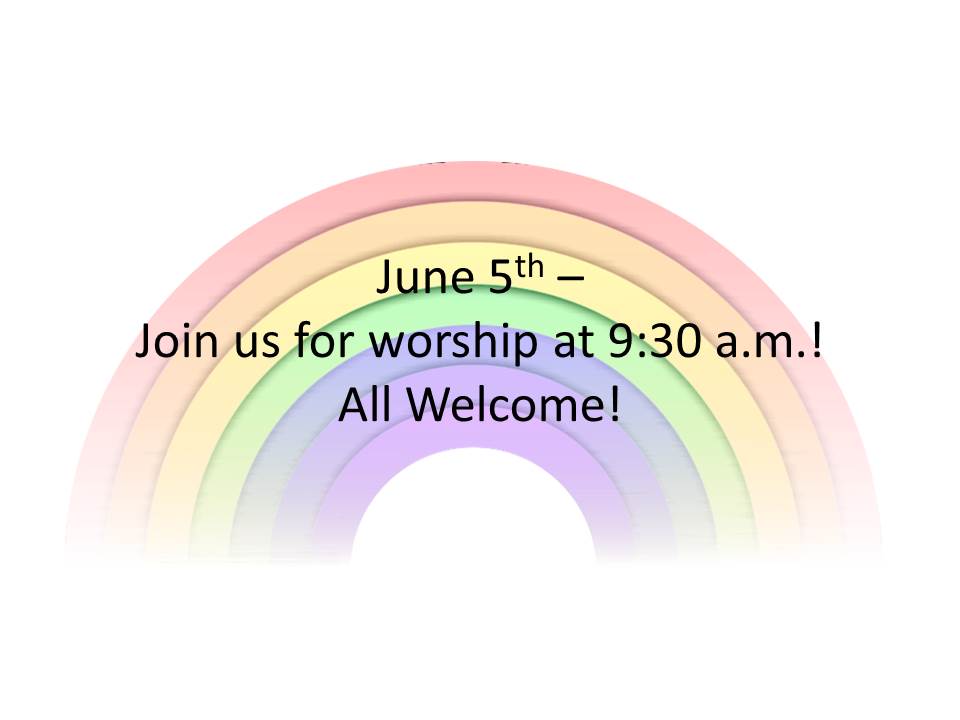 This week's theme:  "What is it to know?"
– A Celebration of Inclusivity
This week's scripture readings:
Psalm 139                    Revelation 21:1-7
This week's music:
"Draw the Circle Wide" (MV #145) 
"Draw the circle wide.  Draw it wider still.
Let this be our song, no one stands alone, standing side by side,
Draw the circle wide.
God the still-point of the circle,
'Round whom all creation turns;
nothing lost, but held forever,

In God's gracious arms.
Let our hearts touch far horizons,
So encompass great and small;
Let our loving know no borders,
Faithful to God's call.
Let the dreams we dream be larger
Than we've ever dreamed before;
Let the dream of Christ be in us,
Open every door."
This now-familiar hymn of inclusion was written by Gordon Light of the Common Cup Company in 1994.  It was arranged by Michael Bloss in 1998.
The Common Cup Company is a musical group featuring songwriters Gordon Light & Ian Macdonald.  Their musical ministry began in 1979 when Light (an Anglican Priest and later Bishop), met Ian Macdonald and Jim Uhrich (both United Church ministers) while serving neighboring churches in Winnipeg, Canada.  Jim Uhrich also served as interim minister at Windsor Park United Church.  Bob Wallace joined the group in 1982, his voice strengthening and enriching the group's sound.  In the following decades this original quartet wrote, performed, & recorded together despite living in different corners the country.
Hear the hymn at: https://youtu.be/zBNQ3zA7ulU
"Let Us Build a House" (MV #1)
"Let us build a house where love can dwell and all can safely live,
a place where saints and children tell how hearts learn to forgive.
Built of hopes and dreams and visions, rock of faith and vault of grace;

Here the love of Christ shall end divisions:
All are welcome, all are welcome,  all are welcome in this place.
Let us build a house where prophets speak, and words are strong and true,
Where all God's children dare to seek to dream God's reign anew.
Here the cross shall stand as witness and as symbol of God's grace;
Here as one we claim the faith of Jesus:
All are welcome, all are welcome, all are welcome in this place.
Let us build a house where love is found in water, wine and wheat;
A banquet hall on holy ground, where peace and justice meet.
Here the love of God, through Jesus, is revealed in time and space;
As we share in Christ the feast that frees us;
All are welcome, all are welcome, all are welcome in this place.
Let us build a house where hands will reach beyond the wood and stone
To heal and strengthen, serve and teach, and live the Word they've known.
Here the outcast and the stranger bear the image of God's face;
Let us bring an end to fear and danger;
All are welcome, all are welcome, all are welcome in this place.
Let us build a house where all are named, their songs and visions heard
And loved and treasured, taught and claimed as words within the Word.
Built of tears and cries and laughter, prayers of faith and songs of grace;
Let this house proclaim from floor to rafter;
All are welcome, all are welcome, all are welcome in this place."
Our opening hymn of welcome and inclusion was written by Marty Haugen in 1994.
Hear the song at:  http://www.youtube.com/watch?v=mAZC65CwTEA
"Come Touch our Hearts" (MV #12)

"
Come touch our hearts that we may know compassion,
From failing embers build a blazing fire;
Love strong enough to overturn injustice,
To seek a world more gracious,
Come touch and bless our hearts.
Come touch our souls that we may know and love you,
Your quiet presence all our fears dispel;
Create a space for spirit to grow in us,
Let life and beauty fill us,
Come touch and bless our souls.
Come touch our minds and teach us how to reason,
Set free our thoughts to wonder and to dream;
Help us to open doors of understanding,
To welcome truth and wisdom,
Come touch and bless our minds.
Come touch us in the moments we are fragile,
And in our weakness your great strength reveal;
That we may rise to follow and to serve,
Steady now our nerve,
Come touch and bless our wills.
Come touch us now, this people who are gathered,
To break the bread and share the cup of peace;
That we may love you with our heart, our soul,
Our mind, our strength, our all,
Come touch us with your grace."
This hymn was also written by Gordon Light of the Common Cup Company.  It was composed in 2002 and arranged by Andrew Donaldson.
"Live in Praise of the Lord"
"I wanna sing, sing, sing, make a joyful sound;
Laugh, laugh, laugh, for I am heaven bound.
Praise, praise, praise, praise the name of the Lord.
I wanna clap, clap, clap,
lift my hands on high;
Shout, shout, shout,
for I am sanctified.
Live, live, live,
I'll live in praise of the Lord.
Sing to the Lord a new song.
Sing it loud and sing it clear.
Walk in the light of His love and know that He is near.
I've tumbled into valleys and struggled up the hills;
Yet all along my journey, He loved me even still.
Sing, sing unto the Lord.
Sing unto the Lord.
Glory in His holy name…"
This week's energetic anthem has words by Jennifer Dowell and music by Michael Barrett. It was written in 2002.
"What Can I Do?" (MV#191) 
"What can I do? What can I bring?
What can I say? What can I sing?
I'll sing with joy. I'll say a prayer.
I'll bring my love. I'll do my share."
This joyful song of offering and dedication was written by Paul Rumbolt and Michele McCarthy in 2005. It has been arranged by Alan C. Whitmore.   Paul Rumbolt is a singer-songwriter steeped in the east coast Canadian tradition of story-telling through music.  He marries this heritage with rich vocals to weave tales of the places he's been and the people he's met in a life time as a performer and a minister.
"Grateful" (MV #182)
"Grateful for the life you give us, thankful for your Holy Son,
Joyful in your Spirit flowing over all, O God of Love.
Grateful for the Bread of Heaven, thankful for your Holy Word,

Joyful in your mercy flowing, we will praise you.
You are more than we imagine, Ancient, Holy, Living Lord.
Even when we doubt your presence you are faithful to your Word.
May our lives proclaim your justice, may our voices sing your praise.
May our hands work in your service to the glory of your name."
This song of thankfulness is by Tom Tomaszek (2003), author, composer, educator and liturgical musician.  His ministry began with teaching English at a public high school while serving as a parish musician and catechist. Those experiences led to 14 years of service to the Archdiocese of Milwaukee's youth ministry office.  Later, Tom served as the director of the Artists and Repertoire at OCP. He holds a master's in theological studies from St. Francis Seminary in Milwaukee, and a master's in education from the University of Wisconsin.
Hear the song performed by Tom Booth and Sara Hart:
"We Will Take What You Offer" (MV #196) 
"We will take what you offer, we will live by your word;
We will love one another and be fed by you, Lord."
Our benediction response this week is by John L. Bell, of the Iona community in Scotland.  It was written in 1998.  The Iona Community is a dispersed Christian ecumenical community working for peace and social justice, rebuilding of community and the renewal of worship.
Hear the song as the music track for a video of a pilgrimage to the Iona community at:  https://youtu.be/4ci12RH49k0
Categories:
Notes on the Notes