Creation Banners
Introduction
In 2009 the United Church of Canada passed a resolution to celebrate Creation Time in the Season of Pentecost.  During this period we celebrate the fact that Creation is an important part of the whole Christian year.  Creation Time recaptures the ancient Christian Ember Days which were originally tied to the birth and growth of crops.  The banners for Creation Time were created by Linda Stewart,  Tanya Montebruno  and Eleanor Lwiwski and dedicated in memory of Linda Will on Thanksgiving Sunday, October 13, 2013.
Description and Symbolism of the Antependia (hangings over the pulpit and lectern)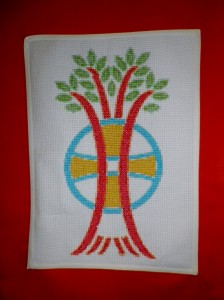 The symbol of Creation Time from the United Church shows an Elm Tree  –  a symbol of faithfulness;  a Blue Circle –  the symbol of God's everlastingness and eternity; a Gold Alisee Pattee cross that represents the holiness of life and a Square that recalls God as Mystery.  The two antependia are done in cross-stitch.
.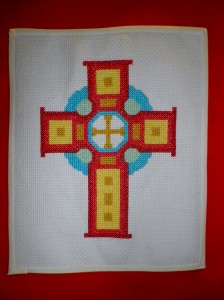 Looking at the antependia we see that orange is the chosen colour.  It represents the conquering of sin, a time of harvest and the strength of autumn.
Description and Symbolism of the banners
In the hangings beside the Cross we have elm trees, fields and a dove;  all symbols of Nature, God's Creation.  These banners are done in applique.
Description and Symbolism of the Table Cloth
For the table cloth we used handprints from the Sunday  School.  This idea was taken from a project started by Linda Will.  The hands encircle the earth.  The ribbons loosely copy the Christians Fish symbol.  The tablecloth was created using fabric paint and applique.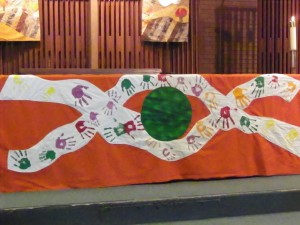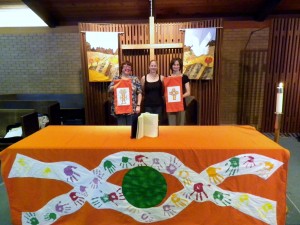 Remembrances of Linda Will were given by:  Debbie Ashdown, Claire and Joyce Waters, and Gloria Saindon
 Act of Dedication
 We receive these beautiful cloths for our sanctuary made with great skill and much love in memory of Linda Will. They will brighten our worship and remind us of God's glorious creation.  They will call us to celebrate the gifts of this church family that we discover in us, young and old, new and long-time, wise and still learning.  There is room for all God's children in this place.  This is Linda's legacy to us for which we are so thankful.    
Congregational Litany
 One:  Will you receive this gift given in love and faith?
All:    With humble thanks we accept this gift.
One:  Will you search it for the inspiration to live more bountiful lives as disciples of Christ?
All:    We will honour Linda's memory, the love of her family, the devotion of her friends,  and the call to live with justice, mercy and grace.
One:  May God be praised.
All:    AMEN
Blessing
 Creator God whose love for us we encounter in families, in friendship and in the fellowship of this church, we dedicate these sanctuary cloths to your glory and praise. May it remind us of the blessing of children in our midst and of our obligation and opportunity to share the values of our faith with them so that their lives, and that of our congregation, may be strengthened and inspired by your Spirit.  Together, may we work for your Kingdom in this generation, in the next, and in all the generations to come.  We pray with hearts full of thanks.  AMEN
 Learn about the music used in the service at:  http://www.windsorparkunitedchurch.com/worship/sunday-service-bulletin/notes-on-the-notes-october-13-2013/