Angela Moodie Memorial Window
The window in memory of Angela Moodie was dedicated on Sunday, October 7, 2018.
Introduction of the Window
"Hello.  My name is Charlene Birdsall, and I am Angela Moodie's youngest sister.  First and foremost, my family and I would like to thank Reverend Patrick Woodbeck, the congregation, church board of directors, Angie's family and friends for approving and allowing this window, as it was Angie's dream to have this as her legacy.  The Windsor Park United Church was a big part of Angie's life, actually 58 of her 69 years she was on earth, so we are thankful to have a lasting memory of Angela in a place she loved. We are very pleased that Wanda from European Glass was able to capture all her wishes in a design of such bright vibrant colours that depicted Angie's bright vibrant personality.

The main theme of the window is the tree of life.  Angela always felt her heaven was on earth, which includes all the feelings, experiences, and possessions that we are all blessed to have while on earth.  In the trunk of the tree you see the word family, and as in most people's lives, family is very important.  But Angie was a big part of our family.  Being the oldest sister and matriarch after our mother died in 1995, Angela stepped up in a positive way and ensured that our family circle became tighter.  She kept us connected with daily conversations and letting each of us know what was happening in our family.
Around the trunk, you see a ribbon of musical notes.  Music was in her soul and she had a wonderful angelic singing voice that she shared with us singing in the choir for over 58 years.
In the tree, you see a chalkboard with ABC on it.  Angela had a long career as a master teacher, and vice principal, and even after retirement, still enjoyed going back to substitute teach.  Angie was a dedicated  teacher who made lasting memories and learning fun for many of her students, as well being a mentor to many other teachers.
In the tree, you see a suitcase, and this represents Angie's love of travel.  She travelled across Canada and in the States and to many destinations such a Mexico, Italy, Russia, Tunisia, England, Austria, Poland, Scotland, Switzerland, Cairo, France and Hungary.  She actually resided in Germany for 5 years while she taught for the Canadian Military in Baden Baden.
Next you see a chef's hat and spoon and fork.  Angela had a passion for food, was a wonderful cook and baker, making sumptuous meals for family and friends.   Angie was also a fabulous hostess.  Our family truly misses Angie, as she was the organizer for many family celebrations, and always brought at least 2 dishes including dessert to family dinners.  Even when she was really sick she was still cooking and baking, making sure everyone else was sustained.
At the top of the tree you see a dove.  This represents Angie's love of life, peace and love for her faith.  She lived a very full and blessed life, and her beliefs were sustained by her faith.  Angie carried this faith as the principles of a peacekeeper, as she had the connectivity on smoothing relations with all people from her students, family, various boards she was on, achieving amicable solutions. Angela may not have spoken about her faith much, but it was always at the top of her "tree of life".
At the bottom of the trunk you see a jewellery box.  Angela loved her jewellery and had a set to match each outfit she owned. Her jewellery was always eye-catching and unique, with her motto – "The bigger the better!"
Angela wanted flowers in the design of her window.  She planted beautiful gardens at her house, and loved giving flowers as a hostess present or when someone needed cheering up.  She also liked receiving flowers as well.
Finally, the Angel in the picture represents Angela looking up at her tree of life, and all that made her life special and unique.  When Angela was born, her father looked at her and thought she looked so angelic, he named her Angela.  Angie was our angel on earth and now she is our angel in heaven.
Thank you to all that supported this dream of hers.  She would have been proud of the finished product, as are we, her family."
Dedication
Worship Council Representative, Nancy Sulkers:   In memory of Angela Moodie and on behalf of Angie's family, we present this stained glass window to be dedicated to the memory of Angie's life and to the glory and praise of God.
Chair of the Board of WPUC, Doug Waldron: With gratitude, we accept this stained glass window. We will care for it, and it will add beauty to our worship space.
Words of Dedication (Rev. Patrick Woodbeck)
God of the universe, may the light of your love shine through this window we dedicate to your glory.  May all who gaze upon it sense your beauty and peace.  Reminded of the stories and symbols of your faithfulness, may we give thanks, and grow in faith and love.  Amen.
One:  In the name of the holy and triune God:  Creator, Christ, and Spirit,
All:  we dedicate this window to the glory of God.
One:  With gratitude and reverence,
All:  we dedicated this window to the glory of God.
One:  For the beauty of this holy place and for the sake of all God's people.
All:  we dedicate this window to the glory of God.
One:  In remembrance of Angela Moodie,
All: we dedicate this window to the glory of God.
Prayer
Creator God, source of all inspiration and beauty, we thank you for the gift of this stained glass window now dedicated to the glory of your name.
May your Holy Spirit guide us in reverent and loving use of all of the gifts given to us, always remembering your great gift to us, Jesus Christ, your Son.
God of the whole human family, we thank you for all that was beautiful and good in the life of Angie Moodie commemorated today; for the example Angie provided of faith and hope, and for her love of your church, and of all who gather in the name of Jesus.  Amen.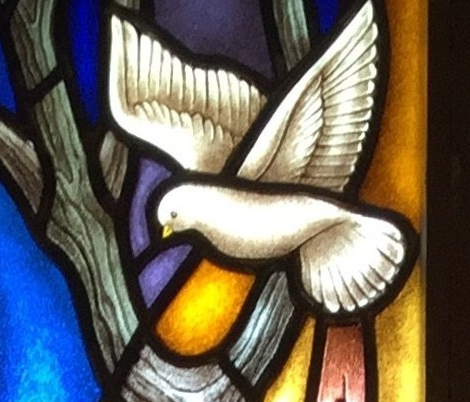 The Worship Choir anthem was shared with these words from choir director, Laura Steidl:
The anthem this morning is called "I Will Rise" and was chosen in honour of Angela Moodie.  Windsor Park United Church has been blessed with Angie's gifts for many, many years.  She started singing at a young age and, with her beautiful soprano voice and contagious enthusiasm, quickly became a treasured member of the choir, where she found a place for the rest of her life.  She was an integral part of the life of this church, serving on councils, committees and being a trustee, as well as serving as an informal mentor and trusted advisor and teacher to many of us.  I met Angie when I joined the Junior Choir as a child and she has always been a part of my experience of the church community at Windsor Park United.
Over the years I learned many life lessons from watching Angie as she worked, worshiped and played at this church.  I will always treasure the memories that I have, as I'm sure that many of you also will, of time shared with Angie.  She was a very special lady.
On behalf of the choir and the members of Windsor Park United Church, I would now like to dedicate this anthem in Angie's memory to the glory of God.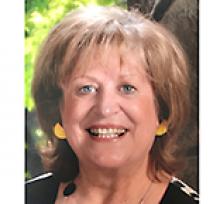 To learn more about Angela's life, go to:  https://passages.winnipegfreepress.com/passage-details/id-253904/MOODIE_ANGELA
Window designed and created by European Art Glass, Winnipeg 2018.