Notes on the Notes – Sunday, December 20, 2015 – Advent 4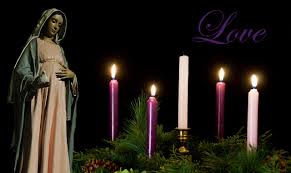 This week's theme:
ADVENT 4/Baptism/Mary & Elizabeth
This week's scripture readings:
Micah 5:2-5a – God promises a ruler from Bethlehem who will lead his flock to peace
Luke 1:39-55 – Mary visits Elizabeth who greets her with great joy/God's promise will be fulfilled though Mary
This week's music:
"Away in a Manger" (VU #69)
"Away in a manger, no crib for a bed,
The little Lord Jesus lay down his sweet head.
The stars in the bright sky look down where he lay,
The little Lord Jesus, asleep on the hay.
The cattle are lowing, the baby awakes,
But little Lord Jesus, no crying he makes.
I love you, Lord Jesus, look down from the sky
And stay by my side until morning is nigh.
Be near me, Lord Jesus, I ask you to stay
Close by me forever, and love me I pray.
Bless all the dear children in your tender care
And fit us for heaven to live with you there."
This traditional children's carol is an anonymous text which seems to have come from the German Lutheran community in Pennsylvania.  The tune CRADLE SONG was published in an American collection of Christmas songs entitled Around the World with Christmas (1895).
Hear the song on harp at:  https://www.youtube.com/watch?feature=player_embedded&v=rYc-XTYib4o
Hear the song on the piano at:  https://www.youtube.com/watch?feature=player_embedded&v=vtW9TLjiPNs
"Away in a Manger" sung by Libera:  https://youtu.be/yjke_DVaa_c
 "O Come, All Ye Faithful" (VU #60)    
The original four verses of "O Come All Ye Faithful" were discovered in an eighteenth century Jacobean manuscript with John Francis Wade's signature. At one time historians believed that Wade had simply discovered an ancient hymn by an unknown author, possibly St. Bonaventura, a thirteenth century Italian scholar. Further examination, however, has led many to believe that Wade wrote both the words and music of this hymn himself.
Wade, a Catholic who sympathized with the Jacobite cause in England, created several masses that promoted the return of exiled Catholics to the country of England. Interestingly, the "Jacobite manuscript" including an original copy of "O Come All Ye Faithful," was one such mass. Printed in the margins of the song, Wade had called on faithful Jacobites to come together and rally against the English throne. Although most songbooks include only four verses to this hymn, four other verses are known to exist.
As exiled Catholics returned to England, they took Wade's hymn with them. And in 1841, the words were translated into English. A copy of Wade's hymn was also sent to the Portuguese chapel in London, where the Duke of Leeds heard it and introduced it to a group of concert singers he conducted. From there it circled the globe, becoming one of our most well loved Christmas hymns.
Watch a beautiful Christmas video by Brigham Young University Vocal Point and BYU Noteworth:
"What Child is This" (VU #74)
"What child is this, who laid to rest, on Mary's lap is sleeping?

Whom angels greet with anthems sweet while shepherds watch are keeping?
This, this is Christ the King, whom shepherds guard and angels sing;
Haste, haste to bring him laud, the Babe, the Son of Mary!
Why lies he in such mean estate where ox and ass are feeding?
Good Christian, fear; for sinners here the silent Word is pleading…
So bring him incense, gold, and myrrh;
Come, one and all, to own him.
The King of Kings salvation brings; let loving hearts enthrone him…."
The lyrics of this hymn were written in 1865 by William Chatterton Dix.  He was one of more than 20 lyricists who chose the traditional melody of Greensleeves as the music for his verse.   In the era while Dix was writing hymns and raising a family, Christmas was not the celebration it is today. Neither was it a season where many openly celebrated the birth of Christ.  Puritan groups feared that if set aside as a special day, Christmas would become a day of pagan rituals more than a very serious time of worship. In this context, it was unusual for Dix to feel moved to write about Christ's birth, since many hymn writers of the period ignored Christmas altogether."*
Watch Charlotte Church perform this song at:  https://www.youtube.com/watch?feature=player_detailpage&v=8T6isuiF-x0
"She Walked in the Summer (The Visit)" (VU #12)
"She walked in the summer through the heat on the hill.
She hurried as one who went with a will.
She danced in the sunlight when the day was done.
Her heart knew no evening who carried the sun.
Fresh as a flower at the first ray of dawn,
She came to her cousin whose morning was gone.
There leaped a little child in the ancient womb,
And there leaped a little hope in every ancient tomb.
Hail, little sister, who heralds the spring.
Hail, brave mother, of whom prophets sing.
Hail to the moment beneath your breast.
May all generations call you blessed.
When you walk in the summer through the heat on the hill,
When you're wound with the wind and one with Her will,
Be brave with the burden you are blessed to bear,
For it's Christ that you carry everywhere, everywhere, everywhere."
This song is a thought-provoking narration of the the encounter between Mary and her older cousin Elizabeth, when Elizabeth is pregnant with John the Baptist and Mary is carrying Jesus. The music is simple, both melodically and harmonically, arising from the folk song revival in the late 1960s. Sister Miriam Therese Winter wrote the song in 1968 for the feast of the Visitation, then celebrated in the summer. The text was altered for more inclusive language and re-published in Woman Prayer, Woman Song (1987).
"My Soul is Filled with Joy"
Mary's response to her visit to Elizabeth is the song of praise known as the Magnificat.   It is one of the eight most ancient Christian hymn texts and perhaps the earliest Marian hymn.   The text is taken directly from Luke 1:46-55 where it is spoken by the Virgin Mary upon the occasion of her Visitation to her cousin Elizabeth.   In the narrative, after Mary greets Elizabeth, who is pregnant with John the Baptist, the child moves within Elizabeth's womb. When Elizabeth praises Mary for her faith, Mary sings what is now known as the Magnificat in response –  her "yes!" to God.
"My soul is filled with joy as I sing to God my savior:

You have looked upon your servant, you have visited your people.
I am lowly as a child, but I know from this day forward
That my name will be remembered, for all will call me blessed.
I proclaim the power of God: you do marvels for your servants;
Though you scatter the proud-hearted and destroy the might of princes.
To the hungry you give food, send the rich away empty.
In your mercy you are mindful of the people you have chosen.
In your love you now fulfill what you promised to your people.
I will praise you, Lord, my savior, everlasting is your mercy.
And holy is your name through all generations!
Ever-lasting is your mercy to the people you have chosen,
And holy is your name."
The melody is the Irish traditional tune, WILD MOUNTAIN THYME, which has been arranged by David Haas (1989).
Hear the song at: https://youtu.be/V8Z0bTTcbOU
"Be Born in Us"
"In a world of darkness where light has lost its way,
And our hearts grow colder with each passing winter day;
Beneath the pain and sorrow, hope is waiting to be born
Through a tiny Babe whose life will change this world forevermore.
Be born in us, O Holy Child, and let the light of Your love shine within our lives.
Be born in us, O Prince of Peace, let the hope You bring this world be born in me.
To a world that's longing for a Child and King,
For the joy and comfort only heaven's love can bring,
We must be the beacon, we must show the world the way to the tiny Baby whose life can change each heart that humbly prays:
Be born in us…
Born for us, to deliver;
To reign in us forever
Unto us You will be given.
Come to us, that You may be
Born in us…"
This week's anthem, expressing the longing for the Christ within our hearts, was written by David S. Gaines and Ruth Elaine Schram (2003).
"O Little Town of Bethlehem" (VU #64)
"O little town of Bethlehem, how still we see thee lie!  Above thy deep and dreamless sleep the silent stars go by;  yet in thy dark streets shineth the everlasting light;  the hopes and fears of all the years are met in thee tonight.
For Christ is born of Mary; and gathered all above, while mortals sleep, the angels keep their watch of wondering love.  O morning stars, together proclaim the holy birth, and praises sing to God the King, and peace to all on earth.
How silently, how silently the wondrous gift is give!  So God imparts to human hearts the blessed gift of heaven.  No ear may hear his coming; but in this world of sin, where meek souls will receive him, still the dear Christ enters in.
O holy child of Bethlehem, descend to us, we pray;  cast out our sin, and enter in; be born in us today.  We hear the Christmas angels the great glad tidings tell;  O come to us, abide with us, our Lord Emmanuel."
The text for "O Little Town of Bethlehem" was written by  Phillips Brooks (1835–1893), an Episcopal priest, Rector of the Church of the Holy Trinity, Philadelphia. He was inspired by visiting the Palestinian city of Bethlehem in 1865. Three years later, he wrote the poem for his church and his organist, Lewis Redner, added the music. Redner's tune, simply titled ST. LOUIS, is the tune used most often for this carol in the United States and Canada, but it may also be sung to the tune FOREST GREEN instead.
See Sarah McLachlan sing this carol at:  https://www.youtube.com/watch?v=jyPMDD8fGeA
"Carols of the Angels"
"Hark! the herald angels sing, "Glory to the newborn King:
Peace on earth, and mercy mild, God and sinners reconciled!"
Joyful, all ye nations, rise, join the triumph of the skies;
With th'angelic host proclaim, "Christ is born in Bethlehem!"
Hark!  the herald angels sing, "Glory to the newborn King."
The first Noel, the angel did say
Was to certain poor shepherds in fields as they lay-
In fields where they lay keeping their sheep,
On a cold winter's night that was so deep.
Noel, noel!  Noel, noel!  Born is the King of Israel!
Noel, noel!  Noel, noel!  Born is the King of Israel!
Hail the Heav'n-born Prince of Peace!  Hail the Sun of Righteousness!
Light and life to all He brings, ris'n with healing in His wings.
Mild He lays His glory by, born that man no more may die;
Born to raise the sons of earth, born to give them second birth.
Hark!  the herald angels sing, "Glory to the newborn King."
Glory to the newborn King."
This medley of Hark the Herald Angels Sing and The First Noel was arranged by Camp Kirkland in 2001.
 Services during Christmas week:
Monday, December 21 – Blue Christmas 7 p.m.
 Christmas Eve services:
5 p.m. Family Service led by the Praise Team and Joyful Noise
7 p.m.  Service led by the Worship Choir
11 p.m. Candlelight communion led by Kelsey Shiaro & Michele Barr
Regular Sunday Worship – Sunday, December 27 at 10:30 a.m.
Categories:
Notes on the Notes