Notes on the Notes – Reformation Sunday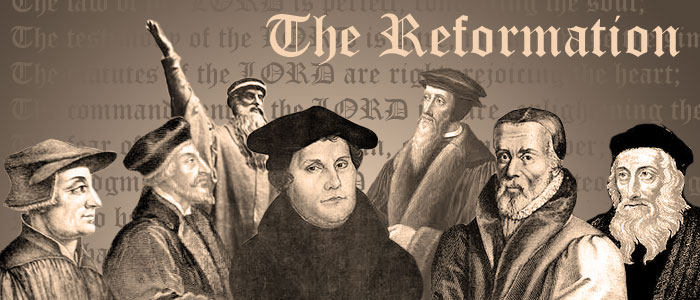 This week's special event:
Premiere of the dramatic reading "Sola Fide" by John McTavish
This week's scripture readings:
Job 42:1-6,10-17             Hebrews 7:23-28
This week's music:
"Let Us With a Gladsome Mind" (VU #234)
"Let us, with a gladsome mind, praise our God, forever kind;
Whose great mercies still endure, ever faithful, ever sure.
God, with all-commanding might, filled the new-made world with light;
For God's mercies still endure, ever faithful, ever sure.
God has with a gracious eye looked upon our misery;
For God's mercies still endure, ever faithful, ever sure.
All things living God does feed, with full measure meets their need;
For God's mercies still endure, ever faithful, ever sure.
Let us then with gladsome mind, praise our God, forever kind;
Whose great mercies still endure, ever faithful, ever sure."
The original text was written by a fifteen year old schoolboy, John Milton, who grew up to be a famous poet –– author of the epic poem, "Paradise Lost."
Milton based "Let us with a gladsome mind" on Psalm 136.  He hadn't intended to write a hymn, but his poem was set to music by a church organist, John Bernard Wilkes, long after Milton's death, using a tune written originally by John Antes, a Moravian composer. The tune was arranged by John Lee in 1824 for a collection of Moravian hymn tunes published in Manchester. The publishers of Voices United have updated some of the lyrics in the interest of clearer understanding of the message.
Hear the hymn on pipe organ at:  https://www.youtube.com/watch?v=wSqgC6J8kKE
"Praise to the Lord, the Almighty" (VU #220)
"Praise to the Lord, the Almighty, who rules all creation;
O my soul, praise him, at all times your health and salvation.
Come, all who hear; brothers and sisters draw near;
Joining in glad adoration.
Praise to the Lord, above all things so mightily reigning,
Keeping us safe at his side, and so gently sustaining.
Have you not seen how all you needed has been
Met by God's gracious ordaining?
Praise to the Lord who will prosper our work and defend us,
Surely his goodness and mercy will daily attend us;
Ponder anew what the Almighty can do,
Who out of love will befriend us.
Praise to the Lord! O let all that is in me adore him!
All that has life and breath come now with praises before him!
Let the Amen sound from God's people again;
Gladly with praise we adore him."
Joachim Neander rebelled against his family's piety, but was converted at age twenty at St. Martin's Church in his native city of Bremen.  This hymn was written in 1680, the year of his death at age thirty from tuberculosis.  The text is based on Psalm 103: 1-6 and Psalm 150 and is a joyful, truimphant expression of praise to God for his sovereign care over his creation and for his people. The tune, LOBE DEN HERREN is an adaptation by Neander of an anonymous German chorale tune first published in 1665.
One interesting page in history is Neander's roots, and the later use of his name. He often taught in a valley near the Düssel river, and over 100 years after his death the valley was named after him. It was in that valley that bones were later found, from which we get the name "Neanderthal." One wonders what Neander would have thought of this development!
See the hymn sung with original words at Westminster Abby in celebration of Queen Elizabeth's 60th anniversary of her coronation.
https://www.youtube.com/watch?v=0JvCmvlm-Qg
"Confitemini Domino" (MV #16)
"Confitemini Dominio quoniam bonus.
Confitemini Domino, alleluia."
English translation:
Praise the Lord for He is good.
Praise the Lord, alleluia.
The words for this song come from the Taize Community (1982) with the music by Jacques Bethier. Ecclesiastical Latin (also called Liturgical Latin or Church Latin) is the form of the Latin language used in the Roman Rite of the Catholic Church for liturgical and other purposes.   One of Luther's issues with the Catholic Church was that he thought priests should use the vernacular, the language of the people, rather than Latin.
Hear the song at:  https://www.youtube.com/watch?v=SsWgvtQ5dgs
"A Mighty Fortress is Our God" (VU #262)
"A mighty fortress is our God, a bulwark never failing;
Our helper sure amid the flood of mortal ills prevailing;
For still our ancient foe doth see to work us woe;
With power and malice great,
And armed with cruel hate, on earth he has no equal.
Did we in our own strength confide, our striving would be losing,
Were not the right man on our side, the man of God's own choosing:
Dost ask who that may be?
Christ Jesus, it is he; Lord Sabaoth his name,
From age to age the same, and he must win the battle.
And though this world, with devils filled, would threaten to undo us,
We will not fear, for God hath will the truth to triumph through us:
The prince of darkness grim, we tremble not for him,
His rage we can endure, for lo! his doom is sure,
One little word shall fell him.
That word above all earthly powers, no thanks to them, abideth;
The Spirit and the gifts are ours through Christ, who with us sideth;
Let goods and kindred go, this mortal life also;
The body they may kill: God's truth abideth still,
God's kingdom is for ever."
Martin Luther wrote this hymn in the late 1520s during a period of turmoil and persecution.  It is derived from Psalm 46.  The traslation was made by Frederick H. Hedge, a Unitarian minister and a professor of hurch history and German literature at Harvard University.  Luther composed the melody EIN' FESTE BURG for this text.  J.S. Bach wrote three harmonizations of the choral tune.  The one used in Voices United is from The New Hymnal for American Youth (1930) and was written by Bach for Cantata No. 80, Ein feste Burg ist unser Gott.
Hear the Roger Wagner Chorale at:  https://www.youtube.com/watch?v=ADamVJaXZMg
"Praise God from Whom All Blessings Flow" (VU #541)
"Praise God from whom all blessing flow;
Praise God, all creatures high and low;
Give thanks to God in love made know;
Creator, Word and Spirit, One. Amen."
This doxology (among Christian traditions a doxology is typically an expression of praise sung to the Holy Trinity – the Father, the Son and the Holy Spirit) was written by Thomas Ken while he was chaplain at Winchester College, and was probably in use by 1674.   The United Church of Canada has adapted the lyrics in a move toward a more inclusive vision of the Trinity.  The melody, OLD 100TH, was composed or adapted by Louis Bourgeois in 1551.
"Legacy of Service"
"Upon a firm foundation God has built this place;
A church of living stones, established by His grace.
The saints who went before us were faithful to the call.
Their legacy compels us to dedicate our all.
The work has just begun; the journey lies before us.
There's music to be sung; a strong and mighty chorus.
God is always faithful; His promises are true.
The work has just begun, and God will see it through.
This day of celebration we lift our thanks above.
We sing to God our praise for all good gifts of love.
The voices of our founders still echo through these halls.
That heritage still calls us to answer Love's great call."
The words for this week's anthem were written by Joseph M. Martin. The music is by Lloyd Larson (2008). The work was commissioned for the celebration of the 200th anniversary of Camp Chapel United Methodist Church in Perry Hall, Maryland in October 2007.  The lyrics offer praise for those who have come before us in the faith journey, as well as a reminder that the "torch has been passed" to current generations.
Learn more about Luther's music and the music of the Reformation at:
http://religiousaffections.org/articles/hymnody/reformation-hymns/
Learn more about the history of the Protestant Reformation at:
http://www.history.com/topics/martin-luther-and-the-95-theses
https://en.wikipedia.org/wiki/Protestant_Reformation 
Categories:
Notes on the Notes