Notes on the Notes – October 4, 2015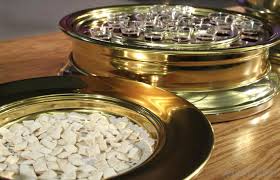 This week's theme:  World Wide Communion Sunday/Creation 4
This week's scripture readings:
               Job 1:1; 2:1-10, Mark 10:2-16
This week's music:
"We are One" (VU #402)
This new hymn text was submitted for Voices United by Doreen Lankshear-Smith of Thunder Bay, Ontario.  The tune was composed in 1987 by Jeeva Sam of Regina, SK and arranged by David Kai of Gloucester, Ontario in 1995.  On this World-wide communion Sunday, the words remind us of our common journey as a faith community:
"We are one as we come, as we come, joyful to be here, in the praise on our lips there's a sense that God is near. We are one as we sing, as we seek, we are found; and we come needful of God's grace as we meet, together in this place.
We are one as we share; as we share brokenness and fear, in the touch of a hand there's a sense that God is here.  We are one as we care, as we heal, we are healed; and we share warmth in God's embrace as we pray together in this place.
We are one as we hear, as we hear, heart and hand unite; in the word we receive there's a sense that God is light.  We are one as we leave, as we love, we are loved; and we seek justice in God's ways as we move together from this place."
This week we will sing the first three verses as the Gathering song and save verse four to sing at the close of the service as our benediction response.
"Creator God You Gave Us Life" (MV #27)
"Creator
God you gave us life, your image formed within our souls, yet through the mist of time and space, we search for that which makes us whole.
In every flower and every tree, we see your great diversity, yet greater still we see your love, expressed in our humanity.
When with our hearts, our hands, our minds, we share our gifts with all the world, our spirits soar beyond the veil, to touch the very face of God.
Through hands that paint majestic skies, and voices chanting melody, with words that reach beyond the page, we comprehend your mystery."
Both the tune and text of this hymn were written by Judith Snowdon in 2004. Judith Snowdon was born in England but completed her formal music education in Canada at Canadian Mennonite University and the University of Winnipeg.  An award winning composer and accomplished church musician, Judith currently teaches piano in Dieppe, NB where she also works part-time for the Mennonite Central Committee and serves as organist/choir director at McKees Mills United Church.
"I Come With Joy" (VU #477)
"I come with joy, a child of God, forgiven, loved and free,
The life of Jesus to recall in love laid down for me,
In love laid down for me.
I come with Christians far and near to find, as all are fed,
The new community of love in Christ's communion bread,
In Christ's communion bread.
As Christ breaks bread, and bids us share, each proud division ends.
The love that made us, makes us one, and strangers now are friends,
And strangers now are friends.
The Spirit of the risen Christ, unseen, but ever near,
Is in such friendship better known, alive among us here,
Alive among us here.
Together met, together bound by all that God has done,
We'll go with joy, to give the world the love that makes us one,
The love that makes us one."
This song, on of Brian Wren's most widely-published hymns, was written for the congregation at Hockley in Essex in 1968, at the end of a series of sermons on communion. It was first published in The Hymn Book (1971). The tune, DOVE OF PEACE, is an American folk tune from Southern Harmony (1835). The arrangement in Voices United is by Austin C. Lovelace.
Hear the melody played on piano at:  https://www.youtube.com/watch?v=QMFLyMvOro4
"Oh Lord, Your Table Now is Spread"
"Oh, Lord, Your table now is spread,
Your cup with love overflows;

And those who worship in this hour all your tender mercies know.
From north and south, and east and west,
Have come Your grateful, joyful guests,
And all who gather in this place are those who journeyed here by faith.
Drawn by Your quickening grace, oh Lord,
For countless ages they have come
To take the cup and lift it up
And celebrate the Living One,
Jesus Christ, Your Son!
Oh, Lord, we gather in this hour
To remember the broken bread and cup.
Oh, Lord, Your table here is spread,
And Jesus Christ is lifted up."
The words for this week's anthem are by J. Paul Williams, adapted from a text by Philip Doddridge (1702-1751) and Isaac Watts (1674-1748).  The music is by Brad Nix.  The anthem was published in 2010.
"Move in the World"  (tune 705)
"Move in the world, with kindness as your creed;
Open your eyes to see its deepest need;
Let peace and justice be the truths we heed,
Alleluia, alleluia!
Move in the world, embracing its despair;
The poor and hungry seek our love and care;
With outstretched hands the gift of hope we share,
Alleluia, alleluia!
Live in the world, strive for a better day,
Let truth and fairness birth a kinder way,
Where people, all, the love command obey,
Alleluia, alleluia!"
The words for our closing hymn were written by Peggy McDonagh of St. David's United Church in Calgary, Alberta. They were published in the resource, Gathering, and are used with permission.   The tune, SINE NOMINE, is commonly known as the tune for the hymn, "For all the Saints."  It was composed by Ralph Vaughan Williams in 1906.  Hear an orchestral version at:  https://www.youtube.com/watch?v=s5_JipOkEnc
Categories:
Notes on the Notes