Notes on the Notes – November 3, 2013
This week's scripture reading:  Luke 19:1-10
This week's music: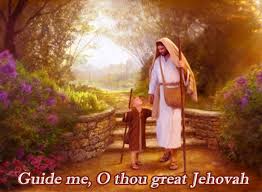 "Guide Me, O Thou Great Jehovah" (VU #651) –
"Guide me, O though great Jehovah, pilgrim through this barren land.  I am weak, but thou art mighty, hold me with thy powerful hand.  Bread of heaven, bread of heaven, feed me till I want no more, feed me till I want no more…"
William Williams was a hymn writer (in Welsh and English) and an itinerant preacher during the Welsh revival of the 1740s.  The theme of this hymn, written in Welsh in 1745, is the Israelites' return to the promised land.  Some decades later, Peter Williams (no relation) of Camarthen translated three of the five stanzas into English for his Hymns on Various Subjects (1771).  In the version in Voices United, verse one is taken from the translation by Peter Williams and verses two and three are translations made by the author himself.   The tune CWM RHONDDA was composed in 1905 by John Hughes, the precentor at Llantwit Fardre chapel, for a Baptist Cymanfau Ganu (Singing Festival) in Pontypridd.  The tune was originally called RHONDDA; "cwn" (the Welsh word for valley) was added to distinguish it from another tune of the same name.  The valley of the river Rhondda is the heart of the coal mining industry in south Wales.
Read more about the hymn's history at:  http://www.challies.com/articles/hymn-stories-guide-me-o-thou-great-jehovah
Video of this hymn from the wedding of Prince William and Kate:  http://www.youtube.com/watch?v=SwvpTl88jwI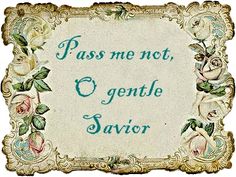 "Pass Me Not O Gentle Saviour" (VU #665) –
"Pass me not, O gentle Saviour, hear my humble cry, while on others thou art calling, do not pass me by….Thou the spring of all my comfort, more than life to me, whom have I on earth beside thee?  Whom in heaven but thee?"
Fanny Jane Crosby was known by her married name as well as numerous pseudonyms associated with her prolific production of over 8,500 gospel hymns.  Hers was an age of evan­gel­is­tic sing­ing miss­ions, and Fan­ny Cros­by's hymns were al­ways in re­quest. So pop­u­lar was the lit­tle po­et­ess that she was in­vit­ed to speak at ma­ny places where these mis­sions were held. On one oc­ca­sion, it was at a state prison. Much was hoped for from this par­ti­cu­lar meet­ing. As Fan­ny was speak­ing—and her ve­ry blind­ness gave her pow­er—first one pris­on­er and then ano­ther would in­ter­rupt by call­ing on the good Lord not to pass me by.  Fanny told that she was so touched by the pleas of these men that she could not get the thought of them out of her mind; in­deed she said, I wrote the lines with the men's plead­ing wail still in my ears." (Source: Blanchard, Kath­leen. Stor­ies of Won­der­ful Hymns. Grand Ra­pids, Mi­chi­gan: Zon­der­van Pub­lish­ing House)
See the London Philharmonic Choir at:  http://www.youtube.com/watch?v=QFkgAj2hEEc
Anthem – "Let Us Serve Him" – Today's anthem, by Don Besig and Nancy Price was written in 1987.  The lyrics outline our belief in God's faithfulness and constant love, which, in turn, calls us to a life of service.
"If we walk within His light He will guide each step we take.  He will keep us in His sight and bring us back if we go astray.  When the road is dark and cold we will have His hand to hold, and if we put our trust in Him, we'll see a brand new day begin.
Let us go and let us serve Him with a love for all so see.  Let us show that we have heard Him and we believe, yes we believe…"
 Solo – "Hallelujah" is a song written by Canadian singer-songwriter Leonard Cohen, originally released on his album Various Positions (1984). Achieving little initial success, the song later found greater popular acclaim and has been covered by over 300 other artists.  It is the subject of the book "The Holy or the Broken: Leonard Cohen, Jeff Buckley & the Unlikely Ascent of "Hallelujah"" (2012) by  Alan Light.  In a New York Times review of the book, Janet Maslin praises the book and the song, noting that "Cohen spent years struggling with his song 'Hallelujah.' . . . He wrote perhaps as many as 80 verses before paring the song down."  His original version contains several biblical references, most notably evoking the stories of  Samson and Delilah from the Book of Judges as well as the adulterous King David and Bathsheba: "she cut your hair" and "you saw her bathing on the roof, her beauty in the moonlight overthrew you". Cohen's lyrical poetry and his view that "many different hallelujahs exist" is reflected in wide-ranging covers with very different intents or tones, allowing the song to be "melancholic, fragile, uplifting [or] joyous" depending on the performer.  The song has been used in film and television soundtracks, and televised talent contests.
"O Lord my God, when I in awesome wonder consider all the works thy hand hath made…then sings my soul, my Saviour God, to thee, How great thou art!"
The words of this hymn are an echo of the awe felt by the writer of Psalm 8.   The hymn How Great Thou Art travelled a long road before it ended up a favorite addition to English hymnals. The original version was a poem written by a Swedish pastor, Reverend Carl Boberg in 1886.   In 1933, English missionaries to the Ukraine, Reverend and Mrs. Stuart K. Hine heard the song for the first time, fell in love with it and sang it often throughout their missionary journeys. As they traveled the Carpathian Mountains, the couple was inspired by the incredible beauty to translate the first three verses of the song into English. When WWII broke out in 1939, the Hines returned to England carrying How Great Thou Art to its new home. After the war they wrote the fourth verse and arranged the original Swedish folk tune to be published in English hymnals. In the 1950s, the song was copyrighted and widely published in America, becoming more and more popular. When George Beverly Shea and the Billy Graham gospel choir, directed by Cliff Barrows, began to sing the song at virtually every crusade event, How Great Thou Art soon became one of the most recognized songs around the world. (source:  Share Faith website)
"Will Your Anchor Hold" (VU #675)
"Will your anchor hold in the storms of life, When the clouds unfold their wings of strife? When the strong tides lift, and the cables strain, Will your anchor drift or firm remain?
Will your anchor hold in the straits of fear, When the breakers roar and the reef is near? While the surges rave and the wild winds blow, Shall the angry waves then your bark o'erflow?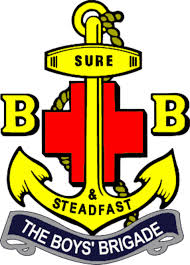 Will your eyes behold through the morning light, The city of gold and the harbour bright? Will you anchor safe by the heavenly shore When life's storms are past for evermore?
We have an anchor that keeps the soul Steadfast and sure while the billows roll; Fastened to the rock which cannot move, Grounded firm and deep in the Saviour's love."
Priscilla Jane Owens of Baltimore, Maryland, wrote this hymn, most likely for a youth service in 1882.  It was first published, with the tune by William James Kirkpatrick, in "Songs of Triumph:  adapted to Prayer Meetings, Camp Meetings, and All Other Seasons of Religious Worship (1882).  Priscilla Owens (1829–1907) was a Sunday School teacher at the Un­ion Square Methodist Episcopal Church. She wrote a number of hymns and songs for her pupils; this is the best known today. The music was written by William Kirkpatrick (1838–1921) of  Philadelphia, Pennsylvania. He was a member of the same Christian denominiation as Owens, and was a prolific writer of hymn tunes and compiler of hymn collections.  The hymn has always been closely associated with the Boys' Brigade, which has the motto, "Sure and Stedfast".  The Boys' Brigade (BB) is an interdenominational Christian youth organization, conceived by Sir William Alexander Smith to combine drill and fun activities with Christian values.  Following its inception in Glasgow in 1883, the BB quickly spread across the United Kingdom and became a worldwide organization by the early 1980s.  As of 2003, there were 500,000 Boys' Brigade members in 60 countries.
Hear the song sung by the Boys' Brigade at: http://www.youtube.com/watch?v=IwLY_fiTDLY
Categories: Music Programs, Sunday Bulletin and Announcements, Worship