Notes on the Notes – November 26, 2017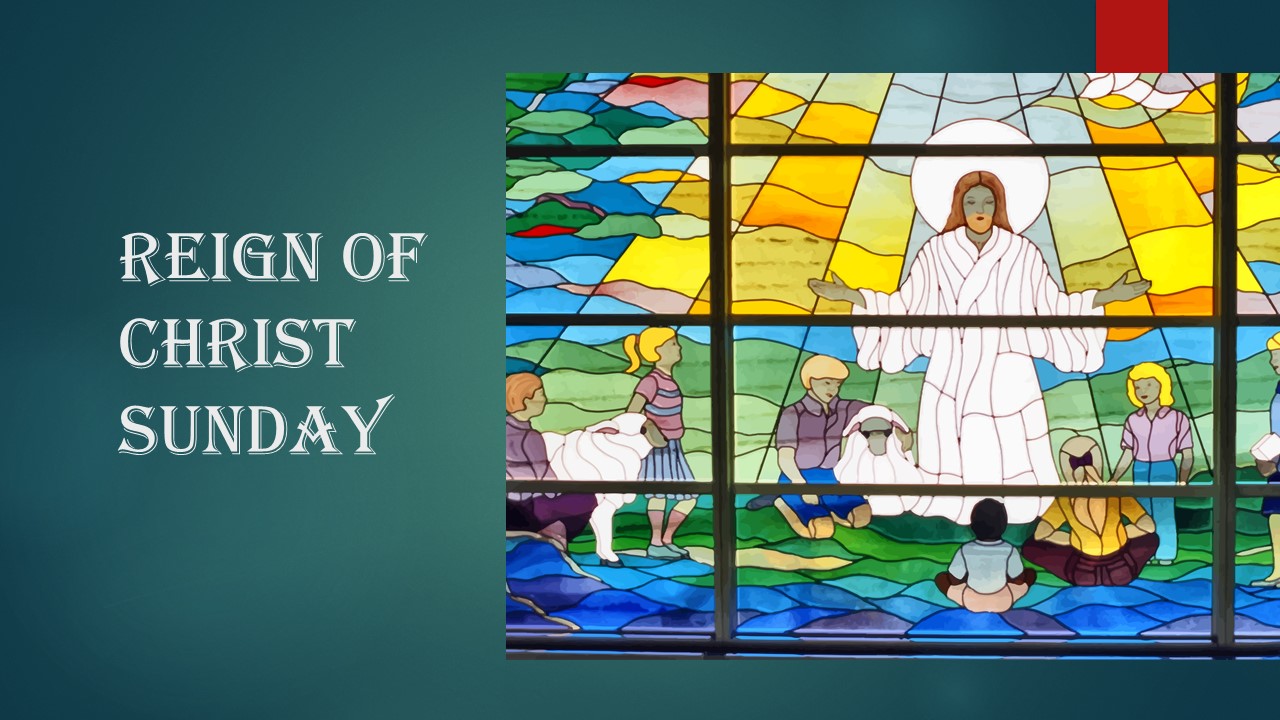 This week's theme:  Reign of Christ
This week's scripture reading:
Matthew 25:31-46
This week's music:
"Are You a Shepherd?" (MV #126)
"Are you a shepherd, good shepherd who leads us

safely through danger, while calming our fears?
Are you a father who shelters and feeds us,
shares in our laughter and wipes away tears?
Yes, you are shepherd, parent and teacher,
but you are greater than all that we know.
Holy and living, loving and giving,
God, you are with us wherever we go.
Are you a mother, good mother who bears us,
comforts, protects us and helps us to rest?
Are you a teacher who daily prepares us,
challenging students to offer their best?
Great, gentle shepherd, forever beside us,
lead all your children in paths that are right.
Great, loving parent, wise teacher, you guide us.
We want to love you and bring you delight."
This hymn was written by Ruth Duck in 2002, with music by William P. Rowan.  Through her words, Ruth contemplates the many natures and roles of God.
"Sing Your Praise to God Eternal" (VU #244)
"Sing your praise to God eternal, sing your praise to God the Son,
Sing your praise to God the Spirit, living and forever One.
God has made us, God has blessed us, God has called us to be true.
God rules over all creation, daily making all things new.
Join the praise of every creature, sing with singing birds at dawn;
When the stars shine forth at nightfall, hear their heavenly antiphon.
Praise God for the light of summer, autumn glories, winter snows,
For the coming of the springtime and the life of all that grows.
Praise God on our days of gladness for the summons to rejoice;
Praise God in our times of sadness for the calm, consoling voice.
God our Maker, strong and loving, Christ our Saviour, Leader, Lord,
Living God, Creator Spirit, be your holy name adored!"
This hymn, by R.B.Y. Scott, was first published in The Hymn Book in 1971.  The tune, ARFON, is derived from a Welsh folksong dating from at least the 18th century with possible French origins.
Robert Balgarnie Young Scott was a clergyman of the United Church of Canada and an Old Testament scholar.   Born in Toronto (1899), the son of John McPherson Scott (a Presbyterian minister), he was a graduate of Knox College, University of Toronto and the University of Toronto. He was ordained in the United Church of Canada in 1926.  He retired in 1968.  He is noted for his staunch support for the social gospel ethos of the United Church, both while teaching at Princeton and at home in Canada.   He died on November 1, 1987 in Toronto.
Hear the hymn sung in worship at Trinity United Church in PEI (the hymn occurs at minute 17, but feel free to enjoy "visiting" another church – love the choir gowns!) https://youtu.be/LQSKmuNJGBw
"In Christ There is No East or West"(VU #606)
"In Christ there is no east or west, in him no south or north,
But one great family of love throughout the whole wide earth.
In him shall true hearts everywhere their high communion find;
His service is the golden cord close binding humankind.
Join hands, then, people of the faith, whate'er your race may be;
All children of the living God are surely kin to me.
In Christ now meet both east and west, in him meet south and north;
All Christ-like souls are one in him throughout the whole wide earth."
The words of this hymn come from The Pageant of Darkness and Light (1908), a musical production of the London Missionary Society.  A revised version was made for Songs for a Gospel People (1987).  In Voices United, the words are set to the tune, MCKEE.   It is an arrangement by Harry T. Burleigh of a tune sung by the Fisk University choir in the 1880s.   Over the century since it was first written, the focus of this hymn has shifted from world missions in the early 20th century to a great hymn of Christian unity for the 21st-century church.  Hear the hymn  at http://www.youtube.com/watch?v=A9TuT1FyPUQ
"Holy is Your Name"
"Holy, holy, holy is Your name, O Lord,
Holy, holy, holy is Your name.
Some will call you Master, Counselor and Friend,
Some will say the Prophet or the Lamb,
You are Alpha and Omega, the Beginning and the End.

You are Son of God and Son of Man.
O Lord, we praise You, and we exalt You;
We proclaim You King forevermore.
At the name of Jesus, every knee shall bow
And every tongue confess that You are Lord.
Some may call You Teacher; some, the One True Light,
Prince of Peace and Saviour of the World.
You're the Rock of our salvation;
The Way , the Truth, the Life.
You are Lord of all; You are the Word."
This week's anthem is by Don Besig and Nancy Price (2010).  The lyrics explore the many definitions of "King" on this Reign of Christ Sunday.
"Lift High the Name of Jesus"
"Lift high the name of Jesus, of Jesus, our King.
Make known the power of His grace, the beauty of His peace.
Remember how How mercy reached as we cried out to Him

He lifted us to solid ground, to freedom from our sin.
O sing, my soul, and tell all He's done,
Till the earth and heavens are filled with His glory.
Lift high the name of Jesus, of Jesus, our Lord.
His power in us is greater than, is greater than this world;
To share the reason for our hope; to serve with love and grace;
That all who see Him shine through us might bring the Father praise.
O sing, my soul, and tell all He's done,
Till the earth and heavens are filled with His glory.
Lift high the name of Jesus, of Jesus, our Light.
No other name on earth can save, can raise our soul to life.
He opens up our eyes to see the harvest He has grown.
We labor in His fields of grace as He leads sinners home.
O sing, my soul, and tell all He's done,
Till the earth and heavens are filled with His glory.
Till the earth and heavens are filled with His glory!
Lift high His name!"
This week's anthem has words and music by Keith Getty, Kristyn Getty, Fionan de Barra and Ed Cash. It has been arranged by Mary McDonald (2013).
A thought from Kristyn
1 Peter 3:15 (ESV)
But in your hearts honor Christ the Lord as holy, always being prepared to make a defense to anyone who asks you for a reason for the hope that is in you; yet do it with gentleness and respect.

Is the hope I profess with my lips written in my life? And then when I am asked about it, do I have something to say? When I'm sitting at the hair salon, when I'm paying for my groceries, when I talk about things around the dinner table, when I am in a meeting at work, when I'm playing sport, when I'm planning my daily schedule… Can people see the Lordship of Christ in my heart?

This verse in 1 Peter presupposes that my life reveals my hope to be in Christ in such a way that people notice and so ask questions. It seems that while there are Bible verses that exhort us to plainly share our faith, we are told even more that a greater part of the 'telling' is the significance of the witness of a Christian life sincerely and purposefully lived, of a life that makes the gospel beautiful and attractive to people around them. Then as we do this, we remember all the while that He is the Lord of the harvest; He makes things grow; He saves so that we're neither discouraged nor arrogant but know the privilege of being part of the work of His kingdom.

These were some of the key thoughts behind the writing of this song – lives sharing the new life they have been given with those around them. I remember going as a young girl to a friend's house and seeing this little phrase on their kitchen notice board: "blossom where you're planted." I always thought that was a helpful way of thinking about the Christian life and evangelism – making the most of the path beneath your feet, serving best the people immediately around you, seeing the light of eternity in the ordinary of your life. A life that lifts high the name of Jesus will always bear the best and most enduring fruit."
See Kristyn Getty sing the song at: https://youtu.be/M8ZULrY9HlI
"When God is a Child" (VU #7)

"Hope is a star that shines in the night,
Leading us on till the morning is bright.
Peace is a ribbon that circles the earth,
Giving a promise of safety and worth.
Joy is a song that welcomes the dawn,
Telling the world that the Saviour is born.
Love is a flame that burns in our heart,
Jesus has come and will never depart.
When God is a child there's joy in our song.
The last shall be first and the week shall be strong,
And none shall be afraid."
This week marks the transition from one liturgical church year to the next.   Our closing hymn is based on our four upcoming Advent themes:  hope, peace, joy, and love.  Brian Wren wrote this hymn for Hyde Park United Methodist Church in Chicago in Advent 1985.  The tune MOON BEAMS was composed for Wren's text by Joan Collier Fogg in 1987.
Watch a video based on the song:
Categories:
Notes on the Notes