Notes on the Notes – November 24, 2019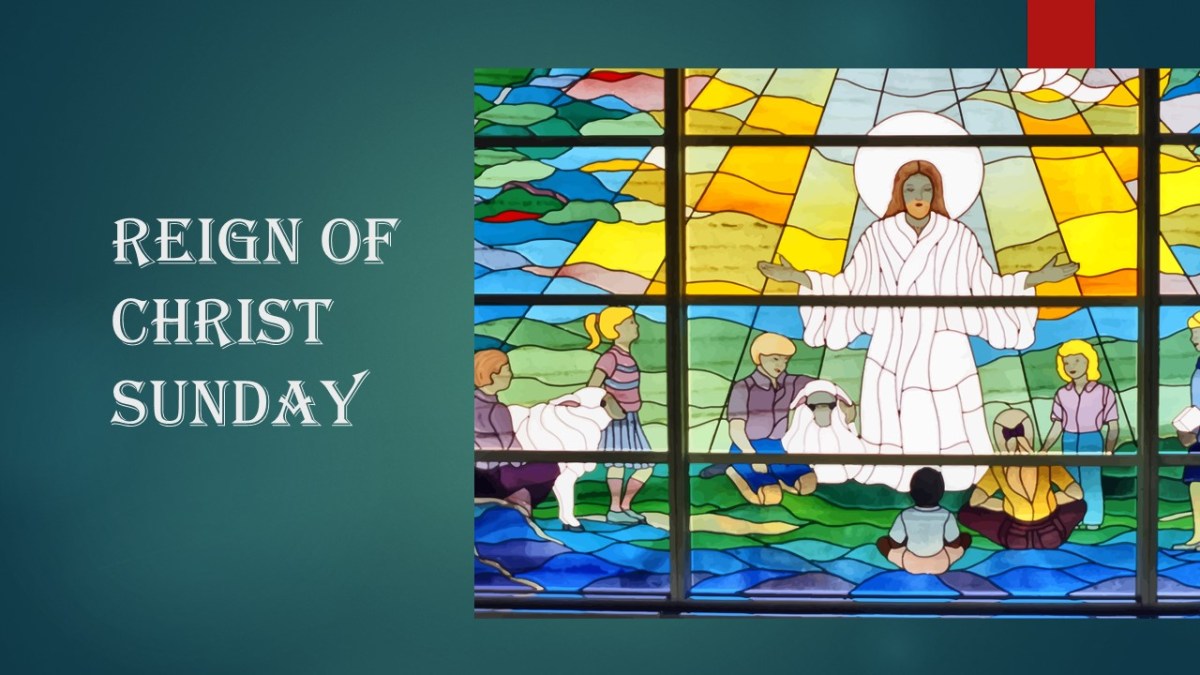 Reign of Christ Sunday
Saved!
 Jeremiah 23:1-6          Luke 23: 33-43
"Are You a Shepherd" (MV #126)
"Are you a shepherd, good shepherd who leads us
safely through danger, while calming our fears?
Are you a father who shelters and feeds us,
shares in our laughter and wipes away tear
s?
Yes, you are shepherd, parent and teacher,
but you are greater than all that we know.
Holy and living, loving and giving,
God, you are with us wherever we go.
Are you a mother, good mother who bears us,
comforts, protects us and helps us to rest?
Are you a teacher who daily prepares us,
challenging students to offer their best?
Great, gentle shepherd, forever beside us,
lead all your children in paths that are right.
Great, loving parent, wise teacher, you guide us.
We want to love you and bring you delight."
This hymn was written by Ruth Duck in 2002, with music by William P. Rowan.  Through her words, Ruth explores the many natures and roles of Jesus/God.
"Come, Children, Join to Sing" (VU #345)
"Come, children, join to sing: Hallelujah!
Praise to our Servant-King: Hallelujah!
Let all with heart and voice, saved by God's gracious choice,
Now in this place rejoice: Hallelujah!
Come, lift your hearts on high: Hallelujah!

Let praises fill the sky: Hallelujah!
Christ calls his people friends, the helpless he defends,
A love that never ends: Hallelujah!
Praise yet our Christ again: Hallelujah!
Raise high the joyous strain: Hallelujah!
The whole creation o'er let all God's love adore,
Singing forevermore: Hallelujah!"
"Come Christians, Join to Sing" began as a Sunday school song for children.  Originally entitled, "Come, Children, Join to Sing," the hymn's name was changed to "Come, Christians, Join to Sing" when its author realized everyone loved to sing his hymn.  The hymn was written in 1843 and first appeared in a Scottish hymnbook for children entitled Sacred Melodies for Sabbath Schools and Families.  Voices United has seen the return to the original title.
Hear a concertato version of the hymn at:  https://www.youtube.com/watch?v=Qlt1Qp1WvRA
"All the Way My Saviour Leads Me" (VU #635)
"All the way my Saviour leads me, what have I to ask beside?
Can I doubt his tender mercy who through life has been my guide?
Heavenly peace, divinest comfort, here by faith in him to dwell,
For I know, whate'er befall me, Jesus doeth all things well.
All the way my Saviour leads me, cheers each winding path I tread,
Gives me grace for every trial, feeds me with the living bread.
Though my weary steps may falter, and my soul a-thirst may be,
Gushing from the rock before me, lo, a spring of joy I see!
All the way my Saviour leads me; O the fullness of his love!
Perfect rest to me is promised in my Father's house above.
When my spirit, clothed, immortal, wings its flight to realms of day,
This my song through endless ages, "Jesus led me all the way!'"
"All The Way My Savior Leads Me" was written by one of the most pro­lif­ic songwriters in history. Fanny Crosby wrote over 8,000 Christian hymns despite the handicap she struggled with during her life. An inept doc­tor left Fanny without her eyesight at six weeks of age after a botched procedure. She said, " If per­fect earth­ly sight were of­fered me to­mor­row I would not ac­­cept it. I might not have sung hymns to the praise of God if I had been dis­tract­ed by the beau­ti­ful and in­ter­est­ing things about me." "All The Way My Savior Leads Me" is one of her songwriting masterpieces.
Fanny Crosby wrote this hymn on a day when an unexpected kindness had come her way.  Struggling financially, she desperately needed some money and, as her usual custom, Fanny began to pray.  A few minutes later, a gentleman offered her five dollars, the exact amount she needed.  Later recalling the incident, she said, "I have no way of accounting for this except to believe that God put it into the heart of this good man to bring the money."  The poem she wrote afterward became "All The Way My Savior Leads Me."   She sent the text to Robert Lowrey who composed the tune for it.  It was first published in Chicago, in Brightest and Best (1875), a tune book for Sunday schools.
Hear The Haven Quartet at:  https://www.youtube.com/watch?v=BEOtFEs0Jos
Hear Melody St Clair Randazzo at:  https://www.youtube.com/watch?v=B9u38XpHI7Q&index=31&list=PLWfKlHQoDKDWVBl9mE90_wpU-WDjhrGqs
"Holy is Your Name"
"Holy, holy, holy is Your name, O Lord.
Holy, holy, holy is Your name.
Some will call you Master, Counsellor and Friend.
Some will say the Prophet or the Lamb.
You are Alpha and Omega, the Beginning and the End.
You are Son of God and Son of Man.
O Lord, we praise You, and we exalt You.
We proclaim You King for evermore.
At the name of Jesus, every knee shall bow
And every tongue confess that You are Lord.
Some may call You Teacher; some, the One True Light,
Prince of Peace and Saviour of the World.
You're the Rock of our salvation; the Way, the Truth, the Life.
You are Lord of all; You are the Word.
O Lord, we praise You…"
This week's anthem was written by Don Besig and Nancy Price in 2010. On Reign of Christ Sunday, we are invited to examine the many ways of seeing Jesus.
"I Heard the Voice of Jesus" (VU #626)
"I heard the voice of Jesus say, 'Come unto me and rest;
Lay down,  O weary one, lay down your head upon my breast.'
I came to Jesus as I was, weary and worn and sad;
I found in him a resting place, and he has made me glad.
I heard the voice of Jesus say, 'Behold, I freely give
The living water; thirsty one, stoop down, and drink, and live.'
I came to Jesus, and I drank of that life-giving stream;
My thirst was quenched, my soul revived, and now I live in him.
I heard the voice of Jesus say, 'I am this dark world's light;
Look unto me, your morn shall rise, and all your day be bright.'
I looked to Jesus, and I found in him my star, my sun;
And in that light of life I'll walk till travelling days are done."
Horatius Bonar wrote this hymn for his congregation at Kelso in the border district of Scotland, and gave it the title "The Voice from Galilee."   Through the 3 verses, Bonar shares the invitation to come to Jesus for sanctuary, renewal and direction.  The tune is a traditional folk melody from England and Ireland.  It was arranged by Ralph Vaughan Williams for the English Hymnal (1906).  The tune is named KINGSFOLD after the village in Surrey where Vaughan Williams collected the folk song.
Flute and harp instrumental http://www.youtube.com/watch?v=34hdxri8qbk
Singer Joanna Hogg – http://www.youtube.com/watch?v=tH4OVm8nzXk
Pipe Organ – http://www.youtube.com/watch?v=Eed_d6cfOGI
To ponder: 
How do you see Jesus?

Categories:
Notes on the Notes