Notes on the Notes – November 2, 2014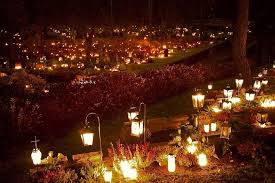 This week's theme:  All Saints Sunday/All Souls' Day/Communion/Pay it forward
This week's scripture: Matthew 23:1-12
This week's music:
"Those Hearts That We Have Treasured" (VU #494)

"Those hearts that we have treasured, those lives that we have shared;
Those loves that walked beside us, those friends for whom we've cared,

Their blessing rests upon us, their life is memory,
Their suffering is over, their spirits are set free.
They still give hope and comfort, they did not lose the fight;
They showed us truth and goodness, they shine into our night.
Remember days of gladness; remember times of joy;
Remember all the moments that grief cannot destroy.
From hearts that we have treasured, from lives that we have shared,
From loves that walked beside us, from friends for whom we've cared,
We've learned to treasure kindness, we've learned that grace provides,
We've learned to be together, we've learned that love abides."
Sylvia Dunstan wrote this text in 1991 for use in a secular memorial service, to fill a need that became apparent to her after attending a number of vigils and memorial services for those dying of AIDS.  The melody, RESIGNATION, is an American fold hymn tune published in Southern Harmony in 1835.    Born in 1955, Sylvia Dunstan attributes her love of song to her grandparents, who kept song alive in the family and entrusted Sylvia's formal musical education to one of the nuns at the local convent. Sylvia began writing songs in the early seventies and soon after met Sister Miriam Theresa Winter, who encouraged her to write songs based on Scripture. Sylvia eventually realized that her talents did not lay with the music and concentrated instead on the lyrics.  Her bachelor degree was earned from York University, and she received graduate degrees in theology and divinity from Emmanuel College, Toronto. In 1980, she was ordained by the Hamilton Conference of the United Church of Canada. During her career she served as a minister, a prison chaplain, and editor of a Canadian worship resource journal, Gathering.
Sylvia Dunstan died on July 25, 1993, almost four months after being diagnosed with liver cancer. She left behind a ministry that combined a compassionate concern for the needy and distraught with a consuming love of liturgy.
Hear the melody at:  https://www.youtube.com/watch?feature=player_embedded&v=PoUhE2JSkMw
"10,000 Reasons (Bless the Lord)"

"Bless the Lord, O my soul, O my soul; worship his holy name.
Sing like never before, O my soul; I'll worship your holy name.
The sun comes up, it's a new day dawning, it's time to sing your song again.

Whatever may pass, and whatever lies before me, let me be singing when the evening comes.
You're rich in love and you're slow to anger.
Your name is great and your heart is kind.
For all your goodness, I will keep on singing; ten thousand reasons for my heart to find.
And on that day when my strength is failing, the end draws near and my time has come; still my soul will sing your praise unending; ten thousand years and then forevermore!
This week's anthem is dedicated in memory of Sharon Field.  The words and music are by Jonas Myrin and Matt Redman.  The choral setting is by Lloyd Larson.
See the Matt Redman video for the song at:  http://www.youtube.com/watch?v=XtwIT8JjddM
Hear Matt Redman speak about creation of the song by clicking below:

Matt Redman: the Story Behind the song 10,000 Reasons from matt-redman on GodTube.
"For the Faithful Who Have Answered" (VU #707)
"For the faithful who have answered when they heard your call to serve,
For the many ways you led them testing will and stretching nerve,
For their work and for their witness as they strove against the odds,
For their courage and obedience we give thanks and praise, O God.
Many eyes have glimpsed the promise, many hearts have yearned to see.
Many ears have heard you calling us to greater liberty.
Some have fallen in the struggle, others still are fighting on.
You are not ashamed to own us. We give thanks and praise, O God.
For this cloud of faithful witness, for the common life we share,
For the work of peace and justice, for the gospel that we bear,
For the vision that our homeland is your love – deep, high, and broad –
For the different roads we travel we give thanks and praise, O God."
In commissioning a hymn for the fiftieth anniversary of women's ordination in 1986, the United Church of Canada specified that the text should concentrate on all peoples' faithful response to God's call.  Sylvia Dunstan based her hymn on Hebrews 11 and 12.    It is set to the tune, OMNI DIE, which appears to have come from a Trier Gesanbuch of 1695.
 
"Now Let Us From This Table Rise" (VU #483)
"Now let us from this table rise renewed in body, mind and soul;
With Christ we die and live again, his selfless love has made us whole.
With minds alert, upheld by grace, to spread the word in speech and deed,
We follow in the steps of Christ, at one with all in hope and need.
To fill each human house with love, it is the sacrament of care;
The work that Christ began to do we humbly pledge ourselves to share.
Then give us grace, Companion-God, to choose again the pilgrim way
And help us to accept with joy the challenge of tomorrow's day."
Fred Kaan wrote this hymn in 1964 for his congregation at Pilgrim Church in Plymouth, to fill a need for post-communion hymns.  The melody, NIAGARA, was composed by Robert Jackson, an organist and choir director from Oldham, Lancashire.  It was first published in the Congregational Church Hymnal in 1887.
Categories: Notes on the Notes, Sunday Bulletin and Announcements, Worship