Notes on the Notes – November 10, 2013
This week's theme:  Now to Eternity – Telling the Stories
This week's scripture:  Psalm 145: 1-5, 17-21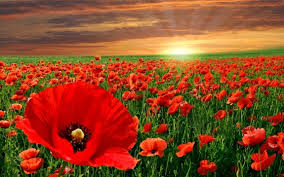 "Come and Find the Quiet Centre" (VU #374)
 "Come and find the quiet centre in the crowded life we lead, find the room for hope to enter, find the frame where we are freed:  clear the chaos and the clutter, clear our eyes, that we can see all the things that really matter, be at peace, and simply be…"
 This hymn was written by Shirley Erena Murray for a Presbyterian Women's Conference on the theme of "Making Space."
Listen to a beautiful America-themed rendition of this song at:  http://www.youtube.com/watch?v=PjB5-97zKaw
"Let There Be Light" (VU #679) –
"Let there be light, let there be understanding, let all the nations gather, let them be face to face;…"
Robert and Margaret Fleming encouraged member fo St. George's Anglican Church in St. Anne-de-Bellevue to write new hymns for use in worship at the church.   Frances Wheeler Davis, a poet and choir member, responded to that invitation with the words for "Let There Be Light."  In verses one to five, all four lines of the verse begin with the same word, producing a powerful cumulative effect.  Verse six summarizes the prayers of the previous verses.  The hymn was first published in 1968 in a private church publication where it was set to CONCORD, a tune newly composed for the song by Robert Fleming, a Canadian composer who was music director of the National Film Board in Montreal and later an organist in Ottawa.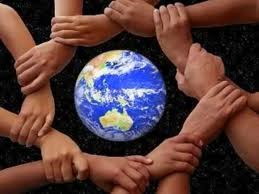 "Let There Be Peace on Earth" –   Sy Miller and Jill Jackson were a husband and wife songwriting team. In 1955 they wrote a song about their dream of peace for the world and how they believed each one of us could help create it.    They first introduced the song to a group of teenagers selected from their high schools to attend a weeklong retreat in California. The young people were purposefully from different religious, racial, cultural and economic backgrounds, brought together to experiment with creating understanding and friendship through education, discussion groups, and living and working together in a camp situation.
Sy Miller wrote in his own words what happened: "One summer evening in 1955, a group of 180 teenagers of all races and religions, meeting at a workshop high in the California mountains locked arms, formed a circle and sang a song of peace. They felt that singing the song, with its simple basic sentiment – 'Let there be peace on earth and let it begin with me,' helped to create a climate for world peace and understanding. 'When they came down from the mountain, these inspired young people brought the song with them and started sharing it. And, as though on wings, 'Let There Be Peace on Earth' began an amazing journey around the globe. It traveled first, of course, with the young campers back to their homes and schools, churches and clubs. Soon the circle started by the teenagers began to grow. Before long the song was being shared in all fifty states – at school graduations and at PTA meetings, at Christmas and Easter gatherings and as part of the celebration of Brotherhood Week. It was a theme for Veteran's Day, Human Rights Day and United Nations Day. 4H Clubs and the United Auto Workers began singing it. So did the American Legion, the B'nai B'rith, the Kiwanis Clubs and CORE. It was taped, recorded, copied, printed in songbooks, and passed by word of mouth.
Listen to a radio interview with Jill Jackson and choir students at:  http://www.humanmedia.org/catalog/program.php?products_id=66 (click on Free: Listen online!)
Sing along with the song at:  http://www.youtube.com/watch?v=wRFNg-Eyt_0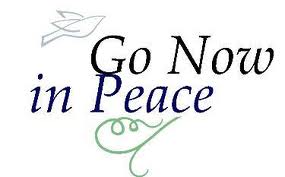 "Go Now in Peace" (VU # 964) –
"Go now in peace, go now in peace, may the love of God surround you everywhere, everywhere you may go."
This simple response was written by Natalie Sleeth in 1976.  Natalie Sleeth (October 29, 1930 – March 21, 1992) was an American composer born in Evanston, Illinois.  In 1934, she began to study the piano at the early age of four. Later in her life, she received an Academic major in music and a BA in music theory at Wellesley College in Massachusetts. She married a Professor of Homiletics, Reverend Ronald E. Sleeth. One of her best-known hymns from Voices United is "In the Bulb There is a Flower."
"God, As With Silent Hearts" (VU #527) –
"God!  As with silent hearts we bring to mind how hate and war diminish humankind, we pause, and seek in worship to increase our knowledge of the things that make for peace.
Hallow our will as humbly we recall the lives of those who gave and give their all.  We thank you, God, for women, children, men who seek to serve in love, today as then.
Give us deep faith to comfort those who mourn, high hope to share with all the newly born, strong love in our pursuit of human worth:  'lest we forget' the future of this earth.
So, Prince of Peace, disarm our trust in power, teach us to coax the plant of peace to flower.  May we, impassioned by your living Word, remember forward to a world restored."
Of Dutch birth, Fred Kaan was ordained into the Congregational Church (now the United Reformed Church) in 1955.  This hymn is from "Planting Trees and Sowing Seeds" (1975), a collection written by Kaan with the late composer Doreen Potter.  The tune is ST AGNES, well-known as the tune from the communion hymn "Here, O My Lord, I See You Face to Face."
"Put Peace Into Each Other's Hands (MV #173) –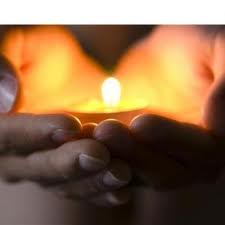 "Put peace into each other's hands and like a treasure hold it, protect it like a candle flame, with tenderness enfold it.
Put peace into each other's hands with loving expectation;  be gentle in your words and ways, in touch with God's creation.
Reach out in friendship, stay with faith in touch with those around you.  Put peace into each other's hands; the Peace that sought and found you."
This song was written by Fred Kaan in 1989 and revised in 2001.  The music was added by Ron Klusmeier in 2004.  Fred Kaan was known and honoured throughout the English speaking world as a hymn writer. He was in the tradition of reformed ministers who wrote hymns to follow and sum up the sermons they preached. Having started to write hymns early in his ministry, his output grew steadily during his career.
The post-war years witnessed an explosion of hymn writing that can loosely be categorised into two groups. There were those writers who worked in a traditional style, seeking to add their 20th-century contribution to the corpus of hymns used down the years by churches of all traditions. And there were those who introduced a new style of "worship song" designed to appeal to today's congregations.  Kaan was impatient with this second group, referring somewhat disparagingly to their songs as "the nursery rhymes of the church". His place was firmly with the former group, standing alongside the likes of Fred Pratt Green, Alan Gaunt and Brian Wren. His hymns, which include both original work and translations from a variety of languages, address the modern challenges to faith, notably issues of peace and justice, and are known and used right across the spectrum of Christian churches.  Although he was baptised in St Bravo Cathedral, he did not set foot in a church until his late teens. He lived through the Nazi occupation and witnessed the death of three grandparents from starvation. His parents were deeply involved in the resistance movement, taking refugees into their home. All this had a profound influence on Kaan. He became a pacifist, began attending church and was confirmed in 1947. During this time Kaan began a pen friendship with a young congregationalist in Britain, which engendered his fascination with British Congregationalism, later to become the United Reformed Church. In 1952 he was accepted for ministerial training at the Western College in Bristol. Ordained in 1955 at the Windsor Road Congregational Church in Barry, Glamorgan, he ministered there until 1963 when he was called to Pilgrim Church in Plymouth.  It was in this responsive congregation that his artistic and poetic gifts became evident and his hymn-writing began to take flight. The first edition of Pilgrim Praise was published in 1968.   His hymns have subsequently been published in over 15 languages, but many would say that the best come from his time in local pastoral ministry. In 1968 Fred was called to serve the church internationally, moving to Geneva to become minister-secretary of the International Congregational Council. A passionate ecumenist, he played a significant role in uniting this organisation with the much larger World Alliance of Reformed Churches in 1970, serving this united body as secretary until 1978. His facility with languages came to the fore, enabling him to develop inter-church relations, an aid programme and to highlight concerns for human rights.  In retirement, he spent four years as honorary secretary of the Churches' Human Rights Forum in Britain and Ireland. He continued his steady output of hymns, working with the Norwegian composer Knut Nystedt to create a number of works, and with Ron Klusmeier of Canada who composed over a hundred tunes for Kaan texts.  Fred's last years were overshadowed by the onset of Alzheimer's disease and by cancer, during which time he was lovingly and devotedly cared for by his wife, Anthea.  A giant of a man with incalculable influence in many fields – literary, artistic, theological, ecclesiastical, ecumenical – he remained to the end essentially a humble man, a sensitive pastor, and a firm friend to a wide circle.
"Last Post" –
The "Last Post" is used in British Army camps to signal the end of day when the duty officer returns from the tour of the camp and quarters.   In addition to its normal garrison use, the Last Post call had another function at the close of a day of battle. It signalled to those who were still out and wounded or separated that the fighting was done, and to follow the sound of the call to find safety and rest. Its use in Remembrance Day ceremonies in Commonwealth nations has two generally unexpressed purposes: The first is an implied summoning of the spirits of the Fallen to the cenotaph, the second is to symbolically end the day, so that the period of silence before the Rouse is blown becomes in effect a ritualized night vigil.  In Commonwealth countries it has been incorporated into military funerals, where it is played as a final farewell, symbolising the fact that the duty of the dead soldier is over and that they can rest in peace.
"Prayer of St. Francis" – Today's anthem is a setting of the Prayer of St. Francis by Winnipeg composer, Helen Litz.   Having obtained a background in music education, Litz dedicated her life to working with children. "Her intense pursuit of excellence, matched by her attention to the 'total child' in her choirs, has brought delight to and admiration from countless listeners around the world" (George Wiebe, CMBC, 2000).  Helen Litz founded the Mennonite Children's Choir of Winnipeg in 1957 and as of 2004 continued to be its conductor and music director. Under her direction, the choir has earned an international reputation of excellence.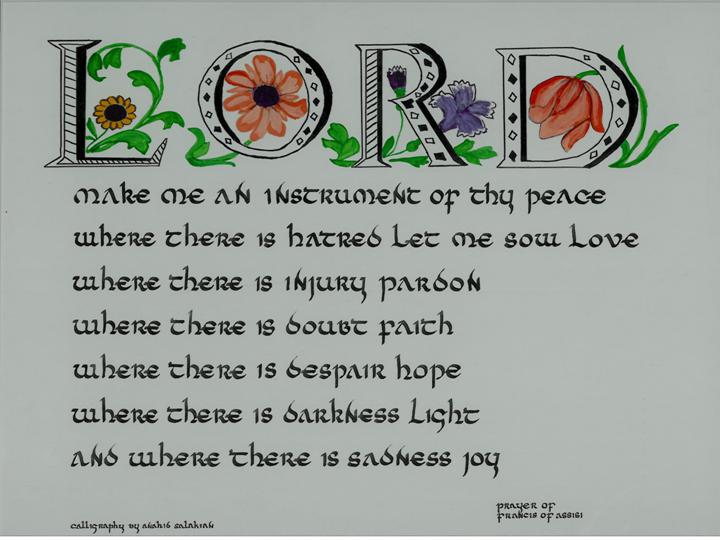 Categories: Music Programs, Sunday Bulletin and Announcements, Worship