Notes on the Notes – May 8, 2016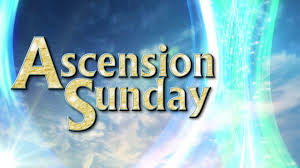 This week's theme:  Ascension Sunday
"As one door closed…a new one opens."
This week's scripture readings:
Luke 24: 44-53
 Acts 1: 1-10a
This week's music:
"All Things Bright and Beautiful" (VU #291)

Those who have recently seen the local production of The Vicar of Dibley will have new memories of this old classic!  The text, from Cecil Frances Alexander's Hymns for Little Children (1846), is based on the phrase "Maker of heaven and earth" in the Apostles' Creed. The new words for verse four are particularly apt in the Canadian context. The tune, ROYAL OAK, is an English traditional melody associated with the restoration of the Stuart monarchy in 1660. The arrangement in Voices United is by Martin Shaw (1915). The editors of "Voices United" also changed the words slightly in the interest of inclusivity.
"All things bright and beautiful,

all creatures great and small,
All things wise and wonderful
in love, God made them all.
Each little flower that opens, each little bird that sings, God made their glowing colours, God made their tiny wings.
The purple-headed mountains, the river running by, the sunset and the morning that brightens up the sky.
The cold wind in the winter, the pleasant summer sun, the ripe fruits in the garden: God made them every one.
The rocky mountain splendor, the lone wolf's haunting call, the great lakes and the prairies, the forest in the fall.
God gave us eyes to see them, and lips that we might tell how great is God our maker, who has made all things well."
Watch a beautiful video by the Mormon Tabernacle Choir:
"Worship the Lord" (Verses 1-3) (VU #401)
Worship the Lord (worship the Lord)
Worship the Father, the Spirit, the Son,
Raising our hands (raising our hands)
In devotion to God who is one!
Raising our hands as a sign of rejoicing,
And with our lips our togetherness voicing,
Giving ourselves to a life of creativeness,
Worship and work must be one!
Praying and training that we be a blessing,
And by our handiwork daily confessing:
We are committed to serving humanity,
Worship and work must be one!
Called to be partners with God in creation,
Honouring Christ as the Lord of the nation,
We must be ready for risk and for sacrifice,
Worship and work must be one!
Fred Kaan originally wrote this text in 1972 for a melody from Sri Lanka.  Ron Klusmeier later composed the melody LIDDLE for "Worship the Lord" (1977). His setting was used in Songs for a Gospel People and now in Voices United. The text of the hymn emphasizes that, for the Christian, worship and work are joined together.
 "Hail the Day That Sees Him Rise" (VU #189)
"Hail the day that sees him rise, hallelujah!
Taken from our wondering eyes, hallelujah!

Christ, awhile to mortals given, hallelujah!
Reascends his native heaven. Hallelujah!
There the glorious triumph waits…
Lift your heads, eternal gates…
Christ has conquered death and sin;…
Take the King of Glory in….
Though returning to his throne…
Still he call the world his own;…
Him though highest heaven receives…
Still he loves the world he leaves….
Still for us he intercedes…
His prevailing death he pleads…
Near himself prepares our place…
First-fruits of our human race…."
This classic ascension hymn was written by Charles Wesley in 1739 and published in his Hymns and Sacred Poems. Wesley's original text was written for Ascension Day 1739; the alleluias were added in 1852 by G.E. White.
William H. Monk composed this setting of Wesley's hymn for the first edition of Hymns Ancient and Modern (1861).  Hear the hymn with an earlier version of the words at:  https://youtu.be/7b_ODz_jgTs
"God Gives Us Those Who Love Us"
"God gives us those who love us to help us on our way;
God gives us those who love us to love us come what may.
God gives us those who love us that we may love them too,
That we may love them too.
God gives us those who love us, who give us life at birth;
God gives us those who love us, who care for us on earth.

God gives us those who love us to show what love can be;
To show what love can be.
God gives us those who love us, our families and our friends;
God gives us those who love us, whose love both guides and mends.
God gives us those who love us to teach us love's reward,
To teach us love's reward.
God gives us those who love us because God loves us too;
God gives us those who love us to show what love can do.
God gave us Christ who loves us, the greatest love of all;
The greatest love of all;
The greatest love of all.
This week's anthem has words by Mary Kay Beall and music by John Carter. It was first published in 1995. The words remind us of the ever-widening circle of God's love and are particularly fitting for Mother's Day.
"O Christ, When You Ascended"
"O Christ, when you ascended, you took your rightful throne;
Your time on earth had ended — yet we weren't left alone.
You reign o'er earth and heaven; your Spirit guides our way.
Your prayers uphold your people; you lead your church each day.
We look at earthly rulers and see what they command:
We note their years of power, the borders of their land.
Yet, Lord, you are not bounded by things like time and space;
Your reign is never-ending, you rule in every place.
We're tempted, Lord, to leave you in stories nicely told;
Sometimes we don't believe you and say your ways are old.
Sometimes we feel so lonely and live in doubt and fear —
But your ascension means, Lord, you're present with us here.
It's often quite a challenge to follow in your Way;
We're easily distracted! It's hard, Lord, to obey.
Sometimes we give you Sundays — an hour, maybe two —
But your ascension means, Lord, all life belongs to you.
One day, O Lord, we'll know you, as we are fully known;
One day this world of sinners will bow before your throne.
One day, God's whole creation will sing and praise your name;
On earth as now in heaven, we'll celebrate your reign."
The words for this hymn are by Carolyn Winfrey Gillette.  This hymn celebrates Jesus' ascension and its importance for today.
Carolyn Winfrey Gillette grew up in a family that was, and continues to be, active in the United Methodist Church.  She remembers being a very small child and standing on the pew next to her parents and brother in worship, holding a hymnal (before she could even read it), and trying to sing along as the congregation sang the beloved hymns of the Christian faith. Her father was a college English professor until he retired, and both her father and her mother encouraged her to love language and writing.
Carolyn's hymns have been sung by congregations in every state of the USA and in several other countries; they have been on national PBS-TV three times and the BBC-TV in the United Kingdom.  Carolyn and her husband Bruce have been the co-pastors of Limestone Presbyterian Church in Wilmington, Delaware since August 2004.
We will be singing this hymn to the melody, ELLACOMBE, more familiarly known as the tune for "Hosanna, Loud, Hosanna" (VU #123)
Categories:
Notes on the Notes