Notes on the Notes – May 7, 2017
This week's theme:
Shepherd and the Sheep
This week's scripture readings:
Acts 2:42-47               John 10:1-10
This week's music:
"Are You a Shepherd?" (MV #126)
"Are you a shepherd, good shepherd who leads us
safely through danger, while calming our fears?
Are you a father who shelters and feeds us,
shares in our laughter and wipes away tears?
Yes, you are shepherd, parent and teacher,
but you are greater than all that we know.
Holy and living, loving and giving,
God, you are with us wherever we go.
Are you a mother, good mother who bears us,
comforts, protects us and helps us to rest?
Are you a teacher who daily prepares us,
challenging students to offer their best?
Great, gentle shepherd, forever beside us,
lead all your children in paths that are right.
Great, loving parent, wise teacher, you guide us.
We want to love you and bring you delight."
This hymn was written by Ruth Duck in 2002, with music by William P. Rowan.  Through her words, Ruth contemplates the many natures and roles of God.
"Great Shepherd of Your People" (VU #398)
"Great Shepherd of your people, hear!
Your presence now display;
As you have given a place for prayer, so give us hearts to pray.
Within these walls let holy peace and love and friendship dwell;
Here give the troubled conscience ease, the wounded spirit heal.
May we in faith receive your word, in faith present our prayers;
And in the presence of our God unburden all our cares.
The hearing ear, the seeing eye, the contrite heart bestow;
And shine upon us from on high, that we in grace may grow."
This hymn, for the Olney Hymns (1779), was written by John Newton for the opening of the new meeting room at Olney in 1769.  The revised text was published in Hymns for Today's Church (1982).  The tune, known as ABRIDGE in England and as ST STEPHEN'S in Scotland, was composed by Isaac Smith, a Baptist precentor in London.  To learn more about John Newton's life, go to http://www.wholesomewords.org/biography/biorpnewton.html
"All the Way My Saviour Leads Me" (VU #635)
"All the way my Saviour leads me, what have I to ask beside?
Can I doubt his tender mercy who through life has been my guide?
Heavenly peace, divinest comfort, here by faith in him to dwell,
For I know, whate'er befall me, Jesus doeth all things well.
All the way my Saviour leads me, cheers each winding path I tread,
Gives me grace for every trial, feeds me with the living bread.
Though my weary steps may falter, and my soul a-thirst may be,
Gushing from the rock before me, lo, a spring of joy I see!
All the way my Saviour leads me; O the fullness of his love!
Perfect rest to me is promised in my Father's house above.
When my spirit, clothed, immortal, wings its flight to realms of day,
This my song through endless ages, "Jesus led me all the way!'"
"All The Way My Savior Leads Me" was written by one of the most pro­lif­ic songwriters in history. Fanny Crosby wrote over 8,000 Christian hymns despite the handicap she struggled with during her life. An inept doc­tor left Fanny without her eyesight at six weeks of age after a botched procedure. She said, " If per­fect earth­ly sight were of­fered me to­mor­row I would not ac­­cept it. I might not have sung hymns to the praise of God if I had been dis­tract­ed by the beau­ti­ful and in­ter­est­ing things about me." "All The Way My Savior Leads Me" is one of her songwriting masterpieces.
Fanny Crosby wrote this hymn on a day when an unexpected kindness had come her way.  This beloved hymn came to Fanny as a result of a prayer.  Struggling financially, she desperately needed some money.  As her usual custom, Fanny began to pray.  A few minutes later, a gentleman offered her five dollars, the exact amount she needed.  Later recalling the incident, she said, "I have no way of accounting for this except to believe that God put it into the heart of this good man to bring the money."  The poem she wrote afterward became "All The Way My Savior Leads Me."   She sent the text to Robert Lowrey who composed the tune for it.  It was first published in Chicago, in Brightest and Best (1875), a tune book for Sunday schools.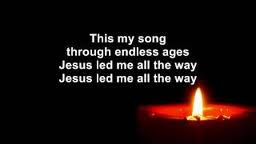 "10,000 Reasons (Bless the Lord)"

"Bless the Lord, O my soul, O my soul; worship his holy name.
Sing like never before, O my soul; I'll worship your holy name.
The sun comes up, it's a new day dawning, it's time to sing your song again.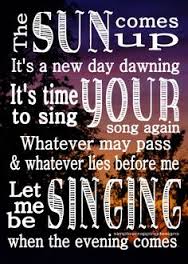 Whatever may pass, and whatever lies before me, let me be singing when the evening comes.
You're rich in love and you're slow to anger.
Your name is great and your heart is kind.
For all your goodness, I will keep on singing; ten thousand reasons for my heart to find.
And on that day when my strength is failing, the end draws near and my time has come; still my soul will sing your praise unending; ten thousand years and then forevermore!
This week's anthem is dedicated in memory of Sharon Field.  The words and music are by Jonas Myrin and Matt Redman.  The choral setting is by Lloyd Larson.
See the Matt Redman video for the song at:  http://www.youtube.com/watch?v=XtwIT8JjddM
Read about ideas behind the theology of the song at:  http://singingchurch.blogspot.ca/2013/10/matt-redman-and-theology-of-10000.html
"I Have Decided to Follow Jesus"
I have decided to follow Jesus, no turning back, no turning back.
Tho' no-one join me, still I will follow, no turning back, no turning back.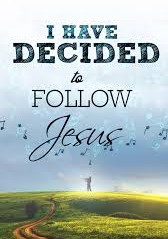 The world behind me, the cross before me, no turning back, no turning back."
"I Have Decided to Follow Jesus" is a hymn originating from India.  The lyrics are based on the last words of a man in Assam, north-east India, who along with his family was converted to Christianity in the middle of the 19th century through the efforts of a Welsh missionary. Called to renounce his faith by the village chief, the convert declared, "I have decided to follow Jesus." In response to threats to his family, he continued, "Though no one joins me, still I will follow." His wife was killed, and he was executed while singing, "The cross before me, the world behind me." This display of faith is reported to have led to the conversion of the chief and others in the village.  The formation of these words into a hymn is attributed to the Indian missionary Sadhu Sundar Singh.  The melody is also Indian, and entitled "ASSAM" after the region where the text originated.   An American hymn editor, William Jensen Reynolds, composed an arrangement which was included in the 1959 Assembly Songbook. His version became a regular feature of Billy Graham's evangelistic meetings in America and elsewhere, spreading its popularity.
Due to the lyrics' explicit focus on the believer's own commitment, the hymn is cited as a prime example of decision theology, emphasizing the human response rather than the action of God in giving faith.
Categories:
Notes on the Notes