Notes on the Notes – May 17, 2015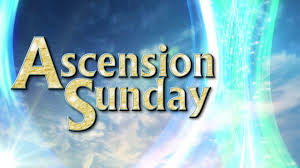 This week's theme:  The Ascension
This week's scripture readings:
Acts 1:1-11
Luke 24:44-53
This week's music:
"Jesus, Friend of Little Children" (VU #340)
"Jesus, friend of little children, let me be one too;
Take my hand, and ever keep me close to you.
Teach me how to grow in goodness, daily as I grow.
You have been a child, and surely you must know.
Never leave me, nor forsake me; ever be my friend;
For I need you, from life's dawning to its end."
This song was written by Walter John Mathams in response to a request from the Baptist Union committee for Psalms and Hymns for School and Home (1882). The melody FARNHAM was composed for The Hymn Book by Gerald Wheeler, assisted by his children, in 1969.
"See the Morning Sun Ascending" (VU #406)
"See the morning sun ascending, radiant in the eastern sky;
Hear the angel voices blending in their praise to God on high!
Hallelujah! Hallelujah! Glory be to God on high!
So may we, in lowly station, join the choristers above;
Singing with the whole creation, praising you for your great love.
Hallelujah! Hallelujah! Glory be to God above!
For your loving kindness ever shed upon our earthly way;
For your mercy, ceasing never, for your blessing day by day:
Hallelujah! Hallelujah! Glory be to God alway!
"Wisdom, honour, power, and blessing" with the angelic host we cry;
Round your throne, your name confessing, now we would to you draw nigh.
Hallelujah! Hallelujah! Glory be to God on high!"
The text of this hymn is based on Revelation 5:11-14 and 7:11-12. It was written by Charles Parkin for the 1953 Main Annual Conference of the Methodist Church (USA). Joachim Neander composed the tune as a setting for his hymn text which began "Unser Herrscher, unser Konig" (Our Master, our King). It is also familiar to many as the tune for the Advent hymn "Herald! Sound the Note of Gladness" (VU #28).
Hear the melody played on pipe organ at:  https://www.youtube.com/watch?v=HhKqImOdYAs 
"Hail the Day That Sees Him Rise" (VU #189)
"Hail the day that sees him rise, hallelujah!
Taken from our wondering eyes, hallelujah!

Christ, awhile to mortals given, hallelujah!
Reascends his native heaven. Hallelujah!
There the glorious triumph waits…
Lift your heads, eternal gates…
Christ has conquered death and sin;…
Take the King of Glory in….
Though returning to his throne…
Still he call the world his own;…
Him though highest heaven receives…
Still he loves the world he leaves….
Still for us he intercedes…
His prevailing death he pleads…
Near himself prepares our place…
First-fruits of our human race…."
This classic ascension hymn was written by Charles Wesley in 1739 and published in his Hymns and Sacred Poems. Wesley's original text was written for Ascension Day 1739; the alleluias were added in 1852 by G.E. White.
William H. Monk composed this setting of Wesley's hymn for the first edition of Hymns Ancient and Modern (1861).  Hear the hymn with an earlier version of the words at:  https://youtu.be/7b_ODz_jgTs
 "Come, People of the Risen King"
"Come people of the risen King who delight to bring Him praise.
Come all and tune your hearts to sing to the Morning Star of grace.
From the shifting shadows of the earth we will lift our eyes to Him
Where steady arms of mercy reach to gather children in.
Rejoice! Rejoice! Let every tongue rejoice!
One heart, one voice, O church of Christ, rejoice!
Come those whose joy is morning sun and those weeping through the night.
Come those who tell of battles won and those struggling in the night.
For His perfect love will never change and His mercies never cease,
But follow us through all our days with the certain hope of peace.
Rejoice!…
Come, young and old from every land, men and women of the faith.
Come, those with full or empty hands, find the riches of His grace,
Over all the world His people sing, shore to shore we hear them call
The truth that cries through every age,
"Our God is all in all!"
Rejoice!…"
Keith and Kristyn Getty occupy a unique space in the world of music today as preeminent modern hymn writers. In re-inventing the traditional hymn form, they have created a distinguished catalogue of songs teaching Christian doctrine and crossing genres by connecting the world of traditional and classical composition with contemporary and globally-accessible melodies.  These modern hymns are rooted in the traditions of Celtic and English hymnody handed down to the Northern Ireland-born couple and long-time writing partner, Stuart Townend.   This week's anthem arrangement of "Come, People of the Risen King" is by David Angerman.
"Go to the World" (VU #420)
"Go to the world! Go into all the earth.
go preach the cross where Christ renews life's worth,
Baptizing as the sign of our rebirth.
Hallelujah! Hallelujah!
Go to the world! Go into every place.
Go live the Word of God's redeeming grace.
Go seek God's presence in each time and space.
Hallelujah! Hallelujah!
Go to the world! Go struggle, bless and pray;
The nights of tears give way to joyous day.
As servant Church, you follow Christ's own way.
Hallelujah! Hallelujah!
Go to the world! Go as the ones I send,
For I am with you 'til the age shall end,
When all the hosts of glory cry 'Amen!'
Hallelujah! Hallelujah!"
Hymn writer Sylvia Dunstan wrote the text for this hymn in 1985. It is based on Matthew 28:19-20. The tune, SINE NOMINE, was composed by Ralph Vaughan Williams in 1906. It is also known as the tune for the hymn "For All the Saints" (VU #705).  Hear the hymn played on pipe organ at:  https://youtu.be/qoO-7M_bXAw
"The Irish Blessing"
This setting of the traditional Irish blessing is by Joyce Eilers Bacak and was written in 1985.  It is sung in memory of Linda Garvey.
"May the road rise up to meet you.
May the wind be always at your back.
May the sun shine warm upon your face,
The rains fall soft upon your fields.
And until we meet again,
And until we meet again,
May the God that loves us all
Hold you in the palm of His hand.
Amen."
Categories: Notes on the Notes, Sunday Bulletin and Announcements, Worship