Notes on the Notes – March 6, 2016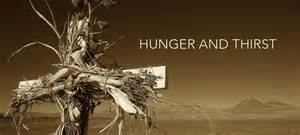 Lent 4
Hungering and Thirsting for a Place at the Table
This week's scripture readings:
        2 Corinthians 5: 16-21,   Luke 15: 1-3, 11b-32
This week's music:
"Softly and Tenderly"
"Softly and tenderly Jesus is calling,
Calling for you and for me;
See, on the portals He's waiting and watching,

Watching for you and for me.
Come home, come home,
Ye who are weary, come home;
Earnestly, tenderly, Jesus is calling,
Calling, O sinner, come home!
Why should we tarry when Jesus is pleading,
Pleading for you and for me;
Why should we linger and heed not His mercies,
Mercies for you and for me?
Come home,…
Oh! for the wonderful love He has promised,
Promised for you and for me;
Tho' we have sinned, He has mercy and pardon,
Pardon for you and for me.
Come home,…"
"Softly and Tenderly Jesus is Calling"  was written by Will L.Thompson in 1880.  Thompson was a Christian, and, while attending a Dwight L. Moody evangelistic meeting decided to devote himself to writing and promoting Christian music.  This hymn quickly became popular as a hymn of invitation in evangelistic meetings, and was soon incorporated into church hymnals as well.
Learn more about the hymn at:  http://www.umcdiscipleship.org/resources/history-of-hymns-softly-and-tenderly-jesus-is-calling
Hear the song sung by Don Moen at https://youtu.be/oPdRQO3hv2Y
Hear the song by Acappella at:  https://www.youtube.com/watch?v=9-KQyz2YRCk
"Fill My Cup, Lord"
"Like the woman at the well I was seeking
For things that could not satisfy,
And then I heard my Savior speaking:
"Draw from my well that never shall run dry."
Fill my cup, Lord,

I lift it up, Lord.
Come and quench this thirsting of my soul.
Bread of heaven, feed me till I want no more.
Fill my cup, fill it up and make me whole.
There are millions in this world who are craving
The pleasure earthly things afford.
But none can match the wondrous treasure
That I find in Jesus Christ, my Lord.
Fill my cup, Lord,…
So, my brother, if the things this world gave you
Leave hungers that won't pass away.
My blessed Lord will come and save you
If you kneel to Him and humbly pray:
Fill my cup, Lord,…"
Life was never to be a bed of roses for Richard Blanchard.
A severe lung problem developed, and Blanchard was left with one-third of his lung capacity. But a diminished physical well-being did not stop young Blanchard.
In 1953, he became the pastor of a church in Coral Gables, Florida, and one day, was asked by a young couple to perform their marriage ceremony. However, the couple was quite late for their counseling appointment.
Blanchard told his secretary, I will wait for thirty minutes and I'm leaving. He then went to a nearby Sunday school room and sat down to play the piano for a while.
He later said, When I was not in the mood to be used of God, God was in a mood to use me. In less than thirty-minutes, as he waited for the young couple, God gave him the inspiring song Fill My Cup, Lord.
As Richard Blanchard looks back over his life, he declares even though God chose in his providence to impair my physical being, he has in so many other ways 'Fill'd My Cup.'
Hear the hymn at:  https://youtu.be/s4l2yY2r95g
See Hope Montana singing this hymn at:  https://youtu.be/N6AuLOHFgQE
Hear the Cadet Sisters at:  https://www.youtube.com/watch?v=jDa_cmWUPIs
"Come Home"
"I, your God, am waiting,
Awaiting your return.
Like a mother or father waiting,
Longing for a child's return.
Come home, come home,

For love is waiting there.
In the stillness we will hear God's voice:
Come home, be reconciled.
And if you, O God, should mark our guilt,
Then who could survive?
But with you is found forgiveness
And to your loving arms we return.
Come home,…
And with you, there is mercy
And redemption to the full.
We will wait upon your love, O God,
We will trust, we will trust your Word.
Come home,…"
Carey Landry (born 1944) is an American composer of Catholic liturgical music.  He wrote this song in 1987.  The keyboard accompaniment was composed by Jeffery Honore.
Hear a beautiful instrumental version of the song at: https://youtu.be/i4RCVZP_kaA?list=PL_v0heWb7KpJYWKHRkF8Boj5IimtbV1tL
"Hungerin' in My Soul"
"O Lord, there's a hungerin' in my soul.
Fill it up, Lord, and make me whole.
As the deer pants for water,
So my soul pants for You.
Sometimes I'm feelin' so cast down
I don't know what to do.
In the day, let me feel Your love, Lord.
In the night, let me heart Your song.
I will put my hope and faith in You to praise You my whole life long.
But now I'm singin'
O Lord, there's a hungerin' in my soul.

Fill it up, Lord, and make me whole.
You prepare a table before me
In the presence of my foes.
When you pour Your blessing all over me,
My cup will overflow.
Surely goodness and mercy shall follow me all my days.
Then I will dwell in the house of the Lord
And forever sing God's praise.
But now I'm singin'
O Lord, there's a hungerin' in my soul.
Fill it up, Lord, and make me whole…."
This week's anthem was written by Pepper Choplin in 2008.  The words are based on Psalm 42 and Psalm 23:5-6.
"O Jesus, Joy of Loving Hearts" (VU #472)
"O Jesus, joy of loving hearts, the fount of life, the light of us.
From every bliss that earth imparts we turn, unfilled, to hear your call.
Your truth unchanged has ever stood; you plead with all to call on you.

To those who seek you, you are good, to those who find you, life is new.
We taste your ever-living bread, and long to feast upon you still;
We drink of you, the fountainhead, our thirsting souls from you we fill.
O Jesus, ever with us stay; make all our moments calm and bright;
Chase the bleak night of sin away; shed o'er the world your holy light."
This hymn, attributed to Bernard of Clairvaux, was translated from the Latin in 1858 (a loose paraphrase rather than a strict translation) by Dr. Ray Palmer, a Congregational pastor from Albany, New York. Dr. Palmer also wrote several hymns on his own, the best known being "My Faith Looks Up to Thee." Bernard of Clairvaux was born of well-to-do parents in central France — in what we know as burgundy wine country — near Dijon. His parents, especially his mother, Aleth, taught him the virtues of justice, mercy, and affection for others.
His mother's death, when he was seventeen, affected Bernard profoundly. He began to experience a more profound conversion and a call to study theology. He entered a Benedictine monastery in 1112 A.D. His talent was soon recognized, and three years later he was asked to establish a monastery at Clairvaux. That was a successful venture, and a number of monasteries were established throughout France under his leadership. He became a confidant of Popes and a preacher to the King of France. In spite of these remarkable achievements, the focus of his life remained twofold: Knowing God and serving the needy. "Jesus, Thou Joy of Loving Hearts," like many hymns, is a prayer — in this case, a prayer to Jesus. It celebrates the joy that we have in Jesus — the peace that his love imparts — the filling of our souls through the bread and wine of the Lord's Supper. It concludes with a prayer for Christ's continuing presence. (Source: Lectionary.org)
The tune, MARYTON, is by Henry Percy Smith (1874).
Hear the melody played on pipe organ at: http://www.youtube.com/watch?v=DuIZjnLjpnc
"Bread of Life, Feed My Soul" (MV #194)
"Bread of life, feed my soul,
As the presence of the Spirit makes me whole.
Bread of life, fill my heart
With the grace and mercy you impart.
I have heard your voice calling,
"Come, my friend, and share
In the feast that is laid out for you
To show how much I care."
Bread of life, help me live
A life as pure and true as Jesus did.
Bread of life, help me see
The boundless love of Christ for you and me…
This hymn from More Voices is a communion prayer for healing and guidance. The words and music were written by Stephen Spencer in 2005.  The arrangement is by Rick Gunn (2005).
Hear Stephen Spencer sing his song and speak about the story behind it at:  https://www.youtube.com/watch?v=P5cYNFZk470
"Sent Forth by God's blessing" (VU #481)
"Sent forth by God's blessing, our true faith confessing,
The people of God from this dwelling take leave.
The supper is ended, O now be extended
The fruits of this service in all who believe.
The seed of Christ's teaching, receptive souls reaching,
Shall blossom in action for God and for all.
God's grace did invite us, God's love shall unite us
To work for the kingdom and answer its call.
With praise and thanksgiving to God ever-living,
The tasks of our everyday life we will face.
Our faith ever sharing, in love ever caring,
Embracing God's children of each tribe and race.
With your feast you feed us, with your light now lead us;
United us as one in this life that we share.
Then may all the living with praise and thanksgiving
Give honour to Christ and the name that we bear."
The words for this post-communion hymn were written by Omer Westendorf, an organist, composer and music publisher in Cincinnati, Ohio. He was also the compiler of The People's Mass Book (1964), the first vernacular (ie English rather than Latin) hymn and service book published in the United States after the Second Vatican Council approved the implementation of vernacular liturgies in Roman Catholic worship. This arrangement of "Llynn Onn," a traditional Welsh folk tune, is by Leland Sateren, an American Lutheran organist and composer. We know the tune as THE ASH GROVE.
Hear the hymn at:  https://www.youtube.com/watch?v=HTnBNtH2gMk
Categories:
Notes on the Notes