Notes on the Notes – March 22, 2015 – Lent 5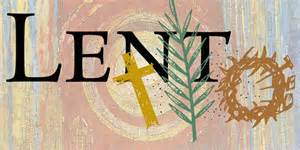 This week's scripture readings:
Hebrews 5:5-10
John 12:20-33
This week's music:
"Shadow and Substance" (MV #44) 
"Shadow and substance, wonder and mystery,
Spellbinding spinner of atoms and earth;
Soul of the cosmos, person and energy,
Source of our being, we sing of your worth.
We are your image, formed in community;
Sisters and brothers of Adam and Eve.
You gave us colour, custom and history;
Teach us to honour what others receive.
Naming the nameless Spirit of unity,
Scanning the heavens for signs of your care;
God of the ages, give us humility;
Guide us to mystical union in prayer."
The words and music of this hymn are by Daniel Charles Damon (1989).  DANIEL CHARLES DAMON (b. 1955) is an internationally published writer of hymn texts and tunes. He is pastor of First United Methodist Church, Richmond, California. Dan is Associate Editor of Hymnody for Hope Publishing Company. He is also a jazz pianist.  Dan has presented his work at national conferences of the Hymn Society in the United States and Canada. His paper "A Cry for Justice in Hymnody" appeared in the Autumn 2010 edition of The Hymn.
"Will Your Anchor Hold" (VU #675)
"Will your anchor hold in the storms of life, When the clouds unfold their wings of strife? When the strong tides lift, and the cables strain, Will your anchor drift or firm remain?
Will your anchor hold in the straits of fear, When the breakers roar and the reef is near? While the surges rave and the wild winds blow, Shall the angry waves then your bark o'erflow?
Will your eyes behold through the morning light, The city of gold and the harbour bright? Will you anchor safe by the heavenly shore When life's storms are past for evermore?
We have an anchor that keeps the soul Steadfast and sure while the billows roll; Fastened to the rock which cannot move, Grounded firm and deep in the Saviour's love."
Priscilla Jane Owens of Baltimore, Maryland, wrote this hymn, most likely for a youth service in 1882.  It was first published, with the tune by William James Kirkpatrick, in "Songs of Triumph:  adapted to Prayer Meetings, Camp Meetings, and All Other Seasons of Religious Worship (1882).  Priscilla Owens (1829–1907) was a Sunday School teacher at the Un­ion Square Methodist Episcopal Church. She wrote a number of hymns and songs for her pupils; this is the best known today. The music was written by William Kirkpatrick (1838–1921) of  Philadelphia, Pennsylvania. He was a member of the same Christian denominiation as Owens, and was a prolific writer of hymn tunes and compiler of hymn collections.  The hymn has always been closely associated with the Boys' Brigade, which has the motto, "Sure and Stedfast".  The Boys' Brigade (BB) is an interdenominational Christian youth organization, conceived by Sir William Alexander Smith to combine drill and fun activities with Christian values.
Hear the song sung by the Boys' Brigade at: http://www.youtube.com
"Open My Eyes, That I May See" (VU #371)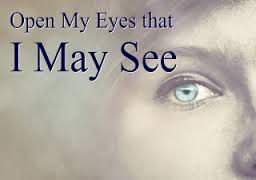 "Open my eyes, that I may see glimpses of truth thou hast for me, place in my hands the wonderful key that shall unclasp and set me free.
Silently now I wait for thee, ready, my God, thy will to see.  Open my eyes, illumine me, Spirit divine!
Open my ears, that I may hear voices of truth thou sendest clear; and while the wavenotes fall on my ear, everything false will disappear…
Open my mouth, and let me bear gladly the warm truth everywhere; open my heart and let me prepare love with thy children thus to share…." 
Clara H. Scott was an American composer of songs, anthems and piano music.  C. Michael Hawn says,  "Clara H. Scott (1841-1897) provides us with a hymn of consecration that has been sung for over 100 years. A Midwesterner, she was born in Illinois and died in Iowa…She married Henry Clay Scott in 1861, and published in 1882 the Royal Anthem Book, the first volume of choir anthems published by a woman… Three collections were issued before her untimely death, when a runaway horse caused a buggy accident in Dubuque, Iowa.  The text of "Open My Eyes" was written in 1895 shortly before Scott's death. Each stanza reveals an increasing receptiveness to the "Spirit divine." Open eyes lead to "glimpses of truth." Open ears lead to "voices of truth." An open mouth leads to sharing the "warm truth everywhere." An open heart leads to sharing "love to thy children."
Hear a piano rendition of the hymn at:  http://www.youtube.com/watch?v=ODDfaAybNKk
"Unless a Grain of Wheat"
"Unless a grain of wheat falls to the earth,
Falls to the earth and dies,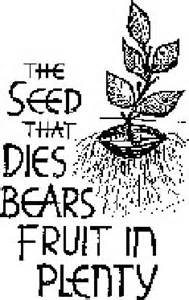 It remains only a grain of wheat and never the blade shall rise.
For the grain of wheat produces much fruit, but only if it dies.
Unless a grain of wheat falls to the earth, never the blade shall rise.
The one who loves the worldly life loses the life so lived,
While the one who hates the life in this world preserves it to life eternal.
If anyone would serve me, come and follow me;
Come and follow me: where I am, there will my servant be."
This week's anthem, originally titled "Never the Blade Shall Rise,"  is by Kathy Powell.  The text is based on John 12.   "The metaphor of the grain of wheat falling into the earth and dying presupposed the ancient belief that when a seed falls into the ground, it dies. When it is planted, it dies and then is brought back to life in a new form of a plant. Jesus is saying that if a grain of wheat isn't planted, then it does nothing and remains alone. It is just a single grain and it stays that. But if it's planted, then it dies and brings forth a plant that yields grain. It bears fruit only by dying. That metaphor is used to explain his death; by dying he will bring forth great fruit." (Source:  A Storytelling Commentary on John 12:20-33 by Thomas E. Boomershine, PhD)
"True Faith Needs No Defence" (MV #139)
"True faith needs no defence, it echoes in the soul;
A faithful life gives evidence of grace that makes us whole.
True faith, like music, soars beyond cathedral walls;
On city streets and ocean shores, from age to age faith calls.
Expect your faith to grow; begin by being still,
And in the quiet come to know God's living, breathing will.
To live the faith we find, is all that love can ask;
To sing God's praise with heart and mind, and rise to meet the task."
The text and music for this hymn are also by Daniel Charles Damon (2004).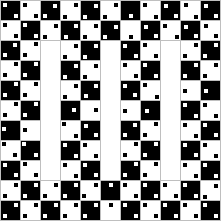 Categories: Notes on the Notes, Sunday Bulletin and Announcements, Worship