Notes on the Notes – March 21, 2021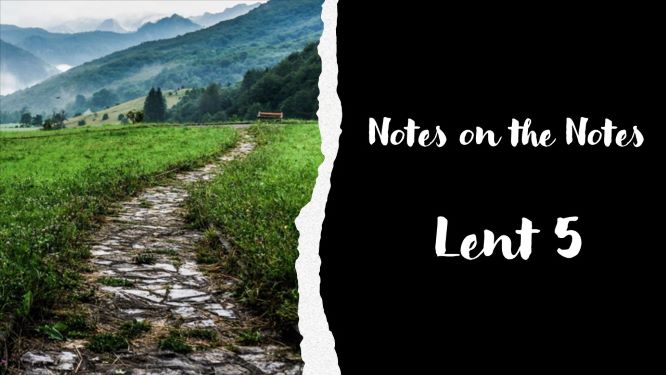 Lent 5

This week's music:
"God of the Bible" (MV #28)
"God of the Bible, God in the Gospel,
Hope seen in Jesus, hope yet to come,
You are our centre, daylight or darkness, freedom or prison, you are our home.
God in our struggles, God in our hunger,
Suffering with us, taking our part,

Still you empower us, mothering Spirit, feeding, sustaining, from your own heart.
Not by your finger, not by your anger will our world order change in a day,
But by your people, fearless and faithful, small paper lanterns, lighting the way.
Hope we must carry, shining and certain through all our turmoil, terror and loss,
Bonding us gladly one to the other, till our world changes facing the Cross.
Fresh as the morning, sure as the sunrise,
God always faithful, you do not change.
Fresh as the morning, sure as the sunrise,
God always faithful, you do not change."
This hymn was written by Shirley Erena Murray in 1995 and set to music by Tony E. Alonso in 2001.   The original title was Fresh as the Morning.  Through the hymn Murray emphasizes her confidence in God's faithfulness and encourages us in our journey to make the world God's kingdom.  God is with us in the struggle.
Hear the hymn sung by Worship and Music leaders at:  https://www.youtube.com/watch?v=NSVCzqIK5bE
"Come, Let Us to the God of Love" (VU #653)
"Come, let us to the God of love with contrite hearts return:
Our God is gracious, nor will leave the desolate to mourn.
God's voice commands the tempest forth, and stills the stormy wave;
And though God's arm be strong to smite, 'tis also strong to save.
Long has the night of sorrow reigned, the dawn shall bring us light;
God shall appear, and we shall rise with gladness at that sight.
As dew upon the tender herb diffusing fragrance round,
As showers that usher in the spring and cheer the thirsty ground.
So shall God's presence bless our souls and shed a joyful light,
That hallowed morn shall chase away the sorrows of the night."
The Scottish Paraphrases were a response to a growing desire to sing words other than from the Psalms and were finally published in 1781. However, the collection was provisional, sent down from the General Assembly for the opinion of Presbyteries, its use only authorised 'in the meantime' and 'where the Minister finds it for edification'. The process was never completed but the paraphrases passed into wide use. This version of Hosea 6:1-4 was by John Morison DD (1750-1798), minister of Canisbay.  The music is the tune, BELMONT,  adapted from William Gardiner's Sacred Melodies (1812).
Hear the hymn played on organ at:  https://www.youtube.com/watch?v=BWOPLJtQBJk
"Everlasting Love"
"God has loved with everlasting love!
We are the children of the One who draws us to His side.
Sing your praise to the Author of our Days;
God has saved us by His grace.
In His love abide.
Nothing separates us from the love of God
In heaven nor earth below:
No worries for today nor the days to come,
But by our faith we know
God has loved with everlasting love!…
Though heaven and earth may pass away,

The sun and stars may fade,
Our faith is sure in God's embrace.
Rejoice, lift up your voice and sing to the King!
Celebrate redeeming grace!
God has loved with everlasting love!…
O Love that will not let me go,
I rest my weary soul in Thee;
I give Thee back the life I owe,
That in Thine ocean depths its flow
May richer, fuller be.
We are the children of everlasting love."
This week's anthem explores our relationship with God and God's love for us.  The words and music are by Lloyd Larson (2014).  The lyrics are based on Jeremiah 31:3 and Romans 8:38-39.  Larson also incorporates one verse of Albert L Peace and George Mathson's hymn "O Love That Wilt Not Let Me Go" (1884).  The anthem was dedicated in memory of Ken Hodgson in 2015.
"As Comes the Breath of Spring" (VU #373)
"As comes the breath of spring with light and mirth and song,
So does your Spirit bring new days brave, free, and strong.
You come with thrill of life to chase hence winter's breath,
To hush to peace the strife of sin that ends in death.
You come like songs at morn that fill the earth with joy,
Till we, in Christ new-born, new strength in praise employ.
You come to rouse the heart from drifting to despair,
Through high hopes to impart life with an ampler air.
You breathe and there is health, you move and there is power,
You whisper, there is wealth of love, your richest dower.
Your presence is to us like summer in the soul,
Your joy shines forth and then life blossoms to its goal."
The text for this hymn was written in 1929 by David Lakie Ritchie, Dean of United Theological College in Montreal, for The Hymnary (1930).  The tune was published in England in the Methodist Hymn Book (1904).
Hear the hymn at:  https://www.youtube.com/watch?v=HX3EWoD8ZXI
Categories: General News, Notes on the Notes, Worship