Notes on the Notes – January 19, 2020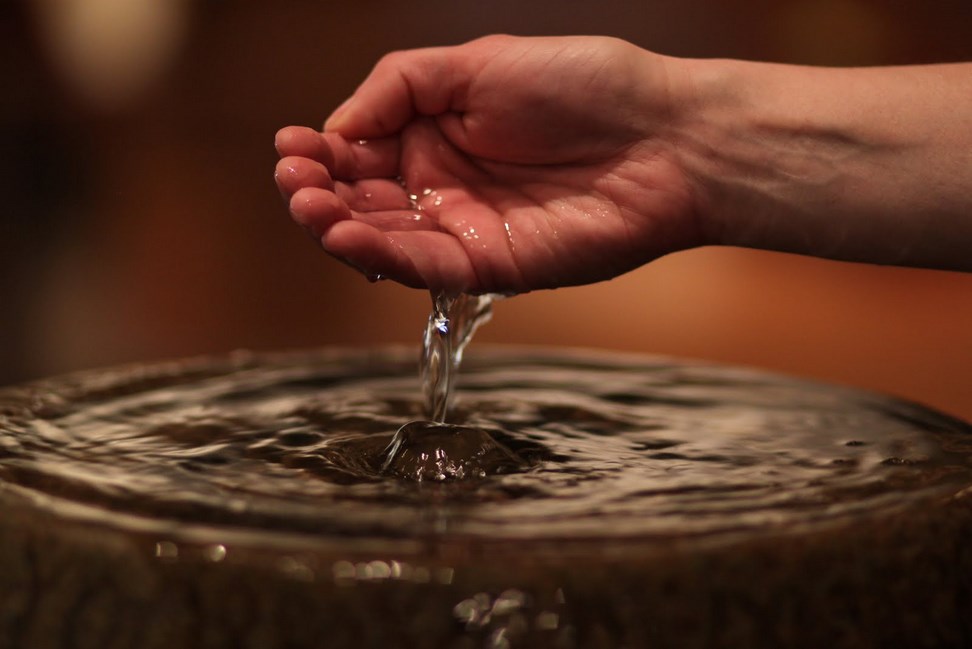 Baptism
"Will You Come and See the Light" (VU #96)
Brian Wren has called upon his experience working for Third World aid and development projects to write this hymn, which is an invitation in song.  He chose the Scottish fold tune KELVINGROVE as the setting for his text.  It was arranged by Valerie Ruddle, a British music teacher, composer and author.  The first three lines of each verse describe Jesus – the light – and what it means to be a follower.   First we are challenged to see, then step into the light.  Following that we asked to tell about the light, feel it's hope for justice, and travel by the light as we journey through our lives. The final line of each verse is both a challenge and an invitation for each of us as we move through the season of Epiphany.
"Will you come and see the light from the stable door?
It is shining newly bright, though it shone before.
It will be your guiding star, it will show you who you are;
Will you hide, or decide to meet the light?
"Will you step into the light that can free the slave?
It will stand for what is right, it will heal and save.
By the pyramids of greed there's a longing to be freed;
Will you hide, or decide to meet the light?
Will you tell about the light in the prison cell;
Though it's shackled out of sight, it is shining well.
When the truth is cut and bruised, and the innocent abused;
Will you hide, or decide to meet the light?
Will you join the hope, alight in the young girl's eyes;
Of the mighty put to flight by a baby's cries?
When the lowest and the least are the foremost at the feast,
Will you hide, or decide to meet the light?
Will you travel by the light of the babe new born?
In the candle lit at night there's a gleam of dawn,
And the darkness all about is too dim to put it out;
Will you hide, or decide to meet the light?"
Listen to a piano arrangement of the hymn at:  https://www.youtube.com/watch?v=cLvXgcH8fVE
"Immortal, Invisible, God Only Wise" (VU #264)
"Immortal, invisible, God only wise,
In light inaccessible hid from our eyes,
Most blessed, most glorious the Ancient of Days,
Almighty, victorious, thy great name we praise.
Unresting, unhasting, and silent as light,
Nor wanting, nor wasting, thou rulest in might;

Thy justice like mountains high soaring above,
Thy clouds, which are fountains of goodness and love.
To all, life thou givest, to both great and small,
In all life thou livest, the true life of all,
We blossom and flourish like leaves on the tree,
Then wither and perish; but naught changeth thee.
Thou reignest in glory, thou rulest in light;
Thine angels adore thee, all veiling their sight;
All praise we would render, O help us to see
'Tis only the splendour of light hideth thee!"
The four verses of this hymn by Walter Chalmers Smith are a description of the glory and omnipotence of God.  The hymn, based on 1 Timothy 1:17, was first published in Smith's Hymns of Christ and the Christian Life (1867).   ST. DENIO is a traditional Welsh melody adapted into a hymn tune during the Welsh revivals at the turn of the 19th century.    It was arranged by John Roberts (Henllan) and published in the Welsh hymnal Caniadau y Cyssegr (1839).
Hear an up-tempo version of this hymn by Steve Green at:  https://www.youtube.com/watch?v=j0_vB1dFtC4
Hear a traditional organ prelude on the melody at:  https://www.youtube.com/watch?v=HcWDS1yTkxM
"A Little Child the Saviour Came" (VU #445)
"A little child the Saviour came,

The mighty God was still his name;
And angels worshipped as he lay
The helpless infant of a day.
He who, a little child, began the life divine to show God's plan
Proclaims from heaven the message free,
'Let little children come to me.'
We bring them now, and in your name the saving love of Christ proclaim.
Through living water, grace endow;
Baptize them with your Spirit now.
O God, who by an infant's tongue can hear your perfect glory sung,
May these with all the heavenly throng, praise you: Creator, Spirit, Son."
The words for this hymn were written in 1861 by William Robertson, a 19th-century minister in the Church of Scotland.  The first verse is a reminder that Jesus came to earth as an infant.  The second verse references the story from Matthew 19:14 where Jesus admonishes the disciples for keeping the children away from him.  In the third and fourth verses we sing of our intent to baptize the children present and our prayer for them to live in praise of God.
"A New Creed"
"We are not alone,
We live in God's world,
We believe in God,
Who has created and is creating,
Who has come in Jesus, the Word made flesh,
To reconcile and make new,
Who works in us and others by the Spirit.
We trust in God.
We are called to be the Church,
To celebrate God's presence,
To live with respect in Creation,
To love and serve others,
To seek justice and resist evil,
To proclaim Jesus, crucified and risen,
Our judge and our hope.
In life, in death, in life beyond death,
God is with us.
We are not alone.
Thanks be to God."
This setting of the New Creed of the United Church of Canada was composed by Richard Hall.  To learn more about what the United Church believes as stated in the New Creed go to: http://www.windsorparkunitedchurch.com/a-new-creed/
"All I Have"
"All I have I give to Jesus, all I am and all I hope to be.
There is nothing that I could give Him that would repay His gift of love to me.
All my praise I give to Jesus, ev'ry song I have to sing.
Through His name I live victorious, as I proclaim Him as my Lord and King.
Take my life and all it is; make it more completely yours. 
Fill me now that I may live in your love forevermore. 
Use me Lord, to do your Kingdom's work; in your plan, Lord, let me have a part.
Make each day I live a tribute Lord, let your Spirit overflow my heart.
Help me find a place of service Lord, that I may show the way of truth.
All I am and all I hope to be, Lord, I give it all to you."
This week's anthem was written by Stan Pethel in 1995.  It was purchased for the Worship Choir in memory of choir member Audrey Lovelace.
"Today We All Are Called to Be Disciples" (VU #507)
"Today we all are called to be disciples of the Lord,
To help to set the captive free, make ploughshare out of sword,
To free the hungry, quench their thirst, make love and peace our fast,
To serve the poor and homeless first,
Our ease and comfort last.
God make the world and at its birth ordained our human race
To live as stewards of the earth,
Responding to God's grace.
But we are vain and sadly proud,
We sow not peace but strife,
Our discord spreads a deadly cloud that threatens all of life.
Pray justice may come rolling down as in a mighty stream,
With righteousness in field and town to cleanse us and redeem.
For God is longing to restore and earth where conflicts cease,
A world that was created for a harmony of peace.
May we in service to our God act out the living Word,
And walk the road the saints have trod till all have seen and heard.
As stewards of the earth may we give thanks in one accord
To God who calls us all to be disciples of the Lord."
This hymn was written in 1985 by H. Kenn Carmichael for the theme "Called to Be Disciples."  The first verse is reminiscent of the words from the hymn "I am the Light of the World," which we used in worship last week.  The words of the second verse remind us that we often fall short of the commission from the first verse and the closing verses sing of the hope that God will help us live out the challenges of the first verse as disciples and followers of Jesus.  The words are sung to a traditional English melody, harmonized by Arthur Seymour Sullivan of Gilbert and Sullivan fame (1874).
"I Have Decided to Follow Jesus"
"I have decided to follow Jesus,
No turning back, no turning back."
"I Have Decided to Follow Jesus" is a hymn originating from India. The lyrics are based on the last words of a man in Assam, north-east India, who along with his family was converted to Christianity in the middle of the 19th century through the efforts of a Welsh missionary. Called to renounce his faith by the village chief, the convert declared, "I have decided to follow Jesus." In response to threats to his family, he continued, "Though no one joins me, still I will follow." His wife was killed, and he was executed while singing, "The cross before me, the world behind me." This display of faith is reported to have led to the conversion of the chief and others in the village. The formation of these words into a hymn is attributed to the Indian missionary Sadhu Sundar Singh. The melody is also Indian, and entitled ASSAM after the region where the text originated. An American hymn editor, William Jensen Reynolds, composed an arrangement which was included in the 1959 Assembly Songbook. His version became a regular feature of Billy Graham's evangelistic meetings in America and elsewhere, spreading its popularity.
Due to the lyrics' explicit focus on the believer's own commitment, the hymn is cited as a prime example of decision theology, emphasizing the human response rather than the action of God in giving faith.
Sing along with a longer version of the song at:  https://www.youtube.com/watch?v=S8jvfdDtoqY
To ponder:
In this digital age, what does it mean to receive a call?
What is a spiritual call? 
Categories:
Notes on the Notes