Notes on the Notes – January 10, 2021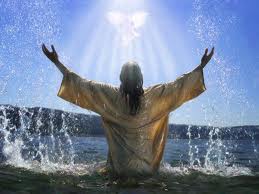 Baptism of Jesus
This week's music:
"O Splendour of God's Glory Bright" (VU #413)
"O splendour of God's glory bright, from light eternal bringing light;
O light of life, light's living spring, true day, all days illumining;
Come, Holy Sun of heavenly love, pour down your radiance from above,
And to our inward hearts convey the Holy Spirit's cloudless ray.
O joyful be the passing day with thoughts as clear as morning's ray,
With faith like noon-tide shining bright, our souls unshadowed by the night.
O Christ, with each returning morn your image to our hearts is born;
O may we ever see anew our Saviour and our God in you!"
The text of this hymn comes from "Splendor Paternae Gloriae," a hymn by Ambrose, Bishop of Milan (ca 174), who encouraged the development of hymn singing in the Western Church, having heard hymns sung in Eastern Orthodox churches during his travels in Greece. The translation is based on the work of John Chandler in Hymns of the Primitive Church (1837). The words reference both God and Jesus as being sources of divine light. Through the hymn, we are asking to be bathed in the divine light as we live our every day life. The tune, PUER NOBIS NASCITUR, is from a 15th-century Tier manuscript. It may be familiar as the tune for the hymn "A Little Child the Saviour Came" (VU #445).
Hear the tune on the organ at: https://www.youtube.com/watch?v=Wu-1qlh7YFU
"Spirit of God, Descend Upon My Heart" (VU #378)
"Spirit of God, descend upon my heart:
Wean it from earth, thro' all its pulses move;
Stoop to my weakness, strength to me impart,
And make me love you as I ought to love.
I ask no dream, no prophet ecstasies,
No sudden rending of the veil of clay,
No angel visitant, no opening skies,
But take the dimness of my soul away.
Have you not bid me love you, God and King;
All, all your own, soul, heart, and strength and mind?
I see your cross: there teach my heart to cling.
O let me seek you and O let me find!
Teach me to love you as your angels love,
One holy passion filling all my frame,
The baptism of the heaven-descended dove,
My heart an altar and your love the flame."
George Croly, an Anglican minister from Dublin, went to London as a young man to serve a small congregation. After serving there for twenty-five years, he was asked to re-open Saint Stephens Church in one of London's worst slums. He did so, and soon began attracting large crowds. While working there, Croly wrote the hymn, "Spirit of God, Descend Upon My Heart." The hymn is a prayer for God to change us — to change us from the inside out — to teach us how to love God as we ought to love – to allow us to seek God and to find him — and to teach us to love as the angels love. During the twenty years that he served in the heart of the slums, Croly saw many lives redeemed. This hymn reflects his conviction that redemption is an inside job — that it begins not when our surroundings change but when God changes our heart.
Hear Sue Nixon sing the hymn at: https://www.youtube.com/watch?v=OeZcdxKKzOU
Hear the hymn played on piano at: https://www.youtube.com/watch?v=MIOwwihkVSQ
"Down Galilee's Slow Roadways"
"Down Galilee's slow roadways a stranger travelled on from Nazareth to Jordan to be baptized by John.
He went down to the waters like soldier, scribe and slave, but there within the river was sign of birth and grave.
Arising from the river, he saw the heaven's torn;
It seemed the sky, so open, revealed the Spirit's form.
The holy dove descended amid a glorious voice:
"You are my own beloved – my Child, my heart, my choice."
We too have found a roadway; it led us to this place.
We all have had to travel in search of hope and grace.
But now beside this water again a voice is heard:
"You are my own, my chosen, beloved of your Lord."

This haunting setting of the story of Jesus' baptism was written by Sylvia Dunston and Bob Moore in 1991. The closing verse reminds us that we, too, are loved by God.
"I Have Called You by Your Name" (MV #161)
"I have called you by your name, you are mine;
I have gifted you and ask you now to shine.
I will not abandon you; all my promises are true.
You are gifted, called, and chosen; you are mine.
I will help you learn my name as you go;
Read it written in my people, help them grow.
Pour the water in my name, speak the word your soul can claim,
Offer Jesus' body given long ago.
I know you will need my touch as you go;
Feel it pulsing in creation's ebb and flow.
Like the woman reaching out, choosing faith in spite of doubt,
Hold the hem of Jesus' robe, then let it go.
I have given you a name, it is mine;
I have given you my Spirit as a sign.
With my wonder in your soul, make my wounded children whole;
Go and tell my precious people they are mine."
The lyrics of this hymn by Daniel Charles Damon have their root in Isaiah 43:1.  This hymn is written from God's perspective, saying "I have called you by your name, you are mine" and goes on to speak of God's hope for us.   It commissions us to have the courage to follow where God leads and reminds us of everyone's value in God's eyes.
Hear the hymn at: https://www.youtube.com/watch?v=hXEJmu_L5DQ
"Your Glory Shone at Jordan's Stream" (VU #84 v. 3)
"Your glory shone at Jordan's stream,
The font where we were born anew.
Attune your church to know you near;
Illumine all we say and do."
We will be using the third verse of the hymn "O Radiant Christ, Incarnate Word" as our benediction response this week. The words were written by Ruth Duck (1991).
Categories: General News, Notes on the Notes