Notes on the Notes – Good Friday – April 18, 2014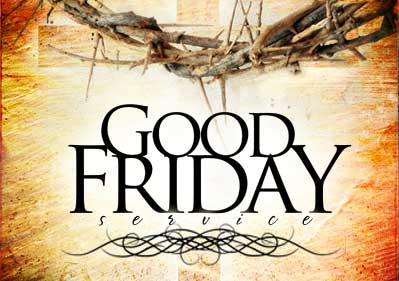 Good Friday Scripture Readings:  John 18: 1-12, 19-23, 28-38, 19: 5-27, 31-34
Good Friday Music:
"My Song is Love Unknown" (VU #143)
"My song is love unknown, my Saviour's love to me,  love to the loveless shown that they might lovely be.  O who am I that for my sake my Lord should take frail flesh, and die?
He came from his blest throne salvation to bestow, but people scorned, and none the longed-for Christ would know.  But O my Friend, my Friend indeed, who at my need his life did spend!
Sometimes they strew his way, and his sweet praises sing, resounding all the day hosannas to their King.  Then "Crucify!" is all their breath, and for his death they thirst and cry.
Here might I stay and sing, no story so divine; never was love, dear King, never was grief like thine!  This is my friend, in whose sweet praise I all my days could gladly spend.
This text by Samuel Crossman comes from a set of nine poems in his The Young Man's Meditation, or Some Few Sacred Poems upon Select Subjects and Scriptures (London, 1664).  We will be using the hymn tune LODWICK, which was composed by Ron Klusmeier in 1977 to accompany Fred Kaan's text for the hymn "To Show By Touch and Word" (VU #427).    
"Were You There?"  (VU #144)
"Were you there when they crucified my Lord?
Were you there when they nailed him to the tree?
Were you there when the sun refused to shine?
Were you there when they pierced him in the side?
Were you there when they laid him in the tomb?
Sometimes it causes me to tremble, tremble, tremble.
Were you there…?"
William E. Barton published "Were You There?" in Old Plantation Hymns (1899).  The hymn's author is unknown, but the words are based on the New Testament narratives of Matthew 27:31-56; 28;1-15 and parallels.  This African American spiritual was written prior to 1865. Those who were oppressed by slavery would sing together for encouragement. Believers would reflect on Christ's sufferings and the consolation of the gospel.
See 11 year old Ashley Childers sing this song at http://www.youtube.com/watch?v=UrT70JIm9eQ
See Three Mo Tenors at:  http://www.youtube.com/watch?v=UrT70JIm9eQ
World's largest male chorus in Wales, 1993 at:  http://www.youtube.com/watch?v=9nFE3VSBWG0
"O Come and Mourn"
"O come and mourn with me awhile; all ye now come to the Saviour's side; come see the One who frees us all; the Lord of Life is crucified.
Have we no tears to shed for Him, while soldiers scoff and foes deride?  Upon the cross He bears the pain, the Lord of Life is crucified.
Seven times He speaks, seven words of love; His silence too, cries out to all.  His words of love our hearts receive.  The Lord of Life is crucified.
O Love of God, O sin of man, in this dread hour true strength is found.   It is with love we triumph still.  The Lord of Life is crucified."
The text for this anthem was written by Frederick William Faber.  It is a Good Friday hymn, from Faber's collection Jesus and Mary, and was written in  1849.  It has been whittled down over several generations of hymnals from its initial twelve stanzas to the current four.  In this anthem version, Hal Hopson has set it to an early American folk tune.
"The Greatest Gift"
"My hands I give to use for Thee, for yours are torn from Calvary.  Those hands that knew a carpenter's trade were nailed that day for me to save.
No greater gift can ever be than that which God did give to me.  For long ago He gave to us the greatest gift we'll e'er receive.
My heart I pledge to love for Thee for Thine did break upon the tree.  A heart that knew no love in death.  My heart I give – its love to shed.
My live I give to live for Thee, for yours you gave on Calvary.  A life God sent to set us free.  Here Lord I give my life to Thee."
 The words and music for this anthem were written by Phil Perkins in 1972.
"Written in Red"
"In letters of crimson God wrote His love on a hillside so long, long ago.  For you and for me Jesus died and love's greatest story was told.
I love you, I love you; that's what Calvary said.  I love you, I love you, I love you written in red.
Down through the ages God wrote His love with the same hands that suffered and bled.  Giving all He had to give a message so easily read…"
The words and music are by Gordon Jensen.  This arrangement is by Camp Kirkland.
"We Shall Go Out With Hope of Resurrection" (VU #586)
"We shall go out with hope of resurrection; we shall go out, from strength to strength go on; we shall go out and tell our stories boldly; tales of a love that will not let us go.  We'll sing our songs of wrongs that can be righted; we'll dream our dreams of hurts that can be healed; we'll weave a cloth of all the world united within the vision of new life in Christ.
We'll give a voice to those who have not spoken; we'll find the words for those whose lips are sealed; we'll make the tunes for those who sing no longer, expressive love alive in every heart.  We'll share our joy with those who still are weeping, raise hymns of strength for hearts that break in grief, we'll leap and dance the resurrection story, including all in circles of our love."
Categories: Music Programs, Notes on the Notes, Sunday Bulletin and Announcements, Worship