Notes on the Notes – February 26, 2017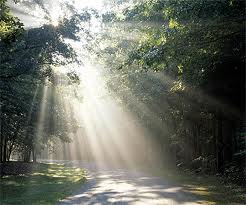 This week's theme:
Transfiguration – An Unexpected Journey
This week's scripture readings:
            Exodus 24:12-18             Matthew 17:1-9
This week's music:
"Rise Up, Rise Up"  (MV #130)
"Rise up, rise up, rise up, O my soul.
Rise up and sing this blessing to God's name."
Our opening song this week is by Canadian composer Linnea Good. The words are taken from Psalm 104. It was written in 2000.
"O Splendour of God's Glory Bright" (VU #413)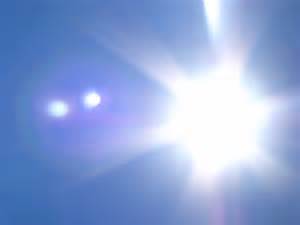 "O splendour of God's glory bright, from light eternal bringing light;
O light of life, light's living spring, true day, all days illumining;
Come, Holy Sun of heavenly love, pour down your radiance from above,
And to our inward hearts convey the Holy Spirit's cloudless ray.
O joyful be the passing day with thoughts as clear as morning's ray,
With faith like noon-tide shining bright, our souls unshadowed by the night.
O Christ, with each returning morn your image to our hearts is born;
O may we ever see anew our Saviour and our God in you!"
The text of this hymn comes from "Splendor Paternae Gloriae," an office hymn by Ambrose, Bishop of Milan (ca 174), who encouraged the development of hymn singing in the Western Church, having heard hymns sung in Eastern Orthodox churches during his travels in Greece. The translation is based on the work of John Chandler in Hymns of the Primitive Church (1837). The tune, PUER NOBIS NASCITUR, is from a 15th-century Tier manuscript.  It may be familiar as the tune for the hymn "A Little Child the Saviour Came" (VU #445)
Hear the tune on the organ at:  https://www.youtube.com/watch?v=Wu-1qlh7YFU
"We Have Come at Christ's Own Bidding" (VU #104)
"We have come at Christ's own bidding to this high and holy place,
Where we wait with hope and longing for some token of God's grace.
Here we pray for new assurance that our faith is not in vain,
Searching like those first disciples for a sign both clear and plain.
Light breaks in upon our darkness; splendour bathes the flesh-joined Word;
Moses and Elijah marvel as the heavenly voice is heard.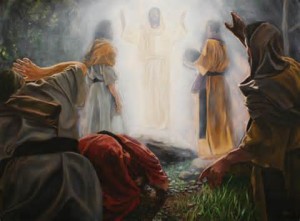 Eyes and hearts behold with wonder how the Law and Prophets meet:
Christ, with garments drenched in brightness, stands transfigured and complete.
Strengthened by this glimpse of glory, fearful lest our faith decline,
We like Peter find it tempting to remain and build a shrine.
But true worship gives us courage to proclaim what we profess,
That our daily lives may prove us people of the God we bless."
This transfiguration hymn is by Carl P. Daw, Jr. (1988).  In his commentary on the text, Daw discusses the "implicit comparison between the attitudes and assumptions of the disciples on the Mount of Transfiguration and the expectations of present-day Christians as they gather for worship."  The tune, ABBOT'S LEIGH, which was composed by British hymnologist Cyril Vincent Taylor in 1941.
"Transfigure Us, O Lord"
"Transfigure us, O Lord,
Transfigure us, O Lord,
Break the chains that bind us;
Speak your healing word,
And where you lead we'll follow.
Transfigure us, O Lord.
Down from heights of glory into the depths below,
The love of God self-emptied, the love of God to show.
You light the path before us, the way that we must go.
Light for those in darkness, the hungry have their fill,
Glad tidings for the humble, the healing of all ills;
In these we glimpse your glory, God's promises fulfilled.
Pardon for the sinner, a shepherd for the sheep,
A drink of living water for all who thirst and seek,
And feasting at your table, the lowly and the least.
Transfigure us, O Lord…"
This week's anthem is based on the transfiguration story as told in Matthew 17:1-9, Mark 9:2-10 and Luke 9:28b-36. It was written by Bob Hurd in 2002.
"With One Voice" 
"Take the Word and go out to every land:
Shine the light of Christ for all to see!
May the lives of those we touch sing praise to God above.
Let us sing, we'll sing:
With one voice we'll pass the Word along;
With one voice, bring justice to the world.
And with all the angels we'll spread the goodness of God.
With all power and glory the World of God shall reign.
Take the Word to our neighbourhoods and street:
Shine the light of Christ for all to see!
May we all set out to live in peace and harmony.
They will see and sing:
Take the Word to the people in despair:
Shine the light of Christ for all to see!
May our actions and our deeds bring comfort to their needs.
And they'll know and sing:
Take the Word to the nations everywhere:
Shine the light of Christ for all to see!
May the witness of our lives transform the world anew.
And we'll shine, we'll shine:
With one voice…"
This song by Ricky Manalo (1998) commission us to take God's Word out into the world.   It's reference to the Christians as the light of Christ makes it particularly appropriate for Transfiguration Sunday.
Categories:
Notes on the Notes