Notes on the Notes – February 24, 2019
Baptism
"Risking Relationship"
This Week's Scripture Readings:
Genesis 45:3-11, 15                Luke 6:27-38
This Week's Music:
"There's a Wideness in God's Mercy" (VU #271)
"There's a wideness in God's mercy like the wideness of the sea;
There's a kindness in God's justice which is more than liberty.
There is no place where earth's sorrows are more felt than up in heaven;
There is no place where earth's failings have such gracious judgement given.
There is plentiful redemption in the blood that Christ has shed;
There is joy for all the members in the sorrows of the Head.
Troubled souls, why will you scatter like a crowd of frightened sheep?
Foolish hearts, why will you wander from a love so true and deep?
For the love of God is broader that the measures of the mind,
And the heart of the Eternal is most wonderfully kind."
This hymn is based on a poem by F.W. Faber, a 19th-century Anglican priest who converted to Roman Catholicism (1854).  The lyrics remind us that, no matter our mistakes or short-comings, we are still loved by God.  The tune we will be using is GOTT WILL'S MACHEN,  by the 18th-century Swiss composer, Johann Ludwig Steiner.  Hear the tune on pipe organ at:  https://youtu.be/rndo8V2u0hc
"Love Knocks and Waits" (MV #94)
"Love knocks and waits for us to hear, to open and invite;
Love longs to quiet every fear, and seeks to set things right.
Love offers life, in spite of foes who threaten and condemn;
Embracing enemies, Love goes the second mile with them.
Love comes to heal the broken heart, to ease the troubled mind;
Without a word Love bids us start to ask and seek and find.
Love knocks and enters at the sound of welcome from within;
Love sings and dances all around, and feels new life begin."
Our reading from Luke this week is the Golden Rule.  The words for this hymn were written by Dan Damon in 1994.  If we treat everyone with love, how does our world change?  How do we change?  This week we will be using the tune from the hymn "O For a Thousand Tongues to Sing" as our melody.
"Here at This Font" (VU #450)
"Here at this font, Source of all life, we bring a child for you to bless.
Met in our worship, may we know the gospel's way of happiness.
Pour out this water, fresh and clear.
Make it a sign of life and love.
Now, as at Jordan long ago, show your approval, Holy Dove.
Embrace this child with gentle arms, as on that day in Galilee
You called the young, and showed to all the power of humility.
Guide church and parents in our task to teach each child to walk your way.
May Christ's commandments be obeyed in all we think or do or say."

We will be using this hymn as we celebrate the sacrament of baptism.  The words for this week's baptism hymn were written by Alton George Demmons in 1979.  The tune is WINSCOTT, composed by Samuel Sebastian Wesley in 1872.
"The New Creed"
"We are not alone,
We live in God's world,
We believe in God,
Who has created and is creating,
Who has come in Jesus, the Word made flesh,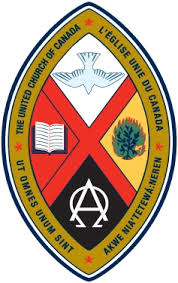 To reconcile and make new,
Who works in us and others by the Spirit.
We trust in God.
We are called to be the Church,
To celebrate God's presence,
To live with respect in Creation,
To love and serve others,
To seek justice and resist evil,
To proclaim Jesus, crucified and risen,
Our judge and our hope.
In life, in death, in life beyond death,
God is with us.
We are not alone.
Thanks be to God."
This statement of faith of the United Church of Canada was set to music by Richard Hall.   To learn more about the history of the writing of the New Creed, go to:  http://www.windsorparkunitedchurch.com/a-new-creed/
"The Greatest of These"
"Tho I may speak with the tongues of angels,
Tho I speak with a voice of peace.
And tho I seek all the gifts of heaven,
Or behold all its mysteries,
If I'm not with Love's compassion,
If I speak without Love's voice,
My lofty words and noble actions, are as Noise.
Tho I have faith to remove a mountain,
Tho I've faith to command the hills,
And if I dare, in the face of danger, my own body to offer still,
But if I've not Love's understanding,
If I'm lost to Love's own songs,
My lovely words and thrilling actions are as Gongs.
The breath of Time rushes ever onward,
Prophecy shall pass away.
Our grandest words and our greatest knowledge shall be gone at the break of Day.
For the wisest of our wisdom, and the boldest prophet's call are merely shadows of the Holy, One-in-All!
For now we see only a glimpse of the things to be.

As thro' a mirror dimly, 'til Time and Earth are free.
Faith, Hope and Love abide below, abide above,
But ever new, and ever true, the greatest of these is Love!"
This song, by Canadian composer Linnea Good, quotes from 1 Corinthians 13:1-12.     Linnea says, "Through a glass darkly; through a mirror dimly…Whether we are looking at the convolutions of the world outside or the percolations of the world inside, it is good to know that God's creation is not locked into the confine of human imagination and perception! "
"God, as We Rise to Leave" (VU #417)

"God, as we rise to leave this shell of worship,
Called to the risk of unprotected living,
Willing to be at one with all your people,
We ask for courage.
For all the strain with living interwoven,
For the demands each day will make upon us,
And for the love we owe the modern city,
God, make us cheerful.
Give us an eye for openings to serve you;
Make us alert when calm is interrupted,
Ready and wise to use the unexpected;
Sharpen our insight.
Lift from our life the blanket of convention;
Give us the nerve to lose our life to others;
Be with your church in death and resurrection,
God of all ages."
This hymn by 20th-century hymn writer Fred Kaan (1968) is paired with the melody LOBET DEN HERREN by Johan Cruger (1653).  The lyrics ask God to be with us as we go into the world, with all of its stresses and demands.
To ponder:  
With whom do you need to risk deepening a relationship?
Categories:
Notes on the Notes