Notes on the Notes – February 16, 2014
This week's theme:  Bullying is incompatible with Christianity
This week's scripture:  Deuteronomy 30:15-20, Matthew 5:33-37
This week's music:
"Love Knocks and Waits" (MV 94)
"Love knocks and waits for us to hear, to open and invite; Love longs to quiet every fear, and seeks to set things right.
Love offers life, in spite of foes who threaten and condemn; embracing enemies, Love goes the second mile with them.
Love comes to heal the broken heart, to ease the troubled mind; without a word Love bids us start to ask and seek and find.
Love knocks and enters at the sound of welcome from within;  Love sings and dances all around, and feels new life begin."
The words for this hymn were written by Dan Damon in 1994.  Damon is an internationally published writer of hymn texts and tunes. He is pastor of First United Methodist Church, Richmond, California. He serves as adjunct faculty in church music at Pacific School of Religion in Berkeley, California, plays piano in clubs in the San Francisco area and studies piano and composition. Dan has toured Zimbabwe with the Jubilate Choir from the Pacific Northwest Conference of the United Methodist Church and is currently working on a collection of African songs with Patrick Matsikenyiri, retired Professor of Church Music, Africa University, Zimbabwe. This week we will be using the tune from the hymn "O for a Thousand Tongues to Sing" as our melody.
"Lord, Speak to Me" (VU #589)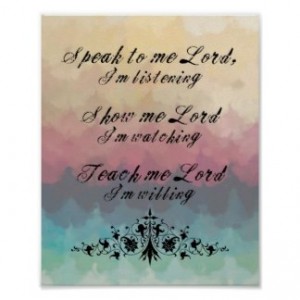 "Lord, speak to me that I may speak in living echoes of your tone; as you have sought, so let me seek your straying children, lost and lone.
O lead me, so that I may lead the wandering and the wavering feet; O feed me, so that I may feed your hungering ones with manna sweet.
O teach me, so that I may teach the precious truths which you impart; and wing my words, that they may reach the hidden depths of many a heart.
O fill me with your fullness, Lord, until my very heart o'erflows in kindling thought and glowing word, your love to tell, your praise to show."
  The words for this hymn were written by Frances Ridley Havergal in 1872.   "Frances Havergal (1836-1879) lived a life with an outward appearance of spiritual arrival. The daughter of an Anglican priest, she experienced Christian conversion at the age of 14 and in 1853 was confirmed in her father's church, St. Nicholas in Worcester, England. She devoted her life to her family, living with her father and stepmother until the latter's death in 1878, after which she lived with a sister until her death at age 42.
Havergal was well-educated, learning six foreign languages including Greek and Hebrew, and excelled in singing and playing the piano. In keeping with the expectations of females of her day, she participated in church ministry through service to the less fortunate and the composition of hymns.
"Lord, Speak to Me" is not a hymn of rejoicing in the arrival at the end of the journey, but of perseverance and momentum in the working out of the journey… In its text, we can easily perceive a person earnestly seeking to contribute more to the work of God's kingdom. The poem's original title, "A Worker's Prayer," includes the subheading "None of us liveth unto himself, Romans 14:7," which effectively sets the tone of the entire hymn as an appeal to God to enable the self to be of greater service to others.
In speaking of her creative process, Havergal connected the composition of a hymn text directly to the act of praying: "I never seem to write even a verse by myself and [I] feel like a child writing. . . . You know a child would look up at every sentence and say, 'And what shall I say next?'"
"Lord, Speak to Me" reveals a proper orientation for the Christian's ultimate goal. While earnestly seeking full surrender to God was no doubt a part of Havergal's intention in the text, even reaching that milestone in 1873 could not have constituted for her a sense of completion of the spiritual voyage. Through the hymn, she tells singers that working out our faith through service to the Lord will drive us forward on the journey—until we reach the final destination of God's rest, God's joy, God's glory shared."
(Source:  The United Methodist Reporter:  taken from a report by Lisa Hancock, a Master of Sacred Music student at Perkins School of Theology, Southern Methodist University) 
The hymn's tune, WINSCOTT, was composed by Samuel Sebastien Wesley in 1872.  Samuel Sebastian Wesley (14 August 1810 – 19 April 1876) was an English organist and composer.  He was the grandson of Charles Wesley. His middle name derived from his father's lifelong admiration for the music of Bach.  Famous in his lifetime as one of his country's leading organists and choirmasters, he composed almost exclusively for the Church of England, which continues to cherish his memory.
"No Greater Gift"
"Though I speak the language of angels, though I know all there is to know, if I have no love, I am nothing at all.  There is no gift greater than love.
And though I understand every mystery, and my faith could remove any mountain, if I have no love, I am nothing at all.  There is no gift greater than love. 
Love is kind and gentle, rejoicing in the truth.  Love is not proud.  Love is not rude.  Love never fails, though all other gifts will cease.  Love hopes and endures, love bears and believes. 
Though I give all I have to the hungry, though I give my very life, if I have no love, I am nothing at all.  There is no gift greater than love.
There is hope, there is faith;  they will always remain.  But, there is no gift greater than love."
This week's anthem was written by Ruth Elaine Schram in 2002.  The text is adapted from 1 Corinthians 13.
"Draw the Circle Wide" (MV #145)
"Draw the circle wide.  Draw it wider still.  Let this be our song, no one stands along, standing side by side, draw the circle wide.
God the still-point of the circle, 'round whom all creation turns; nothing lost, but held forever, in God's gracious arms.
Let our hearts touch far horizons, so encompass great and small; let our loving know no borders, faithful to God's call.
Let the dreams we dream be larger than we've ever dreamed before; let the dream of Christ be in us, open every door."
This now-familiar hymn of inclusion was written by Gordon Light  of the Common Cup Company in 1994.  It was arranged by Michael Bloss in 1998.

Don't forget to get your tickets for the concert on January 21st!!
Categories: Music Programs, Sunday Bulletin and Announcements, Worship