Notes on the Notes – February 14, 2016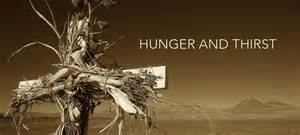 Lent 1
Hungering and Thirsting for the Word

This week's scripture readings:
Romans 10: 8b-13, Luke 4: 1-13
This week's music:
"Tell Me the Stories of Jesus" (VU #357)
"Tell me the stories of Jesus I love to hear, things I would ask him to tell me if he were here:  scenes by the wayside, tales of the sea, stories of Jesus, tell them to me.
First let me hear how the children stood round his knee, and I shall fancy his blessing resting on me; words full of kindness, deeds full of grace, all in the lovelight of Jesus' face.
Tell me, in accents of wonder, how rolled the sea – tossing the boat in a tempest on Galilee!  And how the Master, ready and kind, chided the billows and hushed the wind.
Into the city I'd follow the children's band, waving a branch of the palm tree high in my hand; one of his heralds, yes, I would sing loudest hosannas!  Jesus is King!
Show me that scene in the garden of bitter pain;  and of the cross where my Saviour for me was slain.  Sad ones or bright ones, so that they be stories of Jesus, tell them to me."
William Henry Parker, 1845-1929
"On the summer of 1885 a warmhearted Baptist businessman in Nottingham, England.  His mind settled on the young students in his Sunday school class. Wanting attention. Needing direction. Always tugging at him with one request: "Tell us another story."   Before the day was over, William Parker had written the lyrics of this song made memorable by the soothing melody it later inspired, when a publisher ran a contest to find a fitting tune and chose the one submitted by Frederick Arthur Challinor …
I vividly remember one summer evening in 1985, just a hundred years after William Parker wrote "Tell Me the Stories of Jesus." I was visiting my parents for a weekend, and another guest graced the house: my youngest niece, a toddler still in diapers, just beginning to string words into sentences. With granddaughter Elizabeth snuggled at his side, my father "read" through Peter Spiers Noah's Ark picture book. Telling the story. Naming the animals. Walking the rainbow. Closing the book.  And then came Elizabeth's supplication, as basic as it can be: "Read again."
Repeat the stories. Our children need to hear them. Long ago and far away does matter. Here and now.
Lord, give me a new appreciation of the old, old story that you chose to leave with us. Your story. Our story. The Good-News story. Give me opportunity to tell the story in afresh way to someone—of any age—-who is eager to hear it.……………….."
From the book: "Spiritual moments with the Great Hymns" by Evelyn Bence
Hear the Mormon Tabernacle Choir at: https://youtu.be/EHOpxwmisLQ
"How Great the Mystery of Faith" (VU #390)
"How great the mystery of faith, how deep the purposes of God,
In birth and aging, life and death, unveiled, yet never understood!
Attracted by life's deepest claim we wait, assembled in this place,
With needs and hopes we cannot name, a thirst for healing, truth, and grace.
The best that we can do and say, the utmost care of skill and art,
Are sweepers of the Spirit's way to reach the depths of every heart.
Come, walk among us, Holy Friend, as all are gathered and prepared,
That scattered lives may meet and mend through open Word and table shared."
Brian Wren's text from Bring Many Names is a centering hymn for the beginning of worship.  It opens with a reference to 1 Timothy 3:16.  This week we will be using the melody WINSCOTT, composed by Samuel Sebastian Wesley (1892) and commonly known as the melody for the hymn "Lord, Speak to Me" (VU #589).
"Throughout These Lenten Days and Nights" (VU #108)
"Throughout these Lenten days and nights we turn to walk the inward way, where, meeting Christ, our guide and light, we live in hope till Easter Day.
The pilgrim Christ, the Lamb of God, who found in weakness greater power, embraces us, though lost and flawed, and leads us to his Rising Hour.
We bear the silence, cross and pain of human burdens, human strife, while sisters, brothers help sustain our courage till the Feast of Life.
And though the road is hard and steep, the Spirit ever calls us on through Calvary's dying, dark and deep, until we see the coming Dawn.
So let us choose the path of One who wore, for us, the crown of thorn, and slept in death that we might wake to life on Resurrection Morn!
Rejoice, O sons and daughters!  Sing and shout hosannas!  Raise the strain!  For Christ, whose death Good Friday brings on Easter Day will rise again!"
Despite its penitential tone, this hymn evokes faith and courage through its solid text and powerful, familiar tune.  James Gertmenian, the pastor of a Congregational church in Connecticut, submitted this hymn for Lent and Holy Week to the January 1993 issue of NewSong, a newsletter which encouraged the writing of new congregational hymns.  The tune, WINCEHSTER NEW,  will be familiar to many as it is also the tune for the Advent hymn "On Jordan's Bank."
"I'm Hungry, Lord"
"I'm hungry, Lord; I'm hungry, Lord;

My soul cries out for Thee.
The Living Bread, the Water of Life,
The One who quickens me."
Based on Psalm 63:1, this response was arranged by Lyndell Leatherman (1982).
"As Pants the Hart"
"As pants the hart for cooling streams in parched and barren ways,
So longs my soul, O God, for you
And your refreshing grace.
For you, my God, the living God, my thirsty spirit pines:
O when shall I behold your face,
O Majesty divine?
Why restless, why cast down, my soul? Hope still, and you shall sing
The praise of one who is your God, your health's eternal spring."
The words for this hymn were written by N. Tate & N Brady in 1696, based on Psalm 42.  Nahum Tate and Nicholas Brady were poets who collaborated to produce one famous work, New Version of the Psalms of David (1696), which was a metrical version of the Psalms.  Still regularly sung today is their version of Psalm 34 'Through all the changing scenes of life.'  As well as the 150 Psalms they also wrote metrical versions of the Lord's Prayer and the Apostles' Creed.
Tate also wrote the well-known Christmas carol "While Shepherds Watched Their Flocks by Night," which was published in 1700.
The music for "As Pants the Hart" is by Hugh Wilson (1764-1824), adapted by Robert Smith in 1825.
Hear the hymn at: https://youtu.be/hnfynudm92c
"You Nourish Us" (VU #545)
"You nourish us with food, O God, for body and for soul;
Our love and service is our thanks, for life that's free and whole,
For life that's free and whole."
Wayne Irwin and Flora Litt were associated over many years with prayer ministry in the Hamilton Conference of the United Church.  They wrote the words for this hymn as a gift for the Five Oaks Christian education and conference centre in Ontario.  The tune is by Nikolaus Herman (1554), a poet and composer of chorales and songs for children, who was organist and choirmaster at a Lutheran church in Joachimstal in Bohemia.   J.S. Bach later wrote three harmonizations of the chorale.  The one we will be using is from Cantata No. 151, Susser Trost, mein Jesus kommt.
"Hope of the World" (VU #215)
"Hope of the world, O Christ of great compassion,
Speak to our fearful hearts by conflict rent;
Save us, your people, from consuming passion,
Who by our own false hopes and aims are spent.
Hope of the world, God's gift from highest heaven,
Bringing to hungry souls the bread of life,
Still let your Spirit unto us be given
To heal earth's wounds and end its bitter strife.
Hope of the world, afoot on dusty highways,
Showing to wondering souls the path of light;
Walk now beside us lest the tempting byways
Lure us away from you to endless night.
Hope of the world, who by your cross has saved us
From death and dark despair, from sin and guilt;
We render back the love your mercy gave us;
Take now our lives, with them your kingdom build.
Hope of the world, O Christ, o'er death victorious,
Who by this sign has conquered grief and pain,
We would be faithful to your gospel glorious.
You are our Lord! You shall forever reign."
This hymn is a thoughtful put powerful consideration of the meaning of Christ as the "Hope of the world."  Consider the implications for the "Hope of the world" through the five verses culminating in the the Reign of Christ.   This hymn was written in 1952 by Georgia Elma Harkness.  Author of several books and internationally recognized as a teacher, Georgia Harkness was one of the leading women theologians of her generation.  She submitted this hymn to a competition sponsored by the Hymn Society of America to encourage the writing of new hymns for the Second Assembly of the World Council of Churches in 1954.  Hers was selected as the winning entry.   We will be using the melody O PERFECT LOVE (VU #491), which was written for an anthem by Joseph Banby for the wedding of Louise, Princess of Wales, and the Duke of Fife (1889).
"The Lord Lift You Up"         
"The Lord lift you up,
The Lord take your hand,
The Lord lead you forth,
And cause you to stand,
Secure in God's word,
Seeking God's face,
Abounding in love,
Abiding in grace."
Our benediction response for the season of Lent was written by Patricia J. Shelley in 1983.
Categories: Notes on the Notes, Worship