Notes on the Notes – Easter Sunday – April 20, 2014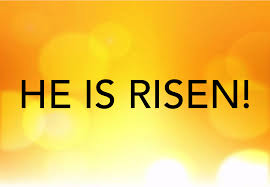 Easter Sunday 2014
This week's scripture:  Adapted from John 20:1-11a, John 20:14-16, Luke 24:5-6
This week's music:
"He is Risen" – Our service will open with the Easter Musical Drama – "He is Risen" by LLoyd Larson (2001).   The work is inspired by the Gospel of John, chapter 20.  Including original music,  narration, instrumental elements of known tunes and the familiar Easter hymn, "The Day of Resurrection,"  this work brings the Easter story to life.
"Alone in the garden, in the morning light, Mary stood weeping, her heart filled with fright.  All hope was gone, the promises denied.  Jesus, the King, had been crucified!…
He is risen!  Christ is risen!  Sing it out with joyful voice!  He is risen!  Christ is risen! Let the whole wide earth rejoice!  Death is conquered, we are free, Christ now reigns triumphantly!  He is risen!  Christ is risen!  Christ has won the victory!…
The Day of Resurrection
The day of resurrection!  Earth, tell it out abroad; the Passover of gladness, the Passover of God.  From death to life eternal, from sin's dominion free, our Christ has brought us over with hymns of victory.
Our hearts be pure from evil, that we may see aright the Lord in rays eternal of resurrection light;  and listening to His accents, may hear, so calm and plain, His own "All hail!" and hearing, may raise the victor strain.
Now let the heavens be joyful!  Let earth its songs begin!  The world resound in triumph, and all that is therein;  let all things seen and unseen their notes of gladness blend;  for Christ the Lord has risen, our Joy that has no end! 
He is risen!  Christ is risen, alleluia!"
"The Day of Resurrection" is also known as the Golden Canon.  Its source is a Greek canon – an extended poem of eight or nine odes, each based on a scriptural canticle.  The author, John of Damascus (750 a.d.) gave up a high government position to enter the monastery at St. Sabas.  The hymn was written for the Greek church, to be sung at the midnight service on Easter eve.   It was translated by John Mason Neale in 1862 and published in Hymns of the Easter Church.  The melody, ELLACOME, is more commonly known as the tune for the hymn "Hosanna, Loud Hosanna,"  and was first associated with this text in 1906.
Hear The Day of Resurrection at http://www.youtube.com/watch?v=AY-5srhYLsQ
 "Hey Now!  Singing Hallelujah!" (MV #121)
"Hey now!  Singing hallelujah!  Hey now!  The morning has come!  Hey now!  Singing hallelujah!  The tomb was empty at the rising sun.
Jesus loved people and he made them friends….He called to the children and the women and men….
Jesus healed people and he helped them be well…He taught about God in the stories he'd tell…
Jesus loved people and they said he was a king…He turned all the table on everything…
Jesus had power and they took him away…They nailed him to a cross and they killed him one day…
Jesus loves people and he lives again!…He calls us disciples and he calls us his friends…"
This new Easter hymn was written by Linnea Good in 1998.
"Jesus Christ is Risen Today" (VU #155)
"Jesus Christ is risen today, hallelujah!  Our triumphant holy day, hallelujah!  Who did once upon the cross, hallelujah!  Suffer to redeem our loss.  Hallelujah!
Hymns of praise then let us sing… unto Christ, our heavenly King,… who endured the cross and grave,… sinners to redeem and save…
But the pains which he endured,… our salvation have procured;… now above the sky he's King,… where the angels ever sing…
Sing we to our God above…praise eternal as God's love;… praise our God, ye heavenly host,… praise the Son and Holy Ghost.  Hallelujah!
This Easter carol appears in several 14th-century manuscripts.  Verse 1 is taken from a translation of the Latin text as published in 1708.  Verses two and three were rewritten in 1749 and 1753.  The fourth verse is by Charles Wesley (1740).   The tune, EASTER HYMN, is a model of the new hymnody being introduced to English congregations at the beginning of the 18th century.   The descant was written by Derek Holman in 1971.
See the King's College Choir at:  http://www.youtube.com/watch?v=rMwPEmUMP7U
"Mighty to Save"
"Everyone needs compassion, love that's never failing.  Let mercy fall on me.  Everyone needs forgiveness, the kindness of a Saviour, the hope of nations.
Saviour, He can move the mountains.  My God is might to save, He is mighty to save.   Forever, Author of salvation, He rose and conquered the grave, Jesus conquered the grave.
So take me as You find me, all my fears and failures.  Fill my life again.  I give my life to follow everything I believe in.  Now I surrender…
Shine Your light and let the whole world see.  We're singing for the glory of the risen King Jesus…."
Written by Ben Fielding and Reuben Morgan.  It was arranged by Can Galbraith, based on the recording from the Hillsong album "Mighty to Save" (2006).  Hear the song at http://www.youtube.com/watch?v=sR8rlTIU8_Y
"He is Lord!  He is Lord!  He is risen from the dead and He is Lord!  Every knee shall bow, every tongue confess that Jesus Christ is Lord!"
This traditional Easter response will be our offering response this week.  The author and composer are unknown.
"Christ is Alive" (VU #158)
"Christ is alive!  Let Christians sing.  The cross stands empty to the sky.  Let streets and homes with praises ring.  Love, drowned in death, shall never die.
Christ is alive!  No longer bound to distant years in Palestine, but saving, healing, here and now, and touching every place and time.
In every insult, rift and war, where colour, scorn, or wealth divide, Christ suffers still, yet loves the more, and lives, where even hope has died.
Women and men, in age and youth, can feel the Spirit, hear the call, and find the way, the life, the truth, revealed in Jesus, freed for all.
Christ is alive, and comes to bring good news to this and every age, till earth and sky and ocean ring with joy, with justice, love and praise."
The words for this hymn were written by Brian Wren in 1968.  He says "It was written for Easter Sunday, two weeks after the assassination of Dr. Martin Luther King, Jr.  I could not let Easter go by without speaking of this tragic event which was on all our minds.  The hymn tries to see God's love winning over tragedy and suffering in the world.  There is tension and tragedy in these words, not just a howl of Easter rejoicing."  This hymn was first sung on Easter Sunday, 1968.  The author has revised the text several times, most recently in 1993, in response to changes in theological thinking and in the language of hymns.  The words are sung to TRURO, and anonymous melody from the second volume of Psalmodia Evangelica (1789) compiled by Thomas Williams.
"Forever"
"Give thanks to the Lord, our God and King; His love endures forever.  For He is good, He is above all things; His love endures forever.  Sing praise, sing praise.
With a mighty hand and outstretched arm; His love endures forever.  For the life that's been reborn;  His love endures forever.  Sing praise, sing praise.
Forever God is faithful, forever God is strong, forever God is with us, forever.
From the rising to the setting sun;  His love endures forever.  And by the grace of God we will carry on;  His love endures forever.  Sing praise, sing praise.
Forever God is faithful, forever God is strong, forever God is with us, forever.
His love endures forever…."
Read about the song at:  http://www.crosswalk.com/church/worship/song-story-forever-by-chris-tomlin-1243556.html
Hear Chris Tomlin sing this song at: http://www.youtube.com/watch?v=gUH_NzfRmbs
Categories: Music Programs, Notes on the Notes, Sunday Bulletin and Announcements, Worship