Notes on the Notes – December 8, 2013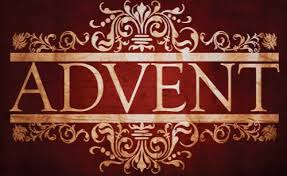 This week's theme: Advent 2 –  White Gift Sunday –  Peace for a Different World
This week's scripture: Isaiah 11:1-10, Romans 15:4-13
This week's music:
Join us at 10:15 a.m. for the following carols before the service:
"All Poor Ones and Humble" (VU #68) –  
"All poor ones and humble and all those who stumble, come hastening, and feel not afraid; for Jesus, our treasure, with love past all measure, in lowly poor manger was laid.  Though wise men who found him laid rich gifts around him, yet oxen they gave him their hay, and Jesus in beauty accepted their duty; contented in manger he lay.
Then haste we to show him the praises we owe him;  our service he ne'er can despise;  whose love still is able to show us that stable, where softly in manger he lies…"
Katherine Emily Roberts made this free translation of a traditional Welsh carol for The Oxford Book of Carols (1928).  William Thomas Pennar Davies provided the second stanza for Congregational Praise (1951).    The melody O DEUED POB CRISTON was collected by Ruth Lewis in 1910.
'Traditional Welsh Christmas carols, or plygain carols as they are normally termed, are a world apart from the 'Silent Night' variety. Rather than concentrating on the Christmas story itself, they are long sermons in song, centering on Christ's atonement on the cross, exhorting to repentance, faith, and godly living, and often encompassing the whole of the redemption story from Adam's Fall in the Garden of Eden to the joys of heaven.  They flourished, especially in north-east Wales, from the mid-seventeenth to the mid-nineteenth centuries, and the tradition of holding plygain carol services has survived unbroken in the Montgomeryshire/Shropshire border area to the present day.
In some form or another, 'O! deued pob Cristion' has found its way into numerous hymn books and carol collections since it was collected by Ruth Herbert Lewis in 1910, and has become one of the most frequently sung and best loved of all Welsh carols.
See the Hyde Park Community United Methodist Church Cathedral Choir sing this carol at:  http://www.youtube.com/watch?v=7Jg2CRfO9xI
"Infant Holy, Infant Lowly" (VU #58) –
"Infant holy, infant lowly, for his bed a cattle stall; oxen lowing, little knowing Christ the babe is Lord of all.  Swift are winging angels singing, noels ringing, tidings bringing:  Christ the babe is born for all…"
This carol is based on the traditional Polish carol,  "W żłobie leży".   Edith M.G. Reed's English paraphrase was first published in Music and Youth in December 1921.
Hear the carol in Polish at: http://www.youtube.com/watch?v=dk-O3MJ0vNY
Hear the choir at King's College: http://www.youtube.com/watch?v=IaqoeCl_jR0
 A contemporary version by High Street Hymns is at:  http://www.youtube.com/watch?v=qb-yHpOc6b4  
"It Came Upon the Midnight Clear" (VU #44) – 
"It came upon the midnight clear, that glorious song of old, from angels bending near the earth to touch their harps of gold,  "Peace on the earth, good will to men, from heaven's all-gracious King!"  The world in solemn stillness lay to hear the angels sing…"
'It Came Upon a Midnight Clear' is all about the message of peace that the angels proclaimed on the first Christmas, when Jesus Christ was born. The song looks forward to a time when people will respond to the angels by living in peace with God and each other, and, in the last verse, likens doing so to offering the angels' song back to them: "When peace shall over all the earth its ancient splendors fling, And all the world give back the song which now the angels sing."
Edward Hamilton Sears, a Unitarian minister, wrote the text of this carol during a period of social and political turmoil in Europe and the United States.  It was first published in the Christian Register at Boston in 1849, but the message still rings true today.  It was one of the first times that an American writer had penned words that would become a Christmas carol.  The American composer Richard Storrs Willis, who had studied music with renowned composer Felix Mendelssohn in Germany, wrote a tune called 'Carol' and adapted the words of Sears' poem to that music about a decade after the poem was first published (1850).
Enjoy hearing Julie Andrews at: http://www.youtube.com/watch?v=LwBajJ3ZFVo
Hear Johnny Mathis at: http://www.youtube.com/watch?v=pv5NMG1KYEA
Watch the Two-men international acapella version at:  http://www.youtube.com/watch?v=a_ej7kRMeeU
******************************************
"There's a Song of Love in My Heart" –
"There's a song of love in my heart.  Love is a gift from Jesus.  There's a song of love in my heart.  Love is a gift from God. Alleluia!  Love in my heart is singing praises.  Alleluia!  Love is a gift from God." 
This simple song of praise was written by  Handt Hanson and published in 1996.
"The Wise May Bring Their Learning" –
"The wise may bring their learning, the rich may bring their wealth, and some may bring their greatness, and some bring strength and health; We, too, would bring our treasures to offer to the King; we have no wealth or learning; what shall we children bring?
We'll bring him hearts that love him,  we'll bring him thankful praise, and young souls meekly striving to walk in holy ways.  And these shall be the treasures we offer to the King,  and these are gifts that even the poorest child may bring.
We'll bring the little duties we have to do each day. We'll try our best to please him at home, at school, at play.  And better are thses treasures to offer to our King, than richest gifts without them; yet these a child may bring."
Not much is known about this children's hymn from The Hymn Book of the Anglican Church of Canada and the United Church of Canada (1971).  The words are thought to have been written around 1881 by an unknown author.  The melody is simply listed as a Tyrolese carol.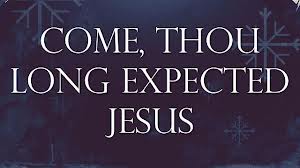 "Come, Thou Long-Expected Jesus" (VU #2) –
"Come, thou long-expected Jesus, born to set thy people free:  from our fears and sins release us, let us find our rest in thee…"
Charles Wesley published this hymn in his Hymns for the Nativity of our Lord (1744).  He intended it as a Christmas hymn, but its theme of awaiting the arrival of the long-expected redeemer makes it suitable for Advent as well.  The tune STUTTGART, is from the Lutheran Psalmodia Sacra (1715, Germany).
All of creation, all of God's story, all of us, long for Christ's coming. Watch this moving piece that illustrates how all of history culminates in the birth of Jesus.  This interesting artistic version (with a different tune) by The Skit Guys is at:  http://www.youtube.com/watch?v=VLcTLCCpI5A
"Creation Will be At Peace" –
"In the holy mountain of the Lord, all war and strife will cease;  in the holy mountain of the Lord creation will be at peace. 
The wolf will lie down with the lamb, the cow and bear will feed, their young will play together;  a little child will lead.
The leopard and goat will graze, the lion will feed on straw.  They will war no more; a child will lead them all…"
This anthem by J. Paul Williams and Anna Laura Page is freely adapted from Isaiah 11:6-9.  It was dedicated to Peggy Say, sister of former hostage Terry Anderson.   Terry Anderson is the best known, and second-longest held, hostage of a group of Americans believed to be captured by Shiite Hezbollah militants in an attempt to drive U.S. military forces from Lebanon during the Lebanese Civil War.  He was abducted on March 16, 1985, was released on December 4, 1991 and says he has forgiven his captors.
"Isaiah the Prophet Has Written of Old" (VU #680) –
  "Isaiah the prophet has written of old how God's new creation shall come, instead of the thorn tree, the fir tree shall grow; the wolf shall lie down with the lamb. 
The mountains and hills shall break forth into song, the peoples be led forth in peace, for the earth shall be filled with the knowledge of God as the waters cover the seas. 
Yet nations still prey on the meek of the world, and conflict turns parent from child.  Your people despoil all the sweetness of earth; the brier and the thorn tree grow wild. 
God, bring to fruition your will for the earth, that no one shall hurt or destroy, that wisdom and justice shall reign in the land and your people shall go forth in joy."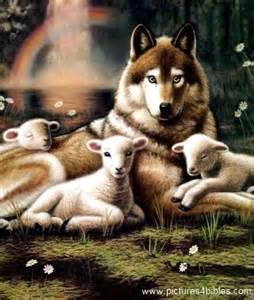 Joy Paterson, from Wausau, Wisconsin wrote the above text in 1982.  The text is based on Isaiah 11:6-9 and 55:12-13.  It was one of seven winning hymns published in New Hymns for Children (1982).  The tune, SAMANTHRA, is an American folk tune from Southern Harmony (1835).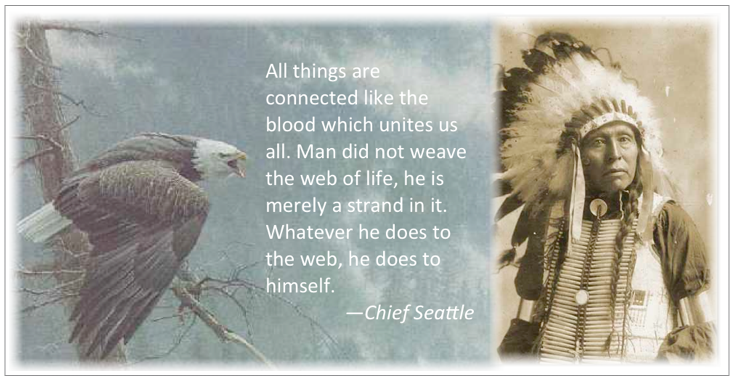 Categories: Music Programs, Sunday Bulletin and Announcements