Notes on the Notes – April 7, 2013
Act 3: Resurrection

Scripture Reading: John 20:19-29.   Today we welcome David Stubel, who will be reciting "Act 3: Resurrection" from "In Dog We Trust," and our own Praise Singers, who will be leading the music in worship. 
Today's Music:
"This is the Day"(MV #122) – Our opening song is by Bruce Harding (2003) and is based on Psalm 118:24:  "This is the day that God has made; we will rejoice and be glad!"
Cheryl and Bruce Harding are recording artists and worship leaders from the Vancouver area in British Columbia, Canada. Through their music and ministry with congregations and church gatherings across Canada and beyond they inspire people to sing with spirit and conviction.  Bruce is past co-chair of UCCAM, the United Church of Canada Association of Musicians, and was the Managing Editor for More Voices, the supplement to the current United Church of Canada hymn book, Voices United (1996).
Hear "This is the Day" as sung at the World Diakonia Assembly:   http://www.youtube.com/watch?v=88a-8OXGYk4
"Hallelujah, Hallelujah, Give Thanks" (VU #179) – The text for this hymn by Donald Fishel (1971),  is a series of paraphrases from Paul's letters.  The music was arranged by Darryl Nixon for the United Church hymnary supplement, Songs for a Gospel People (1987).
"Lord, I Lift Your Name on High" – This worship song was written by Rick Founds in 1989 during his morning devotion.  While reading the scriptures on his computer monitor, and watching television, he plucked his guitar at the same time.  He thought of the "cycle of redemption", comparing it with the water cycle.
You came from heaven to earth, to show the way From the earth to the cross, my debt to pay From the cross to the grave, from the grave to the sky Lord I lift your name on high
Founds played the song as a worship leader in his church. It was picked up by Maranatha! Music and initially recorded by the Maranatha! Singers followed by the Praise Band.  Since the 1990s, it has been one of the most popular Christian songs.  The song has been interpreted by many artists in a variety of styles and has been sung in many languages around the world.
As sung by the Maranatha! Singers:   http://www.youtube.com/watch?v=9_Q7S0Dedms
For Veggie Tales fans, here is their interpretation:  http://www.youtube.com/watch?v=-ewwi1ZWggg
"Rise Up with Him" – This song is by Janet Vogt, who combines her extensive musical education with more than 20 years of liturgical and teaching expertise.  Janet is currently educational keyboard editor for the Lorenz Corporation in Dayton, Ohio, where she composes, arranges and edits music for piano students of all levels. She travels nationally, giving workshops on piano teaching techniques and repertoire, and serves as a music minister and liturgist at St. John Fisher Catholic Church in Cincinnati.
The lyrics, based on 1 Corintians: 15,  are:
People, wait no more. God has shown you the glory of the Lord!  By the cross we claim our freedom. Christ has risen to everlasting life!        And we'll rise up, rise up with him, and we'll rise, rise to new life!  And we'll rise up, rise up with him,  for with Jesus who leads us by grace we will rise up with him.       Ev'ry knee shall bend. Ev'ry tongue confess that Jesus Christ is Lord. Lord and Savior of all nations, our salvation to everlasting life!   Jesus, whom we love, we proclaim your word for ages all to come.    Alleluia, sing a new song. Glory to our God of everlasting life!
"Alive!  Alive!" – see March 31, 3013
"I Am the Resurrection" – This song, by Catholic singer-songwriter Ray Repp is based on John 11:25-26.  Repp is credited with introducing folk music into Catholic masses with his 1965 album Mass for Young Americans that formed the earliest stirrings of Contemporary Christian music.  Since that early collection, he has recorded 11 collections which have been translated into as many as 28 languages and has won ACSAP's "Award for Special Contributions to the Field of Music" 6 times.    
To hear Ray Repp singing on a folk mass recording – 1966 – http://www.youtube.com/watch?v=4mcnJdm4SzM
"Behold: One Another" – by Bruce Harding.  See March 31, 2013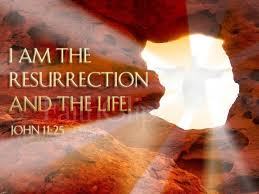 Categories: Music Programs, Sunday Bulletin and Announcements, Worship