Notes on the Notes – April 30, 2017
This week's scripture readings:
Acts 2:36-41                                Luke 24:28-35
This week's music:
"God, We Praise You for the Morning" (VU #415) 
"God we praise you for the morning;
Hope springs forth with each new day,
New beginning, prayer, and promise,
Joy in work and in play.
God, we praise you for creation,
Mountains, seas, and prairie land.
Waking souls find joy and healing in your bountiful hand.
God, we praise you for compassion,
All the loving that you show;
Human touching, tears, and laughter,
Help your children to grow.
God, we praise you for your Spirit, Comforter and daily friend,
Restless searcher, gentle teacher,
Strength and courage you send.
God, we praise you for the Saviour, come that we may know your ways.
In his loving, dying, rising, Christ is Lord of our days.
Hallelujah! Christ is Lord of our days!"
Jim and Jean Strathdee wrote this song of praise in 1981.
"As We Walked Home at Close of Day" (VU #184)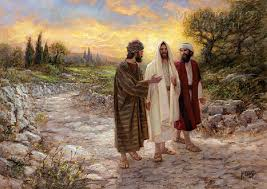 "As we walked home at close of day, a stranger joined us on our way.
He heard us speak of one who'd gone, and when we stopped, he carried on.
"Why wander further without light?  Please stay with us this troubled night.
We've shared the truth of how we feel and now would like to share a meal."
We sat to eat our simple spread, then watched the stranger take the bread;
and, as he said the blessing prayer, we knew that someone else was there.
No stranger he; it was our eyes which failed to see, in stranger's guise,
the Lord who, risen from the dead, met us when ready to be fed.
Hallelujah!  As Mary and our sisters said, the Lord is risen from the dead!"
This hymn is a retelling of the Emmaus story from the Gospel reading.  The text is from a book of Lent, Easter and Pentecost songs called Enemy of Apathy, which is  the second volume of Wild Goose Songs (1988), edited by John L. Bell and Graham Moule of the Iona community.  The tune, ANGELUS, was first published in Heilige Seelen-Lust (1657).  It is attributed to Georg Joseph, a musician who edited the collection.  It was adapted to its present form in the mid-19th century.
"As Comes the Breath of Spring"  (VU #373)
"As comes the breath of spring with light and mirth and song,
So does your Spirit bring new days brave, free, and strong.
You come with thrill of life to chase hence winter's breath,
To hush to peace the strife of sin that ends in death.
You come like dawning day with flaming truth and love,
To chase all glooms away, to brace our wills to prove
How wise, how good to choose the truth and its brave fight,
To prize it, win or lose, and live on your delight.
You come like songs at morn that fill the earth with joy,
Till we, in Christ new-born, new strength in praise employ.
You come to rouse the heart from drifting to despair,
Through high hopes to impart life with an ampler air.
You breathe and there is health, you move and there is power,
You whisper, there is wealth of love, your richest dower.
Your presence is to us like summer in the soul,
Your joy shines forth and then life blossoms to its goal."
The text for this hymn was written in 1929 by David Lakie Ritchie, Dean of United Theological College in Montreal, for The Hymnary (1930).  The tune was published in England in the Methodist Hymn Book (1904).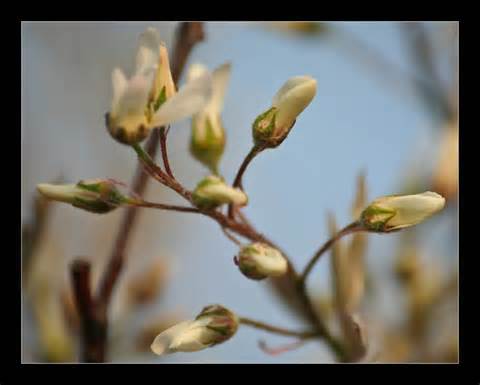 "Run, Mary, Run"
"Headed for the tomb, chilled by the morning air,
Mary's heart is weary with grief, almost more than she can bear.
But a miracle is waiting as the dawn reveals the day,
Mary, in the distance, can you see that the stone's been rolled away?
Run, Mary run like you've never run before!
Fear not for you're about to see just what God has in store,
Run, Mary, run as fast as your feet can fly!
The world is waiting for the news that Jesus is alive!
Only grave cloths there, Mary is afraid.
Was his death not final enough?
Now they've taken Him away.
Even angels' words of comfort do not ease the bitter pain.
Then her tears of sorrow turn to joy when Jesus gently calls her name!
Oh, Mary, do you know just what this means?
The Lord is risen! God's love has set us free!"
Today's anthem, by Valerie MacKenzie (1999), takes us back to Easter morning and Mary's discovery of the empty tomb.
"Stir us, Lord"
"Stir up in our hearts, oh, Lord,
What you want us to do.
You showed your love upon the cross.
We want to give of our lives to you."
Our offering response was written by Hans Peterson and Meg Sunder (1993).
"Sing Your Joy" (VU #253)

"Sing your joy, proclaim God's glory!
Rise and sing, the morning has come!
Bless our God and praise all creation;
Song of the earth, and light from heaven;
God is alive! Hallelujah!

All the earth is filled with rejoicing,
Light and life, the wonder of God!
Christ has triumphed!
Risen for ever!
Joy of our hearts,
and hope of our dreaming;
God is alive! Hallelujah!
May we learn to become your kingdom,
May we be your kindness and truth!
Love is our calling, gift of your presence;
Children of God, and spirit of Jesus;
God is alive! Hallelujah!
Light our way, O God of the living,
May we learn to see with new eyes!
Jesus the Lord, our power and promise;
Light for the blind, and food for the hungry:
God is alive! Hallelujah!"
This song was written by hymn writer David Haas in 1987. It was first published in the Catholic Book of Worship III.   David Haas lives in Eagan, Minnesota and works both there and in St. Paul, Minnesota in the Christian music field.  Highly regarded as one of the preeminent liturgical music composers in the English-speaking world, he has produced more than 45 collections of original music.
"With a Vision of Hope" 
"With a vision of hope we move along.
Empowered by faith we carry on.
Reaching out far and wide, moving forward reaching high.
Filled with hope, filled with dreams, we journey on."
Our benediction response is by Mary-Ellen Kish.  It was written in 2008.
Categories:
Notes on the Notes