Notes on the Notes – April 14, 2017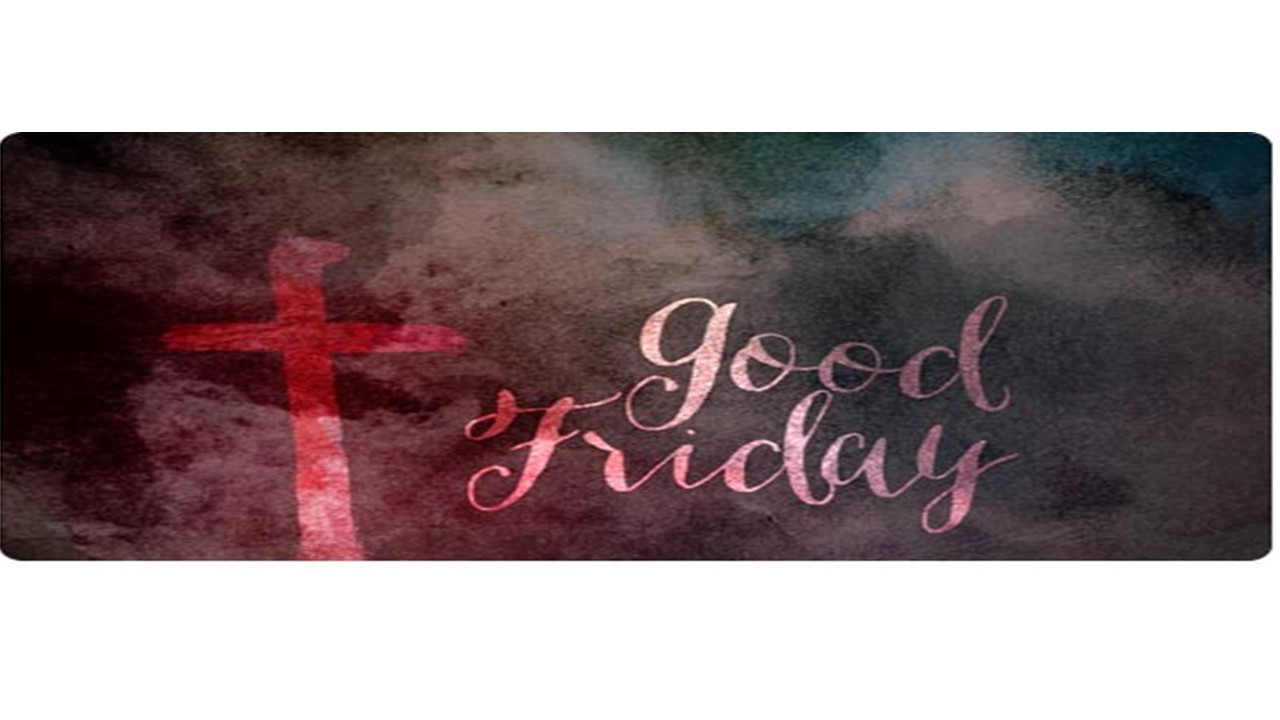 GOOD FRIDAY
God is With Us Always
Today's scripture:  John 18:1- 19:4-42
What is Good Friday?
Good Friday is the day on which Christians commemorate the crucifixion of Jesus Christ.  Our scripture reading for the day takes us through the story of Christ's arrest, trial and crucifixion (called the Passion narrative).
The liturgical observance of this day of Christ's suffering, crucifixion and death has been in existence from the earliest days of the Church.   It is a time of introspection as we contemplate our journey as followers of Christ.  Church bells are silent. Altars are left bare.   The solemn, muted atmosphere is preserved until the Easter Vigil.
 Today's Music:
"Lead Me to Calvary"
The Worship Choir will open the service by singing the same song that closed the service on Palm Sunday,  leading us into reflection for Good Friday.   The words are by Jennie Evelyn Hussie with music by Don Chapman.
"King of my life, I crown Thee now, Thine shall the glory be;
Lest I forget Thy thorny crown, lead me to Calvary.
Lest I forget Gethsemane,
Lest I forget Thine agony;
Lest I forget, O Lord, Thy love for me,
Lead me to Calvary.
Show me the tomb where Thou wast laid, tenderly mourned and wept;
Angels in robes of light arrayed guarded Thee whilst Thou slept.
Lest I forget Gethsemane,
Lest I forget Thine agony;
Lest I forget, O Lord, Thy love for me,
Lead me to Calvary.
May I be willing, Lord, to bear daily my cross for Thee;
Even Thy cup of grief to share, Thou hast borne all for me.
Lest I forget Gethsemane,
Lest I forget Thine agony;
Lest I forget, O Lord, Thy love for me,
Lead me to Calvary.
Lest I forget,
Lest I forget,
Lest I forget, O Lord, Thy love for me,
Lead me to Calvary,
Lead me to Calvary,
Lead me to Calvary."
"Beneath the Cross of Jesus" (VU #135)
"Beneath the cross of Jesus I fain would take my stand:  the shadow of a mighty rock within a weary land, a home within the wilderness, a rest upon the way, from the burning of the noon-tide heat and the burden of the day.
Upon the cross of Jesus my eyes at times can see the very dying form of one who suffered there for me; and from my  smitten heart, with tears, two wonders I confess, the wonder of his glorious love, and my unworthiness.
I take, O cross, your shadow for my abiding place; I ask no other sunshine than the sunshine of his face, content to let the world go by, to know no gain nor loss, my sinful self my only shame, my glory all, the cross."
Elizabeth Clephane was born in Edinburgh, Scotland in 1830 and lived most of her life in the village of Melrose.  Her parents both died while she was young, and she was never very healthy herself.  Nevertheless, she was one of those cheerful people who brighten every corner – perhaps because she focused on what she could do for others rather than sitting and feeling sorry for herself.  Elizabeth loved poetry and wrote several hymns.
In her hymn, "Beneath the Cross of Jesus," Elizabeth alluded to a passage in Isaiah that speaks of "the shade of a great rock in a weary land" (Isaiah 32:1-2).  Perhaps one reason that this hymn has enjoyed such popularity is that we know what it means to live in a weary land.  We feel the need of a mighty rock to shelter us from the heat.  Elizabeth says that, for her, Jesus' cross is that resting place.  For her, Jesus' cross is her home within the wilderness, her rest upon the way.
"Alone in Gethsemene"
"Alone in Gethsemane,
Bent low 'neath the olive tree.
Here love must weep while mortals sleep,
Alone in Gethsemane."
The words for this short response are by William B. Petricko (1996).
"Thy Will Be Done"
"Sometimes the load is heavy, and sometimes the road is long.
And sometimes, Lord, this heart of mine is not so very strong.
But Thy will be done, Lord,
Thy will be done.
Father, I do not ask You to take this cup from me,
I only ask Your guidance o'er paths I cannot see.
And Thy will be done, Lord,
Thy will be done.
Our Father, who art in heaven,
Hallowed be Thy name.
Thy kingdom come,
Thy will be done on earth as it is, as it is in heaven.
Give us this day our daily bread.
And forgive us our debts, as we forgive our debtors.
And lead us not into temptation, but deliver us from evil.
For Thine is the kingdom and the power and the glory,
Forever, Amen.
Now, Lord, I feel You near me, I feel Your guiding power.
And know You're standing by me through every passing hour.
And Thy will be done, Lord.
Thy will be done."
This anthem is by Joyce Elaine Eilers (1975).  It could be interpreted in two ways: as Jesus speaking to his Father in the garden, as well as our own call to God as we journey though an oft-times difficult life.
"O God, Why Are You Silent?" (MV #73)
"O God, why are you silent? I cannot hear your voice.
The proud and strong and violent all claim you and rejoice.
You promised you would hold me with tenderness and care.
Draw near, O Love, enfold me, and ease the pain I bear.
Now lost within my grieving, I fall and lose my way,
My fragile, faint believing so swiftly swept away.
O God of pain and sorrow, my compass and my guide,
I cannot face the morrow without you by my side.
My hope lies bruised and battered, my wounded heart is torn;
My spirit spent and shattered by life's relentless storm.
Will you not bend to hear me, my cries from deep within?
Have you no word to cheer me when night is closing in?
Through endless nights of weeping, through weary days of grief,
My heart is in your keeping, my comfort, my relief.
Come, share my tears and sadness, come, suffer in my pain;
O bring me home to gladness, restore my hope again."
We will be using the first 4 verses of this hymn.  The words are by Marty Haugen (2003).  Marty has paired his lyrics with the PASSION CHORALE by Hans Leo Hasslet (1601) arranged by J.S. Bach (1729), also known as the tune for the hymn "O Sacred Head."
"And No Bird Sang"
"Calm was the wind and dark was the sky, when our Lord came to die;
Lone, on the cross for our sins He did hang,
And no bird sang.
Women and men with anguish and fear, then to His cross drew near;
Hushed then to feel the bitter pang,
And no bird sang.
Kyrie eleison, Kyrie eleison,
Lord have mercy, God's will be done,
Eleison.
No bird sang in the sky, when Christ did come to die."
This stark anthem by Douglas E. Wagner (1983) sets the scene for the crucifixion of Jesus.
"When I Survey the Wondrous Cross" (VU #149)
"When I survey the wondrous cross on which the Prince of glory died, my richest gain I count but loss, and pour contempt on all my pride.
Forbid it, Lord, that I should boast save in the death of Christ, my God:  all the vain things that charm me most, I sacrifice them to his blood.
See from his head, his hands, his feet,  sorrow and love flow mingled down!  Did e'er such love and sorrow meet, or thorns compose so rich a crown?
Were the whole realm of nature mine,  that were a present far too small:  love so amazing, so divine, demands my soul, my life, my all.  
In his hymns Isaac Watts takes the Word of God, of which he must have been a diligent student, and distills it so that all is wisdom, beauty and comfort are set before us with plainness and power.   Isaac Watt's greatest composition must surely be "When I Survey The Wondrous Cross."  It has been called 'The very best hymn in the English language' and in it Watts, using only 16 lines, paints a soul-stirring picture of the Saviour's death on the cross coupled with the whole-hearted response of the believer to such amazing love.  As Tedd Smith says 'It seems to me that Isaac Watts wrote this text as if he were standing at the foot of Christ's cross.'   (Source:  SermonAudio.com)
God is with us always

      Lay your burdens at the foot of the cross
Categories:
Notes on the Notes