Notes on the Notes – April 13, 2014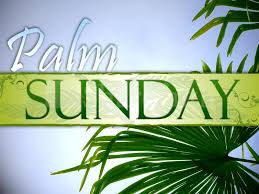 Lent 6 – Palm Sunday – Jerusalem Cross
This week's theme:
This week's readings:  Matthew 21:1-11, Philippians 2:5-11
This week's music:
"Tell Me the Stories of Jesus" (VU #357)
"Tell me the stories of Jesus I love to hear, things I would ask him to tell me if he were here:  scenes by the wayside, tales of the sea, stories of Jesus, tell them to me.
First let me hear how the children stood round his knee, and I shall fancy his blessing resting on me; words full of kindness, deeds full of grace, all in the lovelight of Jesus' face.
Tell me, in accents of wonder, how rolled the sea – tossing the boat in a tempest on Galilee!  And how the Master, ready and kind, chided the billows and hushed the wind.
Into the city I'd follow the children's band, waving a branch of the palm tree high in my hand; one of his heralds, yes, I would sing loudest hosannas!  Jesus is King!
Show me that scene in the garden of bitter pain;  and of the cross where my Saviour for me was slain.  Sad ones or bright ones, so that they be stories of Jesus, tell them to me."
William Henry Parker, 1845-1929
"On the summer of 1885 a warmhearted Baptist businessman in Nottingham, England.  His mind settled on the young students in his Sunday school class. Wanting attention. Needing direction. Always tugging at him with one request: "Tell us another story."   Before the day was over, William Parker had written the lyrics of this song made memorable by the soothing melody it later inspired, when a publisher ran a contest to find a fitting tune and chose the one submitted by Frederick Arthur Challinor …
I vividly remember one summer evening in 1985, just a hundred years after William Parker wrote "Tell Me the Stories of Jesus." I was visiting my parents for a weekend, and another guest graced the house: my youngest niece, a toddler still in diapers, just beginning to string words into sentences. With granddaughter Elizabeth snuggled at his side, my father "read" through Peter Spiers Noah's Ark picture book. Telling the story. Naming the animals. Walking the rainbow. Closing the book.  And then came Elizabeth's supplication, as basic as it can be: "Read again."
Repeat the stories. Our children need to hear them. Long ago and far away does matter. Here and now.
Lord, give me a new appreciation of the old, old story that you chose to leave with us. Your story. Our story. The Good-News story. Give me opportunity to tell the story in afresh way to someone—of any age—-who is eager to hear it.
………………..
From the book: "Spiritual moments with the Great Hymns" by Evelyn Bence
Hear the hymn at:  http://www.youtube.com/watch?v=4uGdeCbF6Ds
"Hosanna to the King of Love"
"Hosanna, hosanna!  He's coming, he's coming! Hosanna, hosanna!  O wave your palms and shout!  Blessed is he who comes in the name of the Lord."
The children from Bible Adventures will be sharing this Palm Sunday song written by Dale Peterson in 1997.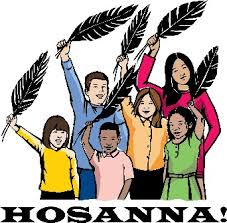 "We have a King Who Rides a Donkey"
The Joyful Noise will share this anthem today.
"O Love, How Deep" (VU #348)
"O love, how deep, how broad, how high!  It fills the heart with ecstasy, that God, in Jesus Christ, should take our mortal form for mortals' sake. 
God sent no angel to our race of higher or of lower place, but word the robe of human frame and freely to this lost world came.
For us he was baptized, and bore a holy fast, and hungered sore; for us temptations sharply knew, for us the tempter overthrew.
For us he prayed, for us he taught, for us great daily works were wrought, by words and signs, and actions, thus still seeking not himself, but us.
For us to wicked foes betrayed, scourged, mocked, in purple robe arrayed, he bore the shameful cross and death; for us at length gave up his breath.
For us he rose from death again, for us he went on high to reign, for us he sent his Spirit here to guide, to strengthen, and to cheer.
To God whose boundless love has won salvation for us through the Son, to God all praise and glory be both now and through eternity."
The text of this hymn is from a 15th-century manuscript found in Karlsruhe, Germany.  It was translated by Benjamin Webb and published in The Hymnal Noted (1854) and revised for Hymns Ancient and Modern (1861).  The tune is from a 15th-century Trier manuscript.
Hear the hymn at:  http://www.youtube.com/watch?v=fF6Q1CNrO-k
"Cornerstone" – Today we a pleased to welcome Kelsey Shiaro and VOX from Gordon Bell High School, who will share the song "Cornerstone."
"When Morning Gilds the Skies" (VU #339)
"When morning gilds the skies, my heart awakening cries: may Jesus Christ be praised!  When evening shadows fall, this rings my curfew call:  may Jesus Christ be praised!
 To God, the Word on high, the hosts of angles cry:  may Jesus Christ be praised!  Let mortals, too, upraise their voice in hymns of praise:  may Jesus Christ be praised!
Let all of humankind in this their concord find:  may Jesus Christ be praised!  Let all the earth around ring joyous with the sound:  may Jesus Christ be praise!
"Be this, while life is mine, my canticle divine:  may Jesus Christ be praised!  Be this th'eternal song, through all the ages long:  may Jesus Christ be praised!
This hymn from the Catholic tradition, is from the Katholisches Gesangbuch (1828).  It was originally translated by Edward Caswall ca 1854.
Hear this hymn at:  http://www.youtube.com/watch?v=m_ZjM2WMSJQ
Categories: Music Programs, Notes on the Notes, Sunday Bulletin and Announcements, Worship